Moving scam is for real as every other day, there are reports from suspicious billings to partial theft of goods, no insurance to overcharging and missing deadline of delivery etc. And if you are relocating your household goods, especially on shared basis, then it is very important for you to take required precaution at the time of hiring a moving company. Even if the percentage of cases where the movers have scammed their customer is very low, it's better to be safe than sorry. If home relocation is in your mind and you are not sure about how to avoid and prevent getting scammed by a moving company, then here's the post you can't afford to not check. Today I am sharing everything worth knowing about how to prevent getting scammed by movers and packers companies, especially in India.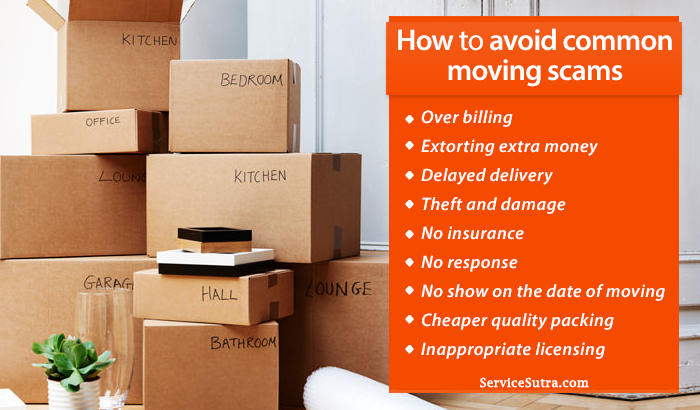 Due to the surge in demand, and no barrier to entry in starting a relocation company, number of movers and packers companies has increased dramatically in recent years. It's good because it has increased the competition and improved the availability and access to movers and packers services. Today, you can find several companies operating even in smaller towns and cities.
But, there is a negative side to the rising number moving companies and that is, the emergence of the fraud ones. There are companies who do fake promises only to dupe people of their goods and money. Obviously, you need to be very careful and thoughtful to prevent getting scammed by movers and packers companies, and trust me it is easier to prevent getting scammed by movers and packers, especially when you know, what may go wrong moving forward.
Being in the industry for over a decade now, we ourselves feel sorry when we hear about cases of frauds and scams by the movers and packers companies. And that is why we ensure that we only onboard the possible movers and packers companies on our platform, after proper document verification and reference checks. But hey, there are many genuinely placed companies out there and there is no point in losing faith on movers and packers companies as a whole, just because of a few of the mediocre and unprofessional companies.
There are good and bad people in every industry. But the challenge is to pick the good one, and avoid the bad one. And it does not take a lot of knowledge to distinguish between a genuine, professionally managed and reliable moving company and a mediocre moving company.
So before we proceed further, it'll be better if you know about the most common issues one may face and that's what I am discussing below.
Common moving scams done by moving companies
Always remember that the fraud ones will try to lure you, but you need to judge them well before accepting any of their offers. And that's what I am going to discuss in today's post.
But before we talk about how to prevent getting scammed by movers and packers, let's check the most common scams and fraud that the movers and packer may do.
Over billing
This is the most common scams because at the end, it's always about the money. They will start small and then they will increase the quoted prices. The most common excuse being the handling charges, extra goods, change in route and so on.
So whenever you are considering or negotiating with a movers and packers company to relocate your home, office, car or anything, just don't fall for the lowest price.
It does not mean you should not negotiate; you have every right to negotiate with them, but then observe the estimate being submitted. Ideally you should ask for quotation and proforma invoice, so that you can understand the actual costs of all heads, including taxes, insurance etc.
The dubious movers and packers will share an estimate, and once you have hired them, they will submit the invoice with different figures. Ideally, you should get a detailed quotation with overall costs mentioned on it. Unless you have the final figures in front of you, you may not be able to judge the total cost of relocation.
Extorting extra money
The symptom is same like over billing, but usually the dubious companies will charge you more for unloading, or by giving some other excuses. Usually the mode of operandi is similar to the overbilling.
Initially they will quote too low so that you hire them, and once the goods are packed, they start giving surprises.
Best way to not fall for this trap by moving companies is again the clarity. Only your best judgement can come handy, so do check rates of other moving companies to check the difference.
The difference in rate should not be hard to believe. If the quotes prices is too less, like less than over 30/40 percent of what others are quoting, then that's the first sign of extorting money later. So be careful and be sure of which company you are working with.
Delayed delivery
Missing a day or two is okay because there may be some issues in the transit. No one have control on traffic jams, or some unfortunate route diversion or unnatural circumstances. But delaying the delivery for weeks after week is just not done. So clearly ask the questions about the route they are taking, genuine date of delivery, percentage of payments to be made after delivery etc.
So always finalize the actual date of packing, in transit period and delivery date and that should be in writing.
Theft and damage
Partial theft and damage is another issue one may face when relocating. Usually it happens in case of shared shifting, and by mistake or negligence. Whatever be the reason, you should always insist on getting exact packing list made and signed before allowing them to load the goods. Ensure that the boxes are packed and sealed properly and do not sign the delivery list without counting the packing list.
No insurance
Insurance is vital and it's kind of mandatory. But sometimes, ever after charging you for insurance, the movers and packers may not insure your goods and keep the money. But remember, that they have just kept the money, but they are not going to cover the risk, so double check to ensure that your goods are actually insured. Insist for the insurance payment receipt and policy documents or some proof to establish that the actual insurance is done before leaving the consignment.
Incorrect contact numbers
One of the very uncommon things to note, but this can be vital. Usually The movers and packers who are a one man show, may give you invoice, but the contact number mentioned on those documents may not be in function or invalid. Now imagine, when you are stuck for an update, the mover will stop taking your calls and you don't have any alternate contact number to reach out to the moving company.
So always work with companies that are genuine. Ask for alternate contact number of the manager, senior manager/owner and so on and talk to each of them to ensure that you have multiple contact point to speak with them in case of an emergency.
No show on the date of moving
This is again very common. The cheap and unprofessional movers will schedule a date for packing, usually on a very low rate. But they got some other contract, which is comparatively a bigger than your work, then they will simply disappear and schedule their resources to serve the other customer. After all, they don't have morale, and the only thing that matters to them the most is money and so, they disappear.
The best way to avoid this type of scamming by movers and packers is have clear cut conversation, give reminder to the movers and packers a day before or two, and always have a backup plan in mind. When you have a backup then you can easily switch to the next best available movers and packers, and that's why I always insist on checking quotations from multiple vendors so you can have the second best alternate option.
Cheaper quality packing
This is again, a trick that the dubious movers and packers apply. They qill quote you low prices, but heavily compromise on the quality of packing materials. They tend to pack casually, assuming that once the goods are loaded on to the truck, their responsibility ends. And by compromising with packing quality, they easily save some bucks, which may cost you heavily moving forward.
If you want to avoid this kind of scamming by movers and packers, you better discuss about the packing quality up front, and also monitor if they packing the goods properly. Remember, any compromise in packing quality can turn out to be an expensive mistake.
Inappropriate licensing
So the movers and packers approach you professionally, but that does not mean they have all the registration and license to operate the business. There are many visiting card company (a company that does not have any legal registration) and work on visiting card and brochure. Keep safe distance from such companies, because you never know, if they are going to be there in the business.
Foolproof ways to hire best movers and avoid moving scam
There are many amazing benefits of hiring packers and movers over do it yourself moving. But, you will be able to get these benefits only when you work with a genuine and reliable movers and packers company, that's in business for long time.
On the contrary, if you fall into wrong hands, then you may actually end up in frustrating situations and may be heavy losses. So, be careful and be wise while hiring movers and packers for household goods shifting and storage.
Listed below are a few of the best hacks to hire best movers and packers and tricks to avoid getting scammed and fooled by the moving companies.
Hire from references
Usually, when you hire a service provider from references, you are sure that the quality will be good (at lest you hope so) and secondly, you know that the rates are going to be competitive and genuine; and this is the best approach to take when hiring a service provider and it helps avoid many hassles.
Well, if you have got any reference about a company from your known ones, be it your relatives, friends, neighbors etc., then that is fine. Just make sure that the person who gave you the information is trusted or has personally taken services from that company or knows someone who has hired that company. This is actually needed to be done to be sure about whom you are choosing. You can then obviously talk to the company and if it suits your purposes, you can go for it.
Hiring a company that has been referred by someone whom you know personally is a wise choice.
But what if you don't have any reference?
In that case you can search for them online and even use Servicesutra, as we do verify the documents to ensure that the companies are good. And as and when we hear of any compliant, we terminate such service providers to ensure that only the best get listed here.
We may not have physically verified each of the companies listed on this platform, but document verification is done seriously, so you may like to get matched with movers and packers for the sake of comparison and checking if they make sense to your requirements.
Verify credentials
No matter how you reached out to a moving company, you need to do proper research and check the credentials of the company you are considering. May be a friend have recommended you to hire a company, but that does not mean you will take credential check lightly. A lot changes in business in just a few months and hence it is important to verify everything upfront before hiring.
Be extra careful so that they cannot fool you with fake documents. Check properly whether the documents are legal and given by Central or State government. The service tax registration, establishment license, Pan Card, everything must be checked.
With whatever information you get from google, you need to spot the fraud companies or at least spot the suspicious ones and omit them from your list of preferences. It is best to keep 4-5 companies as option rather than just banking on one. However, do not consider too many options as well as that may be time consuming and confusing.
So consider two or three companies, evaluate, compare them on credentials, quality of service, prices etc and then take the final call.
Also, before confirming, please read the terms and conditions of the quotation or other relevant papers properly. This is a common mistake that many people do and then get stuck later.
You must also ask about all the queries you have about the company when you are talking to them. By any chance, if you see that they are getting irritated or a little puzzled or trying to confuse you while answering, please become cautious. A good and trusted company will never hide things from you and will try to satisfy their clients at every possible way. After all, a good company will never risk their image.
Avoid hard to believe offers
It is very obvious that a fraud company will quote you hard to refuse offers, because they want to lure you with low prices. Most of the customers get carried away getting such attractive deals and end up hiring them. Be careful because you may get attracted with real cheap prices but whatever little you are investing is ultimately going to go in vain if the company is not genuine.
Mostly, the movers and packers that genuine, reliable and offer good quality packing and moving services are going to charge you as per the standard market rates. They do a lot of hard work on your behalf and they genuinely want to help you relocate safe and sound. Naturally, their services are the best and so their rates will be standard as well.
Insist for pre-move survey
One of the other foolproof ways to avoid scamming by packers and movers companies is by showing your goods to them. Usually, when you ask for a quote over the phone, the movers may not get exact idea of goods (size, shape, volume) and so they won't be able to give accurate estimates.
Even if they give you a ballpark idea of the cost, they may change the final rates when they see the inventory. Also just getting rates is not enough, you need all inclusive detailed quote to get the overall cost of shifting, including insurance, taxes etc.
Also, when you ask the movers for survey, you get to meet them face to face and ask any question, clear any confusion and doubt. This helps in keeping the agreement clear and transparent, so it's always better to get quotations after surveying.
Discuss payment
The fraud companies will try to convince you in every way possible to make you pay full in advance. But, please you be aware and avoid it. In general, most companies ask for around 70% to 80% advance but one thing I want to make very clear and that is please avoid paying any kind of advance during the survey or early. Whatever negotiation you have done with the moving company, make the advance payment only after the packing is done.
So, if any company is trying to force you to pay a lot in advance or trying their very best to convince you, please take note of it and immediately avoid hiring that company. Who knows, they may never return even after taking advance.
Copied brand connections
Many a times, the fraud companies relate themselves to the branded companies. They in most cases, say that they are under some branded company or is an ancillary branch of a company which has been working in this field for many years and is quite well known to people. Many innocent people believe them and fall into their trap. This also causes a great impact on the overall goodwill of the branded company.
To become double sure, what you can actually do is to crosscheck with the actual branded company. This way you can actually save yourself and make the big brand aware that some fraud company is using their name to fool people.
Over to you
The demand for packers and movers services has increased and so the number of packers and movers companies has increased in recent years. This is actually helping people to enjoy hassle free relocation on one hand, but on the other hand, it has also let to the emergence of a lot of fraud and scams by taking advantage of the innocence and ignorance of people. So, you need to be aware of it and prevent yourself from falling into wrong hands while using packers and movers services for relocation.
I have already shared about the most common types of scams, their mode of operandi and tips on how to avoid getting scammed by such packers and movers companies.
But if you are relocated in the past, I would like to know about how did you ensured that the moving company you are hiring is genuine and not dubious? Also feel free to share tips and hacks on how to prevent moving scams. Until then, take care and remain alert to avoid issues while relocating.