The ultimate dilemma that some of you may face during home relocation is whether it's beneficial to use movers and packers service over do-it-yourself home packing and moving. There should be no doubt that it is a matter of big concern, because whatever you decide to do, the decision is going to impact your overall home relocating and moving experience. Even if you have both the options, you should clearly analyze the situation and take the final call after thoroughly analyzing the benefits and challenges. And if you are planning to relocate household goods (locally, or interstate home relocation), and you are spoiled with the choices, I am going to help you take the final call, with thorough understanding of the process. To me, using packers and movers services is the safest and probably the best way to relocate household goods and that applies to both local home shifting and interstate household or car relocation.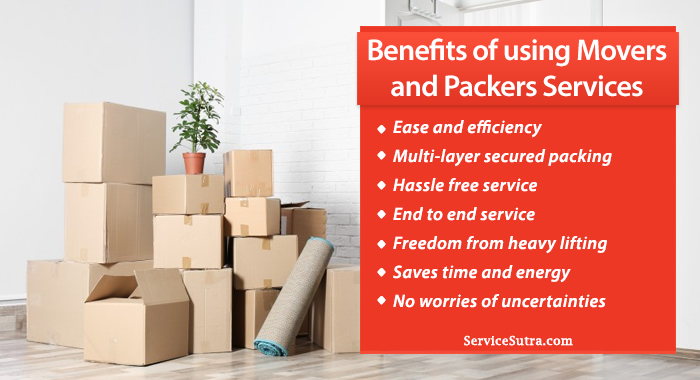 The movers and packers have plenty of experience in handling relocation of all size and scale and they bring ease and comfort to the overall home shifting. So before you take a call on whether to use their services or pack and move on your own, you should properly analyze, think, and understand all the benefits, challenges and consequences of do-it-yourself-packing and moving before jumping into any conclusion.
You may ask, why?
Because, the simplest reason is both the options that you are considering has its own set of pros and cons. So it is often confusing to come to any conclusion and secondly, the decision is going to have direct impact on the entire process of home relocation. Before taking the decision of hiring or not hiring the movers and packers, you must consider the factors like amount of time you have in hand to decide, plan and relocate, the distance you need to travel for relocating, overall relocation expenses, your prior experience on relocating etc.
Also, since both the options (hiring movers and packers and do it yourself relocation) has its pros and cons, you must take into account the ratio of pros and cons and see what is more beneficial for you. However, in most cases, you will see that if you are able to hire a good packer and mover, you will have the hassle free home relocating experience.
The demand of the packers and movers has increased on an alarming rate all over the country as people today relocate more and majority of them prefer not to take so much headache and want to hire a trusted home relocation company for hassle free house relocation.
Well, this is actually a very wise thing to do because most company employees are thorough professionals and so taking their help, will make your whole relocation process very swift and hassle free.
Especially, in situations where the distance of relocation is more or you have got less time to pack and relocate with none to offer a helping hand, hiring a good packer and mover is actually a blessing.
Maybe, you will have to spend a little extra, but considering the amount of work the men do, the money that most of these companies charge are completely worth it. Moreover, you never know, trying to do packing and handling rest of the process yourself, you may end up with major losses. After all, you are not a professional, so it is not possible to do everything right at the first go.
However, I know that some of you might still be a little perplexed about what to do but trust me, after knowing about the amazing benefits of hiring packers and movers over doing it yourself, you should be clearly able to understand and decide.
Benefits of using packers and movers over moving it yourself
There is visible surge in the demands of the packers and movers services. The number of packers and movers companies has increased many folds across all of the major cities in India. Today, you have more accessibility and availability and this itself says a lot about the benefits of using movers and packers services for local and interstate shifting services.
There shouldn't be any doubt for the fact that movers and packers companies actually take all the hassles out of house shifting. And this is especially true for those who don't have anyone to help like elderly people.
And, as far as the overall relocation costs are concerned, you can easily find competitive rates because of high competition between the relocation companies.
Today, using movers and packers services is easily affordable and the overall services that they offer are make it safe, convenient and hassle free.
Listed below are the 7 major benefits of using movers and packers services.
Ease and efficiency
If you have used movers and packers services in the past, I am sure you would agree about the ease and efficiency with which the movers and packers handle the entire packing and other relocation tasks like loading, unloading etc. Home relocation is not that easy, but the whole procedure becomes very swift and hassle free when you have an experienced team of professional packer and mover on board.
Most of the companies today have updated themselves with modern tools, techniques and equipments that help them pack and relocate your goods safely, timely and at cost-effective rates.
Now, in contrast to the ease and efficiency of home relocation that the movers and packers bring on, when you plan to do everything yourself, you are not going to easily match the quality of packing and efficiency in loading and handling.
The movers and packers also offer insurance to protect you against any damages. But when you do the entire packing and shifting on your own, you are always at risk of a Mishap that may cause heavy loss.
Multi-layer secured packing
Two of the most important parts of home relocation are packing and the transportation of goods. Now, when you pack the items, the packing may not be up to the mark resulting in your belongings getting damaged during the transportation. But, the companies being professionals, they are expert in all of these. They know what kind of materials are to be used, and how to pack household items to get it transported safe and sound.
Similarly, in case of transportation, the vehicle they bring is well constructed for the safety of the goods. Most of them are completely covered to keep your belongings safe in case of unexpected weather issues. But, when you try to arrange for transportation (truck) on your own, the vehicle you get may not be that safe, especially in case of long distance relocation, through bumpy roads, and poor weather conditions.
Also, while loading the items, the employees of the moving companies arrange the goods properly in the vehicle to ensure maximum safety. You, on the other hand, may not have so much of idea about arranging the boxes and may end up stacking the boxes one above the other, which may damage the items inside the carton boxes.
Hassle free service
Needless to say, the whole procedure of home relocation is a long one and taking end to end responsibility of it often becomes a headache for a commoner like you and me. After all, you need to do all the sorting, packing, loading, transporting, unloading and rearranging on your own, and that is definitely not easy, more so, if you do not have anyone to help you through the process.
However, when you hire a good packer and mover agency, they are going to take care of everything for you. You just have to tell them what is to be moved and what not. You don't have to take the hassles of arranging packing materials, disassembling furniture, uninstalling fan and other fittings etc. Right from packing to loading, transporting, unloading, unpacking and re-arranging etc, they will be taking care of each of these activities and tasks. You just have to guide them in sorting the inventory and you can relax as they handle everything professionally.
End to end service
After all, relocation is not just about planning and bookings, you do need to be physically active as well. You need to run here and there, starting from going to the shops to buy the items for packing, to loading, unloading goods for transportation etc., all of these require a team and strength. Movers and packers have that team in place, but you may not be able to handle so much of tasks all alone. This is truer for individuals who are sick or are aged and have not time to go through all these tasks.
In such a situation, if you can engage a relocation company, the entire experience will turn out to be exceptional and hassle free.
Freedom from heavy lifting
Although I have given a hint about it already in my previous point but I would like to repeat it specifically once again and that is, you don't have to do the heavy lifting as the movers and packers are going to take care of it.
I am sure you will have all sorts of household items in your home, big and small. There is bound to be heavy items unless you deliberately decide not to take them. Well, lifting such heavy and odd dimension items without trained and strong labours is not going to be easy. You are not professionals and so you may not know the techniques well or have the physical ability to lift these items. Finding labour from the local area is also not going to be easy and even if you manage to find some, they may not know the right techniques to lift, load and unload those items to and from the truck.
In contrast to that, hiring packer and mover will save you from heavy lifting. They will do all of these lifting, loading and unloading and you need not worry about it. This is one of the biggest benefits of using packers and movers services over doing it yourself.
Saves time and energy
Today, most of us are fully occupied and we hardly find any free time to look after these complicated and frustrating tasks. But, in case of packing and moving on your own, you need to dedicate a lot of your time in planning, sorting, packing, etc. If you have got lot of time, then you may give it a try and relocate on own your own. But for majority of us, finding free time to tackle all these complicated tasks is going to be difficult.
And, even if you manage to get time post your work, most of the time you will not have the energy to take of the packing and moving.
In contrast to that, hiring the packers and movers, will actually help you save a lot of your time and energy, which you can use in other tasks that requires your attention like finding a house in case you are moving to a new city.
No worries of uncertainties
Home relocation already has its own set of challenges which if you are a little efficient and confident, you might still be able to handle. But, handling challenges that are completely unexpected may not be easy because you are not ready for it. In case of home relocation, you may face many such unexpected issues. Like for example your couch may get stuck on the door while you are taking it for loading or you may end up facing bad weather (even though the weather was good when you started) in the middle of your journey. All of these can actually make you a lot puzzled because you were least expecting all of these frustrating situations.
But, in the case of professionals, things are not that tough. This is because the experienced movers and packers, in all probability, have handled many such tough and complex situations. So they are in most cases already prepared, both mentally and physically to handle these unexpected situations. And even if they are not prepared, they can undoubtedly handle things far better than a novice like you and me.
How to hire the best packers and movers in your locality?
Now, that you know about the amazing benefits of using packers and movers services over doing it yourself, I am sure you are giving it a serious thought. And, if in case you have decided to use movers and packers services, then first and most important concern is to be able to find and hire movers and packers at the right price.
In order to get the maximum benefits of using movers and packers services, you have to find and hire a reliable, cost effective and competent movers and packers company. But as you know, there are so many relocation companies all around, you go to be a little vigilant while selecting and hiring movers and packers.
And the best way to get it right is to talk to a few of them, take quotations inclusive of taxes and then choose one after comparing and evaluating all the options you may have.
At servicesutra, we have made it super easy for you to get free survey, quotation and hire movers and packers for all types of shifting including local house shifting within your city, interstate household shifting or interstate car transporting.
Get started by requesting free quotes or call our helpline number 07044123404
Conclusion
Home relocation can be frustrating, especially if you are moving for the time and you don't know how to get it right. There are a lot of tasks that must go right for you to relocate your household goods safe and sound. Arranging packing materials, finding labours, finding truck or tempo, loading, unloading, insurance and so on, there are so much to handle. And handling it all on your own can easily become a frustrating affair.
Thankfully, there are professional movers and packers companies for hire. They have the required infrastructure, team, resources and everything that is required to relocate homes.
Obviously using movers and packers companies for home relocation is way better than trying to do handle it all on your own. I have already discussed about the major benefits which includes, end to end service, hassle free moving experience, cost effective solution etc.
When I had to relocate before finally settling in to my own house, I always used to avail movers and packers services.
What about you?
Do you prefer to move on your own or you like to hire movers and packers for home relocating over doing it on your own?
Let me know what worked for you?