You may require household goods storage service for various reasons such as storage of useful furniture because you are moving away for a few months or perhaps you are moving to a new house and you want to store some of your larger furniture for just a few months. Some time people buy extra furniture for wedding or other purposes in auctions and there may be many more reasons for you to use Household goods storage service. Or in case you are going abroad on project assignments and will return only after a year or so, then you can avail household goods storage services to store your home appliances, furniture and other domestic materials for any length of time by paying nominal storage fees for storage facilities.
There are number of moving and relocation companies out there is nearly all of the major cities like Delhi, Mumbai, Bangalore, Pune, Kolkata, Hyderabad or Chennai who offer complete packing, transporting and storage services to their customers at affordable rates. Although rates of household goods storage services depend on the volume and size of goods, it does not cost more than what a rented room could cost you.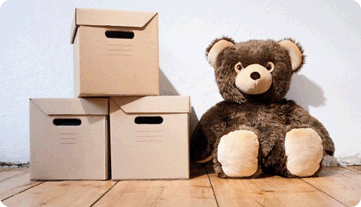 But if you want to know much accurate estimates for household goods storage services then you can approach a couple of moving and storage companies to submit their estimates. Naturally they would like to know about volume and nature of goods, but that you can tell them anyways.
Here's more about household goods storage rates
How much does storage of household goods cost? I am sure you want to know this. As I said rates of storage services depends on several factors such as;
Need share storage space or private room?
What are the goods – volume and type of goods?
How much of storage space will be required?
For how long do you want to store your goods in the warehouse?
Do you need door to door service?
Are there any fragile items which need special attention?
But you know what, if you look around carefully and downsize your inventory of goods, then you can cut the costs of storage services. Also you may like to pack some of the stuff yourself especially if you have the original cartons of your home appliances then you can cut the costs of packing.
You may opt for a shared space that way your costs will be lower than asking for a private storage room/section. And last but not the least, it also depend on the features and facility that a specific storage facility is offering. So which storage company you are talking to does matter. There are premium storage companies, there are good and obviously there are mediocre storage and warehousing companies out there. It's entirely up to you to take a call and decide which storage unit suits you.
How to find household goods storage service providers in India?
Since we are talking about household goods storage services, let me tell you one thing very clearly that domestic household goods storage services are offered by movers and packers companies in India. One who does packing and shifting, they are the one who will be packing your goods, transport it after packing to their warehouse and your goods will be stored there for any length of time.
[For storage of commercial goods, there is commercial storage facilities managed and maintained by different logistics companies. There are specialized logistics companies who offer special storage services for special items like ice cream. Detailed post on this topic is expected in future]
So the process of finding a household storage company is nearly same as you find movers and packers companies. But the only difference in finding moving companies for storage services is that you have to go evaluate the warehousing facility yourself. Most of the moving assignments are complete within 1 to 10 days, depending on distance and route. But storage is a long term contract and you can't take chances with safety and security of your goods.
Using ServiceSutra is highly recommended to compare rates of trusted storage and warehousing service providers across all major cities in India e.g. Mumbai, Bangalore, Delhi, Pune, Hyderabad, Chennai among all other major cities. Best thing about using such platform is you get the opportunity to compare rates of storage services from three different storage companies. You also have the liberty to choose one who is right for you.
Things to keep in mind when hiring a storage company in India
As I have said above, there is no shortage of storage and warehousing companies for storage of household goods in India; there are plenty of tem. But you ought to be very cautious when dealing with a storage company because it's a long term contract and safety matters above all.
Do whatever it takes to evaluate a few of them but make sure to;
Evaluate a few of them.
Visit the warehouse physically to get better idea of how safe the place is.
Also note that cost of transportation is involved, so one who is nearer to your home should work well for you.
Check for safety arrangements like fire extinguisher and other safety majors.
Make sure that your goods are insured. Insurance of goods is really important.
And at the end, do check the credibility of the service provider which is really important. Hiring a storage company who is well established is better even if it costs a little more than the one who is new in the trade. I am sure you will be keeping these things in mind when hiring a storage company for household goods storage services.
It's over to you now
Moving and storage companies offer household goods storage services in India. You can use these storage services for storage of all types of household goods while moving your house to downsize your move or simply when going abroad for a few months to cut rent of your house.
Storage services are available across all major cities in India and there are different types of moving companies; some of them are premium who costs more, others are average and low costs storage solution providers. It's up to you to evaluate a few of them and then decide who fits your requirements and who is right for you.