So you received the possession of your newly built flat and you are all set to convert it into your sweet home? Obviously it's a newly built flat and no one has stayed there and you are all set to start settling down in your new home. Obviously there are empty walls all around and you need to do some interior designing work to make it your sweet home.
One way to look at it could be as an empty house which needs lots of work to make it a home where you can start living. But the other way to look at it could be as a plane simple white board where you can draw your painting as per your taste and style. After all, you don't buy a home every now and then. So take it as a huge opportunity where you can plan everything in your own pace.
Certainly the best way forward could be to hire a professional interior designing company who can discuss and share different ways of decorating your new home. Right from selecting suitable colors for your walls to choosing design and style of furniture that you need; interior designing companies can help you with everything.
Best time to do interior designing is when the place is vacant. But once you start living in your flat, it would be lots of work to vacate a room for the interior designers to work on. It's also a time consuming process because work have to be done room wise because you have lots of stuff inside. Alternative solution is to vacate the room again and store all of your goods in a warehouse and let the interior work.
But complete interior designing of a newly built flat could take months and it also involves various costs. Costs of interior designing depend on several factors such as:
Total area of the flat
Total number of rooms
Quality of materials like tiles, play wood, laminates etc
Costs of lighting
Costs of design elements and accessories like paintings etc
But it's worth getting complete interior designing done by a professional interior designing company.
But if you are not planning to go for entire interior designing then here's how to get started with a minimalistic budget and do a good makeover of your new flat to make it a sweet home.
Painting of rooms
Most likely the builder has already done the basic plaster of Paris or white color on interior walls. But a quick coloring of walls could make lots of difference. Coloring all of the walls will make it look much more appealing and beautiful. Painting can be done on the walls as well as on the furniture like doors, window and other elements.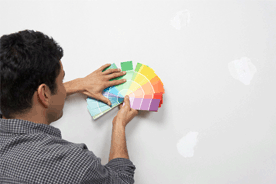 Again a professional can help you take better decision because these days there are plenty of option and different types of shades and patterns are available that you may not be aware of. But you can also choose a color of your own choice.
Visit a paint shop nearer to your home and ask them about the options and varieties of paints for various rooms. They will be happy to help you choose colors of different areas of your flat. It's a good practice to mix and match colors that is use different color in different part (rooms) of your flat.
Try different shades and patterns of colors on your walls. You may also try wallpapers in living room or in the passage.
Get essentials for different rooms
Since you are after a fresh new built flat, you need to get the essentials sorted. Different rooms in your flat require different types of essentials. Look around your bathroom, kitchen, living room, master bedroom and kids' bedroom to make list of essentials that you need. For example you may need a couple of rack in the bathroom. You need suitable space created in the kitchen to store utensils and cutleries. Space has to be created in living room for television, music system and so on.
When you are about to move, no matter how much of cleaning and sorting you do, you still have lots of items that need storage space. Create that storage space in your new flat so that you can keep them safe and sound.
Lighting and accessories
You need to setup proper lighting across rooms. So get in touch with a certified electrician and get everything checked and fixed. Installation of switch boards, light fittings, fan etc should be done before anything else. From kitchen to bathroom and bedroom to living room, you ought to install suitable lighting and fixtures. Once the lighting is done, you may like to hang a couple of painting, portrait and family photographs.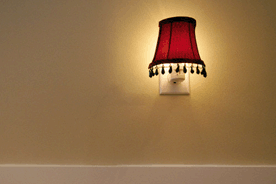 It's worth investing in some decorating elements like flower pot, good quality curtain, mats etc but there is no hurry you can take your time and do these as you progress.
Summary
When you are all set to move to a newly built flat, getting proper interior designing done could be the best thing to do. But if you are not planning to do interior designing just right now and want to settle as fast then you can certainly do so. To begin with, you should get the paintings done followed by electric work.
How did you convert your new flat in to a sweet home?