Moving out of state has its own complications, especially when you want to move both household goods and a car. You can always take help from professional moving companies to relocate both household goods and car. But you know what, interstate car moving requires additional steps, and there are certain documentations and formalities that have to be completed before moving the car. Apart from the documentation and other formalities, there are so many other important things that need to be considered to get your car moved out of state, safe and sound.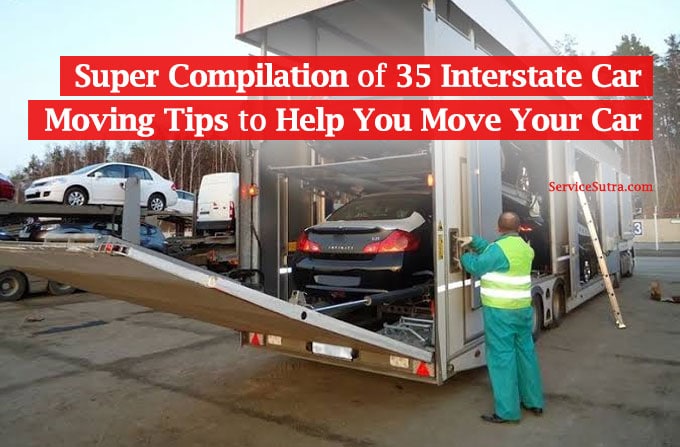 And if you are planning for an interstate home and car transportation and you are wondering about how to plan and get it right, then I have got you covered. Today in this post, I am sharing everything worth knowing about interstate car transporting services. You can use this super complication of car moving tips to plan and get your car shipped safely and it cost-effective manner.
Car moving tips for interstate car shipping with ease
Car is definitely a prized possession, and any sort of damage (including scratches) to it can be painful and it'll result in financial losses as well. And therefore, it is important to be very careful and exercise caution while transporting your car from one state to another.
Starting from searching for an efficient car transport service to asking the right set of questions before making a contract with a car carrier company near you to preparing the car for shipping to avoiding the common car moving mistakes, there is certainly a lot of things one has to do to get the car transported from one state to another.
I am working with several household and auto shipping companies and based on my interaction with them, I have compiled this super list tips and best practices for interstate car moving that will help you to move your car from one state to another safely and cost-effectively.
So, here we go.
First of all, take a call on if you really want to move your car to another state. Because apart from the car moving expenses, you will have to pay documentation and RTO fees and if the car is old enough, there may be certain restrictions in the state you are moving to. So evaluate everything and then take a call if it's really worth it to move your car to the state you are moving to.
Now, while taking this decision in case of an international relocation, make sure you check the import taxes and also see to it that your car meets all the legal guidelines to operate in that country/state.
The next call that you have to take is on whether to drive or ship it through an auto shipping company? If the distance is like less than 500 km then you can easily drive the car. But if the distance is more, or you are not comfortable in driving in on your own, then using a professional car shipping service will make more sense.
Usually hiring an auto transport company for interstate car transportation is considered to be the best option, as they offer door to door car shipping service, and also assist through the process.
Now that you have decided to use professional auto shipping service, it's best to not delay any further and start looking for the best car shipping companies early on.
It is always better to check car transportation quotations from at least three companies, and then choose one out of them after proper evaluation and bargaining.
Before finalizing an auto shipping company for interstate car transportation, make sure you do enough background research and ask right set of questions to car carrier company.
It will be good if you get yourself updated regarding the current market rates and basic facts about car moving so that when you are talking with the company representatives, you stay confident and are able to crack a good deal.
Remember while the demand of the car moving companies have led to the establishment of several good auto transport companies, it has also triggered the emergence of fraud and inefficient companies looking to make a profit by fooling their customers. You got to avoid dealing with such companies.
Don't finalize a deal with an auto shipping company without meeting face to face. Confirming a company over the phone or through email is usually not considered as the best way to do it.
 While evaluating the auto shipping company, it's important to check whether the company is licensed and registered or not, and therefore do check all the credentials well before hiring.
 Insurance is vital wile shipping a car and therefore, don't underestimate it. Make sure to ask the auto shipping company about the insurance policy, coverage, costs and what's covered and what is not.
 If you think that the coverage that the company is providing is not enough, then you can take additional insurance from your own car insurance company or some other insurance company as well.
 As the car shipping companies offer different mode of shipping, it is important for you to discuss it upfront. Whether it's being shipped by train, shared car carrier truck or a closed container, know what to expect.
 Also clarify about the total time it's going to take to get the car delivered to your new home.
 Talking about company rates, try to avoid going for companies offering you with too low rates as that may land you up in the hands of the fraud or inefficient companies.
  If you are satisfied with the rates being quoted for car shifting, then directly ask representatives about the payment terms and workout part payment options.
 Some companies offer door to door service and others may offer loading point to unloading point, and in that case, you have to drive the car till that point. Make sure to clarify this upfront and plan accordingly
 Whatever be the case, you should try and be physically present both during pickup and delivery to handle things on your own if possible.
 Discuss about the documents required for shipping the car so that you can keep all of the documents prepared before the final day.
 No matter how much you are convinced that the company you just talked with is good, make it a point to check necessary documents and read every terms and conditions before signing any contract with the company.
  Now, as you have finalized the auto transport company to move your car to another state, it is time now to prepare your car, and make it ready for shipping.
 To begin with, you should go for a thorough car wash as then only you will be able to locate all existing scratch and damage on your car which in turn, is an important thing for you to know in order to claim compensation from the company for any additional damage (if any) you see after delivery of your car.
 Car shipping company is already going to conduct a detailed inspection to spot and identify existing scratches and damage; they will make you sign the inspection report. Just be sure to not miss anything while inspecting your car with the shipping company representative.
 Once you are done inspecting the existing damages of your car, make it a point to take clear pictures of any scratch/damage and keep them as a proof with you. It will help you identify any additional damage if it happens during transportation.
 It is advisable that you get all your valuables removed before getting your car shipped as they may get stolen, lost or get damaged during the transportation.
 It is recommended that you either secure or remove any loose parts your car has to avoid them getting damaged or lost during the transportation.
 Checking for fluid leaks, seeing whether the battery is proper charged or not, checking the tire pressures, taking note of any mechanical issues etc is always helpful.
 Note down the reading of meters i.e. distance travelled etc, to ensure that your car is not being driven by someone from the auto shipping agency.
  You don't need to have plenty of gas/petrol in the tank, but it is ideal to leave a little gas/petrol/diesel in the tank. It should have enough fuel in the tank so that they can drive it till the loading point.
 Do not have to keep the car fully loaded with a full tank of gas because that will just unnecessarily increase the weight of your car and the car carrier which in turn, will increase the overall moving costs.
 Disable the alarm of your car otherwise it may cause a lot of disturbances during the transportation. 
 Make sure you have an extra pair of car keys before shipping your car, so, if you do not have any keys extra, make sure you get one beforehand.
 If your car is inoperable, make sure you discuss it with the company well in advance so that they are able to schedule the right truck required to load and unload your car.
 And, after the delivery of your car, do proper inspection of it. And in case of any damage to your car, report it to the auto shipping company immediately and initiate the process of insurance claim.
Over to you
Car is a precious possession and when it comes to getting your car physically transferred from one state to another, it's not going to be easy. Even if we have so many auto transport companies near us, it takes a lot from the car owner to get the car transported safely and timely.
I have already shared a super list of top 35 car shipping tips that'll help you to find, screen and hire the best auto shipping company near, and if you follow these tips while moving your car to another state, you are more likely to get it right.
Have you shipped your car to another state or country? What else do you think one should keep in mind while shipping a car?
Feel free to share your favorite car shipping tips by commenting below.