Ever stuck in choosing a gift for your loved ones? Choosing an ideal gift for someone you love and admire can be difficult at times, especially when it's for a special occasion like a housewarming ceremony. And if you are stuck in a similar situation and want to know about various gifting ideas for housewarming ceremony then I have got you covered.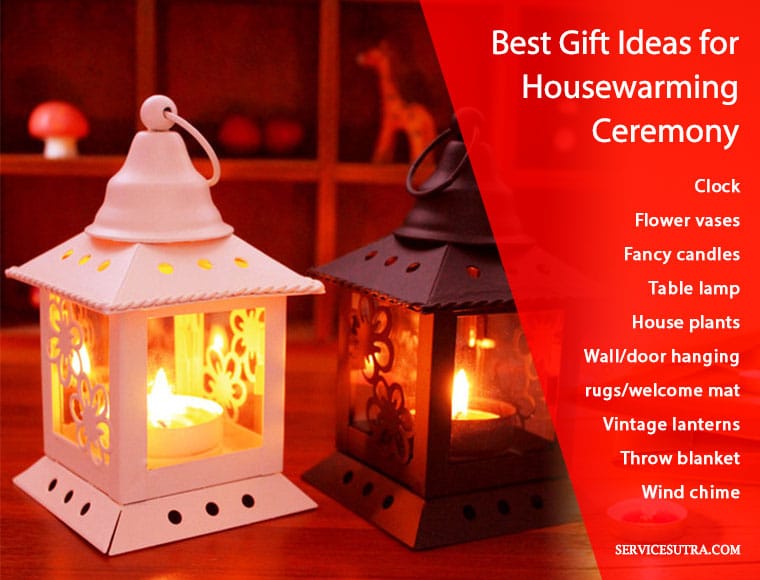 On the special occasion of housewarming, the best gift that you could give someone is something that will enhance the decor of their house. The home decorative items never go out of trend, and there are loads of varieties available in the market. And therefore, you will have a lot of options to choose from as per your preference and budget.
The best thing is some of the items are also quite easy to make, so if you want to add that personal touch, you can either make a home decorative item on your own or add some handwritten notes to make it more special.
To make it easier for you, I have made a list of some of the best gift ideas for housewarming ceremony.
Whenever we move to another house, we generally carry some of our goods, especially the decorative items. At times, we also buy new decorative items to decorate our new home. So, if your friend or relative or neighbor etc. has invited you for a housewarming party, giving home decorative items as a gift can be the best option.
While gifting on house warming occasion, it is important to gift something that will fit in their house and match with the overall decoration of their house. Obviously, if you know your friend or family members who have invited you well, you will be able to figure it out easily.
In this post, we are primarily focusing on decorative items as a gifting option for house warming ceremony. Since it's a housewarming party, it's better to gift something related to the house and a thing that they can use as a decorative element or in their day to day life.
The best budget gift ideas for housewarming party
Home decorative items can be the best gifts for housewarming party, especially when you are giving it to someone who is found of decorating. Listed below are some of the best gift ideas for housewarming party that you may like to gift someone on this special occasion.
Clock
Clocks as a gift for house warming ceremony can be the best gifting ideas. They are both useful at the same time, help in beautifying an empty wall. There are many table clocks available as well but I personally prefer gifting beautifully designed wall clocks.
I have one rustic wooden clock at my house which looks great, so you may choose a similar wall clock as a gift for house warming. The best thing about clocks is that it will never go out of use. And therefore, your hosts are going to definitely like it if you gift them one.
Flower vases
The next in the list best gift idea for housewarming occasion can be the flower vases. There are a whole lot of flower vases available for gifting. Be it the glass ones or the wooden ones, you can choose as per your budget and preference for gifting on housewarming.
Along with that, you can give some real bright and colorful flowers to brighten up their home. And, if you want to add that personal touch to your gift, and if you are good at handiwork, then you can obviously make some paper flowers and give that along with the vase.
Fancy candle set
A fancy candle set is definitely something that everyone going to like and therefore it features in my list of best gift ideas for housewarming. It evokes the feeling of love, warmth and affection, and I personally feel it is a great home decorating gift for this wonderful occasion of housewarming.
When you choose the candle, just go for a decorative one that comes in a pretty packaging. As far as the fragrance is concerned, it is good to go for a rich yet subtle scent that will enchant the whole indoor space with its beautiful aroma.
Welcome mat
A new home definitely calls for a new welcome mat and so, if you want, you can gift a welcome mat as a gift for housewarming party. You may go for something simple and classic but then if you want to be innovative, then go for a custom mat probably having some fun saying on it or having their initials etc. What is good about gifting a welcome mat is that they will be using it sooner or later, so it is a useful gift and will also help in decorating their entrance.
Table lamp
Gifting a good quality table lamp is always a great idea for housewarming parties. When your friend or relative has moved to their new house, gifting them a wonderful table lamp is always great, and they can start using it straight away.
You can give the easily available ones from the market or may even go for slightly more upgraded ones. Like for example, a touch activated lamp with soft ambient lighting which is ideal for bedrooms.
Picture frames
Picture frames never go out of fashion and use. Therefore, if your hosts are people who love clicking pictures, then picture frames are an ideal gift for them. I once gifted a brass one to my neighbor along with their family picture in it and she completely loved it. So, you can also do something like that.
Picture frames not only help beautify the space but also are a reminder of close bonds. And therefore, I think they make a special gift for housewarming ceremony, when someone is trying to start a new life in a new home.
House plants
I do not know how many of you will agree to it, but I was once gifted an Aloe Vera plant by my friend and me, being a plant lover absolutely loved it and still has it at my home.
Therefore, if your hosts are also plant lovers, then do go for this unique gift idea. There is so much pollution everywhere so I feel gifting a house plant is really a very sweet and environment friendly gesture.
In fact, the household plants not just beautify the space but also help in keeping the indoor air purified. So, you can really consider plant as a gift idea for housewarming occasion.
Wall hangings
You can go for any type of wall hangings, as its going to look good. There are so many varieties available both online and at the local markets, so go find one for your hosts.
However, I love glass paintings which I feel are absolutely beautiful and make great home decorating gift options for a housewarming party. In fact, if you know glass paintings, then I will suggest you to gift one handmade wall glass painting or other glass wall arts. Trust me this will definitely make your host feel very special and happy.
Area rugs
A beautiful modern yet classical area rug will become a great gifting option for a housewarming party. Area rugs not just help in beautifying the floor, but it also provides your feet with comfort as they are very cozy. So, look for a good cozy area rug to gift the hosts on this beautiful occasion.
Throw blanket
A soft throw blanket is perfect for snuggling in the couch, but then you should consider this gifting idea only in winter season. One made of acrylic fabric and having decorative fringes on the edges will be a good choice for gifting. So, you may look for something similar to that, but remember that there is no point gifting blanket in any season other than winter.
Vintage lanterns
Well, if your hosts love vintage home decorating items, then gifting a beautiful vintage lantern can be a good idea. These very cool lanterns make excellent table decorative item. So, if you get these pieces anywhere, you can surely gift them on this housewarming occasion.
Door hanger
You can also consider gifting front door hangers as well on housewarming occasion. Most people prefer decorating their front doors with innovative hangers, personalized wooden plates etc., so you may do a little bit of research, and find a door hanger that is perfect for your hosts.
Like for example, a customized hanger having their names written or having some quotes that suits them. Or if they have pets at home, you may go for something related to that etc. Well, just think out of the box and fun and trust me, your hosts will love it.
Wind chime
Last but not the least, one of my favorite gift ideas for the housewarming party is wind chime. There are so many colorful wind chimes available, you can choose any one and gift it to the host. It is actually a very safe gift as well because it is something which most of us like, and so no one will get disappointed if you gift them a wind chime.
Over to you
Choosing a gift for your loved ones can be confusing, I personally run out of ideas every time I have to select a gift. And when gift is for special occasion like a housewarming party, the confusion can be even bigger.
I personally believe that when you are gifting on the occasion of housewarming party, it's better if you could gift something that relates to the home and something that will be loved by the host.
Obviously home decorating items can be the best fit for housewarming gifts. It is good if you go for multipurpose gift items that will contribute in home decor as well as will be useful.
Recently, I had to select a gift for a housewarming ceremony and I was stuck. Thankfully, I was able to choose a gift after plenty of brainstorming. Based on my experience, I have already shared the list of most amazing house warming gift ideas that you can use while selecting a gift for an upcoming housewarming party.
What else do you think will make as a good gift idea for an occasion like a housewarming party? Feel free to share your gifting ideas by commenting below.