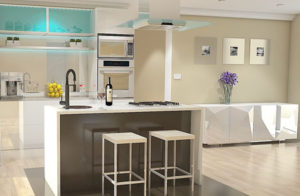 Are you struggling with cluttered cabinets, jam-packed pantry and disorganized countertop? Are you also among those who are struggling with lack of storage space in the kitchen? Well, the secret to smart kitchen storage is not having more space, but it's all about using the kitchen storage smartly. And in this post, I am going to share a few smart kitchen storage tricks that can seriously help you create plenty of space in your kitchen.
In today's world, there is a universal lack of space, and the architectures are planning to construct dwelling places like homes or flats in smaller places, where they can squeeze various parts of a house, like the living space, kitchen, bedroom, bathroom etc.
Due to this reason, the places tend to shrink, and giving a limited space for the kitchen. If your kitchen is small, then that does not mean that place has to be cluttered and congested. There are a few basic hacks that may help you free up more space in the kitchen and also help you get organized.
Kitchen storage hacks worth knowing
If you are dealing with minimum storage space in the kitchen, then chances are you are not using the space in best possible way. The secret to best kitchen storage is not the size or space in the kitchen, but it's the way you organize and use the storage space you already have.
Last weekend, I visited one of my friend's, who live a standard 2BHK apartment. Even if the living area of his apartment is much bigger, her kitchen is comparatively smaller. But her kitchen space was so well organized, that it looked much better than the bigger kitchen space in my house. And when asked, she showed me the entire kitchen and how she manages the issue of smaller kitchen space so smartly.
I am sharing a few kitchen storage hacks below and hope it help you get more storage space.
Vertical orientation
In general, most of us use vertical orientation to store objects. We have a tendency to keep the plates and other objects one above the other in horizontal position, but the magic is in vertical orientation.
Keep the objects vertically standing next to each other, instead of stacking it one over the other. This will save space and also give you some extra space that you can use to store other stuff.
Kitchen appliances
The mixers, grinders, peelers, microwave, fridge, dishwashers, all these are the important gadgets of the kitchen and you cannot do without them. If you keep all these gadgets just like that, then you will find no space to stand and air to breathe.
You can organize the kitchen appliances wisely so that visible open space is left. The fridge can be installed within the fridge cabinet. You can have roll on drawers for the mixers, grinders and peelers. You can keep the microwave on the countertop as you need it for cooking. The dishwasher, like the fridge, can stay in one such open cabinet.
Positioning of the objects
You must place the objects wisely so that you can get them easily, and after the work is done, you can keep them again in proper places. You need the kitchen utensils, spices, oils for cooking. So keep these items near the gas oven. You do not need the expensive dinner sets and the tea sets every day, so you can keep them in the higher racks of the cabinets. If you think that you do not have enough space to install cabinets and drawers, then start using hooks and hangers and hang the shining kitchen utensils.
Avoid overstuffing your kitchen
You must buy the required items as per your family choice and monthly consumption. If you cannot stash the monthly quantity, then you can go for weekly option.
If your family consumes chapatti mostly, then it is advisable that you buy wheat (atta/maida) in maximum quantity and rice in much lesser quantity. The items that you buy and stock the pantry will be based on the family consumption. Do not buy anything excess as it will then consume huge quantity of space.
Garbage bowl
She had a bowl in her kitchen where she used to store all the garbage like the vegetable and fruits peels, empty packets of spices. While you are cooking and cutting and chopping, some garbage is produced and you cannot go and throw it every time while you are busy cooking. If you cannot, then the kitchen space will be too messy and dirty.
So, keep a bowl to store all the momentary garbage and once the bowl if full, you empty it in the dustbin. Then again continue your work. Thus your kitchen will be clean and tidy, without the garbage occupying spaces here and there.
Over to you
The secrets to an awesome and organized kitchen are explained in the above paragraphs. Now that you have read the article, I hope you are confident about your kitchen.
Your kitchen is a busiest place in the house and also the messiest as there are millions of work here, not just cooking. But now that you know the smart kitchen storage secrets, you can get rid of any clutter and gift yourself a lovely kitchen space.