Recently a fried has moved into a new home after proper interior work. I was amazed to see how well organized the space looked, especially her bedroom and the living area. I was struggling to make living room spacious but when I saw her living area, I knew what is to be done to make living room spacious. With my current setup (of living area), there were so many things wrong, obviously, it's a rented space without any interior work, so furniture, sofa, tools etc is taking lots of space.
If you are buying a new home or planning to decorate your home and struggling to make living room spacious then I think I have some simple yet effective tricks that you can use to make your living room spacious.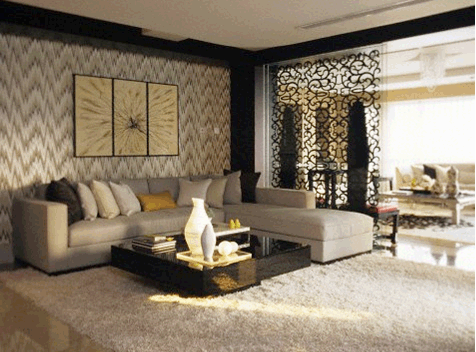 Are you ready to know more about these tricks?
Best ways to make living room spacious
Not all of us can afford duplex and high end bungalow and if you have purchased a standard flat in an apartment and wondering what to do to make living space look more spacious then there are some simple hacks to get it right. Here are some of the most simple, yet effective ways to make living room spacious, comfortable and well functional.
Measure the space you have in the living room
Before you buy furniture for your living room, make sure you measure the room size. Not just size, even the room's shape matters when it comes to buying living room's furniture. So, first measure your room's size, check its shape, and then only head towards a showroom to buy furniture for your living room, which can firstly fit in your room, and secondly, can maximize space in living room.
Mark a focal point in your living room
Every room has its own purpose, so arrange the furniture according to your purpose. If you are using your living room to gather your family and friends, in order to relax in front of the TV, then the furniture should be placed in such a way that everyone's focus must be directed to one spot in the room; be it a wall where the TV is fixed or a table on which the TV is placed. It is wise to mount the television on the wall so that you don't have to buy extra furniture that will consume your floor space. Then, place the sofa eight feet away from the television in the center of the room.
Place the couch at a proper place
If you feel that you just need to place a couch eight feet away from the television, then you are wrong. There's one more thing that you'll have to do, and that is, place the couch few inch away from the walls so that the room feels spacious. If you keep space between the couch and the wall, the room will automatically feel more open and spacious. If you don't believe my words, try it!
Use smarter furniture
Design trends are going through many innovations at the moment and thankfully it's for good. Today you can find different types of smart and savvy furniture that not looks amazingly well, but offer plenty of space that can be used as storage too. So just go to a furniture showroom and ask them to show you only those furniture that are savvy or can be used for more than one purpose; for instance, a sofa come bed. Sofa cum bed is a must to have furniture, especially when you don't have an extra guest room and want to save space in your living area. Similarly, you can find sofa with hidden storage space that can be used to store various items and obviously it saves lots of space.
Make use of the vertical space
If you have too many decorative items, then it is obvious that you'll need a place to store them in order to display. You can surely buy a showcase to display your décor, but that would take up much of your floor space. Instead, you can just make shelves on the wall to store those décor. Why just décor, you can make cabinets or floating shelves on the walls of your living room to store anything you want. For example, if you are a bookworm, then you can easily store and display your book's collection on the shelves that you have made on the walls, instead of buying furniture to keep those books.
Proper lighting in living area is a must
If you have a small living room and want it to look spacious, then just light every corner of your living room well. A dark room will always make you feel that it's small and congested. But, immediately when you light it, it's going to look beautiful and spacious as well.
Use mirror strategically
If you have a small living room, then what you can do is place a decorative or large sized mirror on any one side of the room because it will make the living room feel larger. You can also do another thing and that is place the mirror on a wall that's opposite to the windows, so that it can reflect light and naturally illuminate the room. So, to make your room look spacious just use an oversized mirror to both illuminate the room, as well as to make it look larger than its original size.
Over to you
Today, a standard 3BHK flat of around 1200 to 1500 square feet is considered to be a decent size. Because with the help of professional interior designers, you can design your space with optimum space utilization and make it look good, comfortable and functional. Using right set of furniture, placing it at right positions and sorting a few things out is all it takes to make your space well organized and spacious. We have discussed a few ideas above and hope it helps.
Apart from the tricks and ideas we discussed above, what else do you think one can do to make living room spacious and organized?