Kolkata – the city of Joy is also considered to be the cultural capital of India. According to Annual Survey of India's City-Systems, 2014 conducted by Janaagraha Centre for Citizenship & Democracy, Kolkata has been ranked as the no. 1 city to live in India. If you are moving to Kolkata and you are just settling out in your new home and wondering where to go and what to do, this post is for you.
If you are new here in Kolkata then I am going to help you plan your weekend and with some of the must to do things. There are so many things that you can do in the city of Joy, but I have picked some of the top things to do assuming you are new here in Kolkata. And if you need assistance with local needs, you can find it all here for free.
So are you ready to explore Kolkata? Let's go.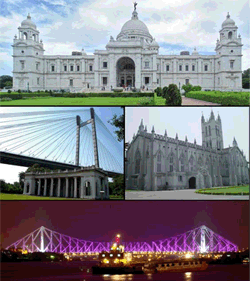 1. Visit Kalighat in South Kolkata
Kalighat Kali temple is a must to visit place for Hindus. Thousands of Hindu devotees (both locals and tourists) visit Kali temple every day. Kalighat is accessible by bus, metro and taxi from any part of Kolkata north or south. You may also drive and park your car in the parking. Nearest metro rail station is Kalighat, or Jatin Das Park.
There are a number of stores where you can put your shoes, bags etc and take bhog (sweets that you want to offer to the goddess) or prasad, flowers and other 'pooja samagree'. There is no need for you to take any help from any Brahmin or Panda, because they will ask you to pay money. It's better to go to a shop, keep your luggage and shoes and take bhog as you like and enter into the temple. There are lots of shops from where you can buy idols of the goddess kali and other things on the street.
2. Victoria Memorial and Maidan
Victoria memorial is one of the must visit tourist attraction in Kolkata. It's near brigade maidan and Citizens park. Victoria memorial is a masterpiece of architect and built using marble. When you stand in front of the Victoria memorial, you may feel like you are not in Kolkata but abroad. It's dedicted to the queen Victoria and now it's converted to a museum. There is a well maintained park as well. Victoria memorial is very much accessible by both metro and bus. If you take metro then you have to walk or else take a taxi or bus from park street/esplanade metro station.
3. Dakshineshwari Kali Temple
You may plan to visit Dakshineshwari kali temple in South Kolkata. Situated on Hooghly river, it's a must visit place for Hindus. There is a local train station in Dakshineshwar so you can access it by local train, apart from bus and taxi. If you like Kolkata metro, then reach Dum Dum metro station and from Dum Dum you can take a local train.
You will find registered shop there from where you can buy flowers and sweets (Bhog) and enter in to the temple premises. There is issue of panda or Brahmins like you might have faced in the Kalighat temple.
Belir Math is nearer to this place and you must visit this place. Since you are Dakshineshwar, you can take a boat ride from Dakshineshwar to Belur Math. Belur Math temple was founded by Swami Sri Vivekananda and it's the head quarter of Ram Krishna Mission.
4. Roam around in Esplanade
By now you must have tired, so roam around in Esplanade (Dharamtallah). If you like window shopping there are lots of stores. From shoes to clothes and obviously you can try buying stuff o the streets (if you like). Street shopping is a different thing all together and you should try when you know how to negotiate on the streets. Rates could vary as much as up to 60-70%.
Let me tell you that there is shoe sore "Sree Leathers" which is probably the largest shoe store of Kolkata and from shoes to hand bags, belts to school bags, this tore ahs a lot to offer. If you have time, you must visit this store.
5. Hungry? Here's what to eat
When you are in esplanade don't forget to visit K C Das sweet shop. It's one of the oldest and famous sweet shops out there in that area. Kolkata is famous for its Rasgulla (pronounced here as Rosogulla) and when it's from K C Das, you are going to love this. There are lots of other sweets and snack for you to try. Nearer to esplanade is the Park Street where you can find plenty of restaurants, eateries, pubs and bars.
If you are fan of street foor, try KATHI Roll (Egg roll), fish finger and Jhal Muri on the streets; these are the favorite snack of Kolkata.
Over to you
There are lots of things to do in Kolkata. It's an awesome city and you are going to love the place and people of Kolkata. You can visit Nalban Park, Aquatica, Scince City and many other places. Howrah Bridge and Vidyasagar Setu is also the identity of Kolkata and you may like to watch the second howrah bridge during night for its lighting. But I will let you settle down first and share more activities that you can do in my next post.
If you are yet to relocate and searching for movers and packers companies then start here.
What according to you is the most exciting thing to one can do in Kolkata?