Proper packing is the key to safe and smooth local shifting. Because when you pack your domestic goods properly, you can be rest assured that goods can be handled and transported safely. Obviously you can pack your goods properly when you have all of the tools and prior experience of packing things especially those delicate crockery items and glassware or chinaware utensils.
In last 5-6 years, I have probably relocated my home several time in Kolkata and learned a lot about packing and shifting. Probably I enjoyed shifting more because of the fact that I have always approached it methodically and learned to get it right everytime.
But most of us get through a lot during local home shifting and especially when we are in urgency like moving next day or the day after. Even I feel one should plan well in advance to ensure everything is in place for a hassle free local home shifting. But at times, we don't know about moving in advance and have to rush it anyways. If you are in similar situation, then this post is for you, just read through and you will be able to pack everything properly for a safer and hassle free local home shifting the next day.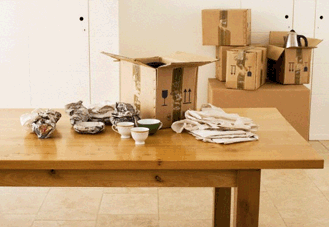 Step by step guide for local shifting in India
Enlist things that you have to: It is perhaps the most important job to do before you start packing. And people don't care a straw for it; as a result they suffer heavily. I strongly suggest listing out things first so that you know how much of packing materials and what sizes of boxes will be require for packing. Unless you know about even smallest of items that are to be packed, don't start packing.
Then collect packing materials and other necessary items like bubble warps etc. In general you would require packing materials like carton boxes, old newspapers, packing tapes bubble wrap, scissors etc. Just before packing, you should prepare those boxes by taping the base and top of the boxes horizontally to give extra support to the box. Now you are ready to pack your stuff in those boxes.
As I said in the beginning, packing is most crucial part and it requires your attention. Make sure to wrap fragile items properly before putting them into the carton boxes. Use proper cushioning to create multiple layers and fill any empty space using scrambled newspapers or packing papers.
Not sure if there are friends and family who can support, but you need a mini truck or a tempo and you should book it immediately. You don't want to fall in a situation where you can't find ways to transport your good, no? Also as needed, you can ask them to send a couple of labors as well who can help you with loading and unloading. This is another irritating task, but you can't do without it.
Once you are done with packing and truck is there, just get everything loaded and transported to your new home. Make sure to discuss pricing etc well in advance to avoid any dispute. Once the goods are unloaded, ask for help in arranging major items like Fridge, washing machine, cupboard etc because you can't even move them all along and need help. Since labors are there, just take advantage and once everything is done, you can give them some tips.
Over to you
Home shifting is not easy especially when you are doing it for the first time. There are several things that you can manage but not everything like disassembling a ceiling fan? Even if you are in hurry, just check if you can find a movers packers locally and check if they are available for next day home shifting. If you find one, just work around with them and see if you can avail their services. Local home shifting in India usually does not cost a lot and if you think by doing it yourself you can save lots of money, then you should seriously give it a thought.
Hope you will use these tips while doing a local shifting within the city. Feel free to share this post with your friends and also let me know your experiences of next day local shifting.