Decorating a young lady's or lad's bedroom is a tough job, especially when they are in their teenage phase. It is tough because their style, choice, personality and their needs are completely different from that of their childhood. So, the rooms of your children when they were kids may not meet their needs in this teenage lifestyle anymore. Therefore, modification is highly needed.
It takes lots of thinking, creativity, patience, planning and time to design a bedroom for a teenager. As a parent, you should definitely ask your prince and princess about what they want, like and aspire for in their dream room. Asking them is important because they might not like what you choose for them and mostly because teen boys and girls have their separate needs, functionality and priorities.
I recently got new bedroom designed for my cousin and spent lots of time understanding and discussing her dream bedroom. Based on my conversation and research I want to share some amazing tips and ideas to help you with teenage bedroom design.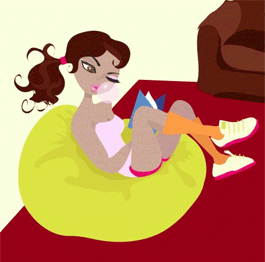 Here's how to design bedroom for your teenager
Needless to say, the bedroom should reflect their personality, style of living, functionality etc. There are many things that matters and here are a few of them to help you get started
Bed
 A teenager's bed doesn't needs to be of a king size. If there are two teens staying in a single room then buying a loft bed, or double-decker bed would be wise. Make sure that the bed isn't too big since it may gulp all the space. A bed with chambers and cupboards under it will help your teens to store their things easily, instead of buying another wardrobe that will take up much space.
Pillows
Pillows are loved by one and all. So make sure there are ample amount of pillows on your teen's bed. If it's a teenage lady, then pillows along with some soft toys would be lovely. But teenage guys wouldn't show any interest in soft-toys, so only pillows for them. Pillows are a great element of decoration.
Wall shelves
A wooden shelf above the bed or on any empty space on the wall will help your child store their desired items. At teenage, most of them are hooked to read books, especially the girls. So a shelf on wall would not take the floor space, and would help your children store books, and their other stuffs.
Study table
In a teens life, studying and ready books is everything. So even if the room is small, parents must still buy and keep a study table at one corner of the room. It is preferable to buy a table that has a capacity to hold a desktop or laptop, as well as has ample space for study. The table must also have cupboards where study materials and other books can be kept. And one thing that has to be kept in mind is, make sure that all the furniture in the room is of same color, and made of same material because teens prefer to match up things.
Pin boards
Pin boards are an essential part of a teen's room. It is a useful item for the teens, and acts a piece of decoration as well, that can be stuck on the wall just above the study table. The student can pin their time table, exam schedules, and other important charts that are important for their academics. They can also pin photos and posters which they like.
Lights
Various types of light effect can enhance the look of a teen's room. Remember most teenagers like their rooms to be illuminated. So whether it is fairy lights, or some other types of lamps and lanterns, keep in mind that the room must have sufficient illumination.
Bean-bags
Currently bean-bags are the most in-thing in the world of décor, especially when it comes to decorate a teenager's room. Bean-bags are trendy, and give the room a new, fresh, and trendy look. Most teens prefer to use bean-bags over normal chairs when it comes to sit and pass their leisure time. These are easy to carry, can be easily placed anywhere, and doesn't occupy much space.
Photos and posters
A teen's room is incomplete without different photos and posters that are hung or stuck on the wall. The parents must surely grab hold of their kid's best photos and ask them about their desired posters, and then stick it on an empty wall. Don't stick too many of them because this will make the wall look untidy.
Over to you
While choosing all the décor items for your teen's room, make sure that you carry him/her along with you. Otherwise, list down the needs of your child before going to the market. Remember that the room will belong to your teens, so it's better if you decorate according to them. Feel free to take advise and opinion from a professional interior designer as well if needed.