People have to move these days for various reasons and they turn up to packers and movers companies for help. Obviously so because one can't do all of the packing herself especially when moving entire 3 bhk household goods. Except a few items, most of the household belongings are beyond the capacity of a single person to pack and move. For that, you need to find packers and movers and hire a professional moving company who could help you.
But did you know that in order to find packers and movers who are equipped and reliable, you ought to have some time in your hand? Because from finding a couple of movers and packers to getting estimates for shifting services; comparing their reviews and credentials to finally negotiating and selecting a mover, you need to have some time in your hand. After all it's about safety and security of your essentials and you can't just rely on any randomly picked movers, can you?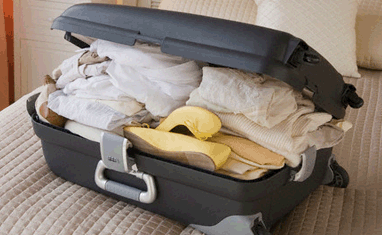 Whether it's a local shifting or a long distance domestic home shifting, movers and packers can help you relocate without any hassle. Once you find and finalize a movers and packers company, you are mostly done because rest of the process can be handled by the movers and packers you hired for the job.
What to do when you don't have time and you want to move next day?
You just cannot sit back with your eyes closed and let everything walk over you. You too need to make a lot of preparations beforehand, handle formalities like bank paper work, transferring money to your new account, closing subscriptions of newspapers etc. All these eat up a lot of time. After taking care of all these things comes the hardest part- hiring the professionals. With this come, the claws- they should be reliable, efficient and trustworthy too.
How would it be like if you did not have so much time to spare? What will happen if you needed to move within a day or two? For that, you need to find the appropriate packers and movers services to help you to do the needful adjusting to the time crunch. Even searching takes time. Are you at a loss of bright ideas?
There is no need to worry because there are plenty options. Like you can ask your colleagues to recommend a mover they might have used in the past? Or you could use exclusive portals like ServiceSutra to find rates and charges of movers for local and domestic shifting in 15 minute sharp.
Here's how ServiceSutra can help you
ServiceSutra is an exclusive platform to compare and hire local service providers without any hassle. While it gives you the opportunity to compare and hire trusted local service providers like movers and packers, it response time during work hours is less than 15 minutes. And all it takes is submission of one form or one call to their helpline no: 7044 1234 04 and you are through. Here's more on that.
You can simply post your shifting requirements by submitting the simple quote request form. It does not take even a minute to submit the form
Next, they will get up to three different packers and movers to call you within 15 minutes.
While you talk to them, keep a detailed list of your chalked out plan in your hand. Then it will be easier to negotiate with them about the quotes and estimates. Make sure that you are talking to only those packers and movers who offer you next day shifting services.
Once you are satisfied, you should close the deal and immediately get back to arranging your items as you had planned.
The packers and movers will be at your doorstep the next day on the scheduled time and start packing the stuff.
This looks easy enough. However, there are always cons as there are pros to every decision. It is not a good idea to make hasty shifting in the first place. A process of relocation can be well organized only if you devote ample time to it.
Cons of hiring packers and movers without adequate research
The biggest disadvantage of hiring a packers and movers for next day shifting is that the charges are too high. This is solely because the arrangements have to be made within a short while so more men would have to be involved. This adds to the cost overall.
In addition, the official paperwork also requires a lot of attention hence time. Another problem is that you tend to miss things when you are in a hurry; you tend to make mistakes and end up pulling your hair out of anxiety. This forebodes a disaster during shifting and moving.
Even problems related to payment could arise. There are just too many downsides to making hasty decisions. You never know what pit you are about to fall into.
Hence, it is mandatory that you are careful, have enough time before and after you hire packers and movers services. It will help you to take the correct decisions and the costing would be less as well. However, if you really are in an emergency where you need to hire the services within the next day, nothing can be done. Proceed with caution, which is all I can say.
Over to you
As you know, home shifting especially the long distance move require some planning. Right from planning on inventory to finding and hiring a moving company, it takes time. But when you don't have time then it's better to rely on recommendations than searching and calling movers randomly.
But whether you are running out of time or you have plenty of time in hand to prepare and plan everything, never hire a mover without researching properly. It's about cost and safety and both are equally important.