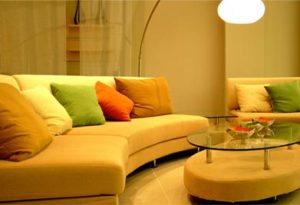 If you want to find out what is suitable for your home, then the first thing that you have to do is understand the difference between the sofa and couch. Both the sofa and couch are suitable in the living room. They can be the focal point in the room, which draws maximum attention. Whether you will buy sofa or couch that will depend on the size of the room, and the décor you want in your living room. In my article, I will be discussing about sofa and couch so that you can take a well-informed decision.
There are hundreds of various kinds of sofa sets and couches in the market, and you may think that anything in the shop will look good in your room. But this is not the case. Last month, I went to a market and bought an expensive sofa set for my living room. After I placed it, I found that it is not looking good at all. It was rather looking odd. I wish that you do not make the same blunder as me.
How to choose between sofa or couch?
There is a difference between sofa and couch. The word "sofa" originated from the Arabic word "suffah", and the word "couch" from French "couche". Scroll down the page to know some more interesting facts about them and decide which one to buy for your room. Let's start.
Size: Sofas are designed to provide seating space comfortable for four people, and even more. There are huge sofas where 6 or 8 people can sit comfortable. Unlike the sofa, the couch is much smaller and more compact. Maximum two to three people can sit on the couch and not more than that. If your room is small, then the couch is a better option than the sofa.
Function: Sofas are generally perceived as being slightly more formal. They are used in living rooms and they give out an elegant and classy vibe. Couches are used in more casual and informal settings like in an entertainment room or a cozy living space.
Texture: Just like any other furniture in your home, the sofas and couches come in various textures and materials. They are available in wood, leather, iron, steel etc. The sofas and couches are made comfortable with attached sitting cushions and mattresses. The prices will vary according to the texture, the wooden ones being the most expensive.
Colour: The sofas and couches can come in various colours. You can choose the colour of the covers as per your choice, on the basis of the walls and other accessories and décor items. I suggest that you decide the colour of the sofa cover or couch cover in contrast to the wall colours. This contrast in the décor is amazing and also unique. If you are selecting a light neutral colour for the covers, then you have a lot of scope to do some experiments with colourful cushions and also other accessories.
Your requirements: If you have kids and pets in your home then it is better to buy low maintenance sofa or couch so that you can get rid of the stains easily. If your living room is small, then you can prefer couch over sofa. If you keep a big sofa in a small living room, then the room will look congested and even smaller than the actual size. Do not think that as because the couch is smaller than sofa, it is not comfortable. The couch can be very comfortable. You can sit her cozily, and spend nice time binge watching movies and TV series. The couch is also more informal than sofa.
To conclude
I believe now you can take much better informed decision as you have read the post. If you are not very confident and feeling confused about what to buy, may talk to an interior consultant, they can asses the layout of the space, understand your requirements and then suggest what's best for you. They are experienced experts, and they can give you ideas and suggestions, solving your dilemma. I wish you get a perfect sofa or couch for your home.