Winter is over and it's time to welcome the lovely spring season. As we are gearing up to welcome the wonder season of spring, my wife is a little worried about spring cleaning. Spring cleaning has always been a matter of concern to her. From all those heavy weight blankets to cleaning carpet and curtains, spring cleaning is not going to all that easy. But as she says, whether I like it or not, it's high time I make up my mind to help her in spring cleaning.
And that's a point, I have to help her in getting spring cleaning done properly. Since I have to help her, I know there are any like me who have decided to help their family with spring cleaning and hence I started studying. I am reading a lot of tips on spring cleaning or house cleaning in general from various sources, online and offline. Hence I decided to share it through this post. Let me share a few basic and most practical spring cleaning tips here.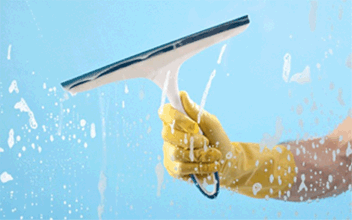 Even if one can book a professional cleaning company for spring cleaning services, but then that's not something that all of us would like to do. It's worth saving money when we can.  So are you ready learn some easy to follow spring cleaning tips? Let's start then.
Plan your spring cleaning
Spring cleaning is all about proper planning. When you know what you want to do and have a plan to do it right, you can do it right much efficiently. So instead of cleaning randomly, you should have a plan in place and do it room wise.
You can further reduce your work by following the sequence of steps and avoid cleaning haphazardly. Start by dusting surfaces with the microfiber cloth and avoid use of any cleaning solution. For cleaning tubs and sinks you can apply the homemade or readymade commercial cleaning solution and let it soak for 8-10 min before wiping the surface with dry cloth.
To get rid of sticky baked foods inside your microwave oven, you can fill a microwave resistant container with water and heat it for a minute; this will loosen your stains and let you wipe them easily.
Cleaning toilets is often a very nasty and dirty job. There is a unique solution to this, you can drop polident denture cleaning tablets in the toilet bowl and let it fizz for 10 minutes. Then you can easily remove the rigid stains from it.
Don't wait till the arrival of Spring
You know what one of the biggest mistakes that you can commit with spring cleaning is to wait till winter is over. It's better to plan it in advance and start your spring cleaning early, that way you can clean your house much efficiently. You can try to make cleaning a habit and include cleaning activities in your daily and weekly routines. It will make your maintenance work easy. Put a squeezer in the shower and clean your tiles often to reduce build-up. Put plastic shopping bags in litter bins to reduce sticky residues. Use them in all the garbage bins as it enables to throw the garbage easily without spilling any trash. Don't make cleaning a weekly or bi-weekly task. Do it regularly and take on one room at a time.
Spring clean starts with clearing clutter
You know there are many things that you need in winter and obviously as spring arrives, you should start organizing your stuff and clear the clutter. Right from your bedroom to kids' room, there are blankets, quilt, sweaters, jackets and what not. There are certain items that you can wash at home and for other such bigger items, you can dry them or get dry cleaning done before storing. Always check if there are sweaters or any such winter wear that you don't plan to use anymore, you can donate them to people who need them.
Get helping hands for proper spring cleaning
I have already stated this in the past, and I will repeat it once again, that cleaning and especially the spring cleaning is a collaborative work and when everyone contribute a little, spring cleaning can be fun. It can be done in a much faster, easier and effective way when you have a few helping hands.
For example delegate small tasks to kids, like putting away toys, cleaning their own rooms, setting dining table, cleaning dining table etc. Ask them in a polite manner and assign them with these small tasks. Do remember to shower them with praises and small rewards even if they cannot do it with perfection. Don't complain about their work and when they are in a good mood later you can point out their mistakes in a friendly manner.
Tools for spring cleaning
Now since you have reduced your work by assigning few of them to your children. It's time for you to get hold of the right equipments; it will significantly reduce your effort and engagement time to get the job done. Tools like microfiber cloths, steam, extension wand, and a vacuum with attachments should always be present to help you while cleaning.
Microfibers can easily grab hold of dusts and remove them efficiently, steam is more effective on the floors than any chemicals or similar product and keeps your floors cleaner for longer. Extension wands can be used to reach the ceilings or hanging light fixtures. For upholsters and tight spaces, a vacuum with proper attachments can come in real handy.
Spring cleaning for sofa
A brisk approach is required to remove stains and avoid odors. Blot up all the smelly stuffs before they become sticky and turn into a mess. Meanwhile put a garbage bag or plastic liner between the cushion fabrics and avoid pushing the contaminant into the cushion. Flush with cold water properly and blot and flush again. If there is still a residual odor use a solution of vinegar and water in equal proportions and rinse it again. If this fails too then do call the professionals.
Avoid using a soiled cloth
Please avoid using the same dry old cloth time and again; it will leave streaks on the surfaces which you are attempting to clean. Do keep fresh stack of cloths in handy and change them often. You don't have to keep piles of microfiber cloths. After every use just rinse them in clean water and squeeze the water out. While dusting with a dry microfiber cloth. Hold it over your garbage bag and shake it to remove the dust.
Booking professional spring cleaning service in India
Spring cleaning is not one such big project when you know how to get it right. But if you don't feel like doing it yourself, then you can book a professional cleaning company for spring cleaning services. There are many housekeeping and cleaning agencies in major cities like Delhi, Bangalore, Pune, Mumbai, Hyderabad, Kolkata and other cities.
You can find them on Goolgle, facebook or even in newspaper ads. But if you don't feel like searching and calling them randomly, then you can use ServiceSutra to compare and book spring cleaning services across major cities in India.
All that you have to do is post your cleaning needs and you will receive calls back with offers and estimates for spring cleaning services. Simply compare and book a pro directly as you like.
Over to you
The thought of spring cleaning can send jitters to your nerves if you let dust and dirt to settle down by not cleaning them off often. So the best way is to make cleaning a habit and do it often. Do educate your children about the importance of cleaning and leading a hygienic and healthy life right from their childhood. If they also take the responsibility of cleaning then you can throw all your worries out of the window. And when you don't feel like doing it yourself, you can always book a professional spring cleaning service in your city.
How do you plan to take on spring cleaning?