Often called as the third wall, the ceiling is considered as one of the most vital part of any room, which actually acts a protective shield for everyone residing in the house. Since ceiling is an important part of any room, we feel to decorate ceiling? But a lot of people genuinely prefer simple white ceilings and they don't feel the need to decorate ceiling. Some of us just like the plain and simple white colored ceiling because we don't feel like decorating it.
Even though white ceilings look absolutely perfect, there are many ways to decorate ceiling  of bedroom and living room to make it look good. Are you running out of ideas to decorate the ceiling of your room? Are you looking for ways to decorate ceiling of your room without investing lots of time and money? If yes then I can help you.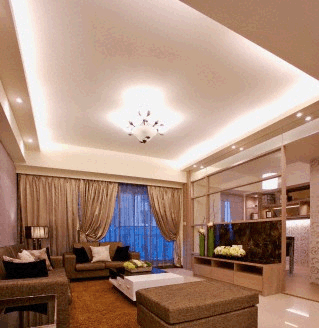 Here's how to decorate ceiling of a room
Here are some absolutely awesome ideas to decorate ceiling of your room and turn your room into a complete paradise. You may not feel like decorating the ceiling of every room, but decorating the ceiling of living room is a must I think. A decorated ceiling can bring a lot of charm into your room and make it look good.
Simply paint the ceiling
Are you extremely worried about the ceiling designs, as well as the cost of designing it? Then please stop worrying. The simplest way to decorate your ceiling is by painting it! If you can paint your walls to give the room a good and fresh look, then why don't you paint the ceiling as well? This costs very less. You can always add a different colour to the ceiling. If the wall colours are light, then paint your ceiling darker with a contrasting colour, and vise-versa. But if you have a small room, then paint the ceilings in same color as the walls (or one shade lighter). When you paint the ceiling in same or one shade lighter color, it will create an illusion of a large space and your room will appear much larger.
Use decals or stencils to decorate ceiling
Decals and stencils works well on smooth ceilings, and give the rooms a surprisingly good ingredient, which adds an individual touch to the space. The decals or stencil arts also gives the room a custom look, and the guests eyes are always drawn upward, as soon as they enter that room.
Use wood moldings for ceiling
Small decorative wood moldings are inexpensive, and with a bit of paint or stain and a touch of hot glue, you can easily transform a ceiling into the most interesting feature or an accent ceiling of the room.
Use plaster of paris arts in ceiling
Another way to design or decorate a ceiling is by using plaster of paris. There are two main advantages of using plaster of paris ceilings. Firstly, it is their high resistance to moisture. And secondly, it's very environment friendly. They are durable and strong as well, so you can easily choose them for your ceilings.
Use wallpapers to decorate ceiling
Wallpapers are not just meant to be pasted on the walls. If you want to change this myth, then please apply it on the ceiling. But, you'll have to choose either the walls or the ceiling, to fix wallpaper. Never paste wallpaper on both of them, otherwise it would make it look really clumsy.
Lighting for ceiling
Choosing ceiling lighting fixtures is a very important decisions when you are planning to decorate, or are already decorating your room's ceiling. They are not just a visible decoration on your ceiling, but also a key component of the quality of light throughout your room. Therefore, buying proper lightings for your ceilings is very vital.
Over to you
By now you must have made up your mind to decorate your home's ceilings right? Then what are you waiting for? Immediately start planning for your ceiling's designs and décor. And if you think you need a helping-hand or an expert's words, then go ahead and hire an interior designer/decorator, who excels in ceiling designing and decoration. If you want to contact the leading decorators of your city, then request us for quotes.