No matter whether you live in a big apartment or a small house, there come a time when you feel the need to have additional storage space. That's because, whatever storage space you may have, you keep buying items and storing it. So, even if you have a lot of household storage space, a time will come when you feel the need to free up some space so that you can get rid of all the clutter.
So, let me ask you. Are you finding it hard to store all of your household goods in your home properly? Are you afraid that your home is slowly turning into a clutter? Well, if the answer is yes, then all you need is a few smart storage space saving tricks and ideas that can help you to free up storage space, and get rid of all the clutter in your house.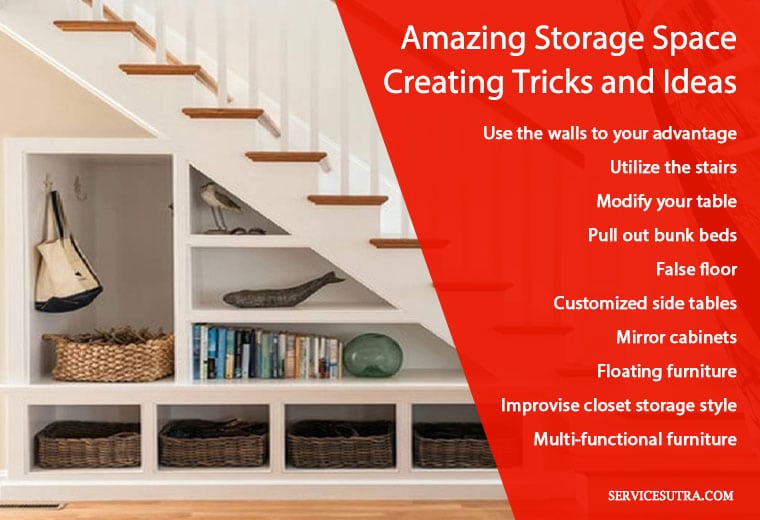 The basic trick to free up space is pretty simple. You have to smartly utilize whatever space you have got. And when you use the space smartly, you'll be able to store more items, and that will help you get organized and get rid of clutter, all at the same time.
Most of us today prefer living in smaller homes or apartments for various reasons. Firstly, unlike ancient times, majority of families today are nuclear, and so there is no need of a lot of space.
Secondly, people today move a lot from one place to another, so having a bigger home become too much of a liability for the owners, which is why they prefer choosing small apartments and homes.
Thirdly, owning a big house increases the maintenance costs, and so, most of us tend to avoid that unless the number of family members are more.
And therefore, the issue of lack of storage space is not uncommon. If you are struggling to store your household goods properly and wondering about how to free up more storage space, then continue reading as we discuss some amazing storage space saving tips and ideas, right here in this post.
Best storage space saving tricks and ideas for home
Well, while smaller homes may be compact and is economically advantageous, lack of space many lead to shortage of storage space and clutter. But, if you utilize every nook and corner of your home smartly, then storing will not be much of a problem.
I have worked with many moving and storage companies and based on my personal experience, I can help you get it right. I have made a list of smart storage space saving tricks and ideas to help you get it right.
Just like you can make a small room look spacious, you can also use some innovative storage tricks and ideas to put the available space in your home to maximum use.
Check out some of the best storage space saving tricks and idea below:
Use the walls to your advantage
If you have got empty walls in your home, then you can use them as good storage space. Go for a unique wall décor plus storage area. Then keep all your books, souvenirs, etc. in that space. Use contrasting wall colors and designs so that it also helps in enhancing the look of the rooms besides being storage options.
Utilize the stairs
No, I am not asking you to dump your stuffs by the side of the staircase. Instead, you can just use the first two steps of your stairs as drawers and keep your household stuffs inside them. This is not going to take up any extra space and the best thing is, no one is even going to notice it unless you pull out the drawers. Isn't it innovative? If yes, then go try this.
Modify your table
Modifying the tables in your home is next in the list of storage space saving tricks and ideas. What I mean here is instead of a traditional table, you can modify it by going for a table that can be lifted up. In other words, a table having under the hood storage space can serve as a great storage space for you. You can actually keep all your accessories there. You may even customize it as a craft corner or a study desk, as per your preference.
Pull out bunk beds
If there is limited vertical space in your home, then you may go for the pull out bed bunks. Trust me, these are very innovative, minimalist and saves a lot of space. These pull out beds are going to be very useful if you have kids. You can also customize that space in the form of pull out cabinet, and store extra bedding, toys or whatever you feel like.
Go for a false floor
Well, going for a false floor will certainly increase your storage options and it is also quite unique. You can use the area underneath to keep whatever fits there. You do not even have to put too much effort as making a false floor will provide you with lots of available storage space.
Customize the side tables
Most of the time we are not able to use the side tables for storage properly but if you can customize them, then you can utilize them for storing stuffs like candles, books etc. All you need to do is to add pull out drawers and store your items.
Mirror cabinets
Instead of just using the bathroom mirror for brushing your teeth or combing your hair, you can utilize it more effectively as a storage option. How? Well, by just installing a pull out cabinet. It will act as a hidden space for storing your stuffs. In fact, not just your bathroom mirror, this idea can be implemented in case of the other mirrors in your home as well like the one in the bedroom, hall etc.
Storage in kitchen
You can go for a custom pullout pantry in the kitchen, as that will increase your storage options. Having plentiful cabinets and drawers will help you keep all your cooking essentials there, along with other necessary items.
Floating furniture
Many times a desk or a dresser can take up a lot of space, so if there is shortage of storage space, you may opt for floating furniture. This will give you enough space to store items by not taking much of the floor space. In fact, if you build it in the wall, you can also utilize the floor space available for keeping other goods.
Improvise closet storage style
Shelving and cabinetry may be extended to the ceiling as that will maximize the storage options for shoes and other household goods. Also, the customized compartments can support everything starting from boots, to dresses to jewelry etc. So, you may go for that.
Multi-functional furniture
One of the space saving storage tricks and ideas is definitely to buy more small multifunctional furniture. Like for example, if you buy a small multifunctional table, you may use it for storage as well as a laptop desk, side table, coffee table etc.
Utilize the corner spaces
If you are not able to make full utilization of the corner spaces then you can go for corner shelves, these will act as good storage options. So, clean up all of the clutter from tops of your nightstands and dressers, and place them on the corner shelves. This will give a neat and organized look to the space.
Sink over the toilet
You may go for a sink on the top of the back of your toilet. It actually saves a lot of space. In fact, not just space, it also saves a lot of water because you can use the water from the basin for flushing purposes.
Sink over bathtub
If you do not want a sink over the toilet, then you can go for one over the bathtub as well. This actually makes proper use of unused space. You may also install a single faucet for both or may even combine the sink faucet with bathtub faucet in a single platform to get that perfect finished look.
Over the toilet rack
If your bathroom space is small, then you can actually go for an over the toilet rack and store your toilet paper, bathroom supplies, towels etc. A sleek cabinet beside your toilet is also something which you can opt for.
Use the space behind the doors
You can use the space behind the bedroom doors for hanging robes, towels etc. If your closet is too small, you may even keep the bulky coats and other dresses hanged behind the door. No one will get to see them hanging behind the door so just chill.
Over to you
If you want to make you home presentable in front of others, you have to learn to keep it neat and well organized. Be it a big spacious home or a small apartment, you cannot just let your home turn into a clutter hub.
Either buy less household items, and sell the already useless ones or learn how to use the space available for storage purposes smartly. As far as the latter case is concerned, it may sound tricky and confusing but in reality, there are many innovative and interesting space storage tricks and ideas that you can use to store your items. You just have to improvise and customize things to use them as additional household storage options.
I have already discussed 16 of the best innovative storage space saving tricks and ideas. I have myself used most of these space saving hacks and ideas, and it has worked perfectly with us.
Try these hacks and I am sure, it's going to help you create plenty of storage space in your home. And yes, if you know of other storage space creating ideas, then feel free to share by commenting below.
Happy storing!