Most women today are breaking the conventional stereotypes and emerging as strong independent women. They dare to move alone and enjoy life in their own terms. This is why we today see so many cases where single women are relocating solo. However, we cannot ignore that society is still not completely safe for women and that is why many a times, you need to become extra careful about planning and executing your move. If you are relocating solo, and wondering how to get it right, then I have got you covered, as I am sharing a few of the best and useful moving advises for a women relocating solo, in today's post.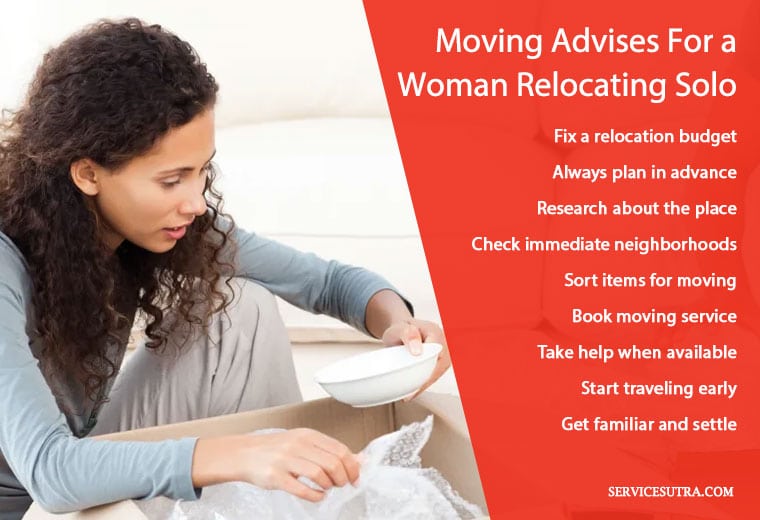 A single woman is still seen as a victim by certain sections of our society, which is not right anyways. And, this conservative and regressive mindset often gets reflected when you are a single woman and relocating to a new location, all alone. Like for example, you may face issues while bargaining with the movers. You may get the feeling that the representatives are not taking you much seriously as you are a single woman. But, let me just tell you, it is all how you feel and present yourself. Be strong, confident and updated about best moving hacks, so that no one dares to intimidate or fool you.
And, yes, remember that good people and bad people coexist. Just like there are regressive people who do not see women as equals of men, there are many who are very progressive and will come to help you out very genuinely. Just be a little smart to judge who to trust and who not to, when you are relocating to another city all alone.
Yesterday only, a friend of mine was asking for some moving advice, as she is relocating to Bangalore from Kolkata. As she knows that I am into moving industry, she wanted me to share some moving advises and help her out. I shared some essential tips and also helped her get connected to a couple of local moving companies in Kolkata, and that's when I thought of writing on this topic.
In today list of best moving advises for a woman relocating solo, I am covering all of the important aspects of moving solo, so that you become aware of what to expect and how to react to the challenges that comes your way, while relocating solo.
Relocation advises for a woman relocating solo
Long gone are the days when a woman always had to take permission before stepping out of the home. In present times, be it due to higher studies, better job opportunities, marriage etc. woman are relocating to different states and countries all alone.
And if you are also a single woman about to relocate, then do not worry. Here are some of the best moving advises for a woman relocating solo that'll help you to get it right:
Fix a relocation budget
Most women are tagged as spendthrifts and if you are one of them, then you should be careful with your financial transactions while planning and executing your move. The best way to not overspend is to fix a budget and try to spend money keeping that in mind.
Before fixing a budget, I would like you to do some homework regarding how much approximately you may have to spend for your relocation. You budget should cover the most common expenses, like:
Packing costs
Transportation costs
Packer and mover service charge
Other expenses related to relocation like your own travel costs
Cost to setup your new home etc
Other expenses may include post move expenses like setting up your home etc. Then once you have a basic idea about the tentative relocation expenses, keep aside some money for emergencies, and spend your usual moving expenses from whatever budget you have fixed.
Always plan in advance
Unless you are in an emergency situation where you have to relocate within very few days, make it a point to plan things well in advance. You are a single woman and relocating alone may appear more stressful for you for some obvious reasons especially if it is your first time.
It is a very common thing to feel anxious regarding how your relocation will turn out finally. But, if you have time in hand, you will be able to rethink upon various issues in a cool head and make changes if needed. And therefore, early planning is the best approach as it helps you get things right.
Research about the place
Your safety is of primary importance and you need to be very sure that the place you are relocating to is safer. This is one of the most important moving advises for a woman relocating solo, I would say because you can't take security lightly.
Minor crime may occur anywhere, but still you need to research and judge how safe is the place for a single woman to live, before making your decision to relocate to a place. Research about the crime rates, and if the rates are low, then only consider relocating to the place.
Immediate neighborhood
It is advisable that you find a new home in the new city where you are moving before relocating. This is because for a single woman, new to the place, finding a home after relocation may become tough and unsafe as you may not have a fully secured house to move in. So, it is better to buy a home or find a rented home before relocating.
And, while doing so, you need to research about your immediate neighborhood as well. Research online and find out whether the place is safe for women in nights as well. However, if you are unsure about where to live, then at least find a temporary home to survive the initial days, and then you can find a home and shift there.
If you know anyone in that city, take help from him/her in finding a home. If that person is living there for a long time then he/she will know the place better than you, so will be able to help you hopefully.
Another thing, try and find a home that is closer to your new office so that you can avoid getting stuck in traffic on a daily basis, and can reach home safety before it is too late at night.
Sort items for moving
Most of the women have this problem of carrying almost everything when relocating to a new home. I, being a woman, myself understand that. This is maybe because we, women are slightly more attached to the household belongings and hence many a times, desire to carry all of the items when relocating. But, obviously that is not possible and you need to be practical while sorting items.
Only choose the items that are in good shape, extremely useful to you, very close to your heart or are rare and antique. The rest is best left or dumped or sold before you leave. Remember the lesser the items you plan to carry, the lesser efforts and money you need to spend while packing and moving them.
And, the best ways to do it right is to make a list of the items you want to carry at the beginning and then use it as a reference while sorting stuffs. This will help you avoid missing out on important items, as well as help you get rid of items that's no longer needed.
Book moving service
Hiring a good packing and moving service is a must when you are a single woman and moving solo. This is because moving heavy boxes from one room to another and then loading and unloading them are quite tough for a single woman. And in that situation, if you have a mover by your side, it is going to be a huge relief. They do most of the works for you, and things get done quite faster as well.
However, in order to get maximum benefits, you need to hire a good mover otherwise things will be in a mess. You please do some research on the moving company before hiring one. Checking reviews and comparing rates before finalizing any deal with the local moving companies near you can be seriously helpful.
Also, in order to avoid common moving mistakes while choosing packers and movers, you must be aware and vigilant. In order to avoid any pricing dispute, fraud and manipulation by moving companies moving forward, make sure to ask the movers and packers companies you are considering to survey before submitting final moving quotations. It is important for you to talk to them face to face and then sign the relocation contract.
And if you are unsure about where to find the best movers and storage companies near you, you can always use servicesutra, where you get connected to three of the nearest moving companies to compare quotations for free.
Take help when available
Moving alone as it is stressful, and for a single woman with no prior experience of relocating, moving to a new city or state may be even more stressful. So, if help is available, don't hesitate to take it.
Call up people whom you trust and see whether they are available or not. If you have decided to do the packing on your own, then see whether they can help you. If you are not able to find proper helping hand, or if you have too many things to pack, then yes, going for professional packers is always a better option.
Start traveling early
On the final day of moving, it's better to start your travel early on. Take up a safer route and try to reach before it is dark. If yours is a long-distance move, then you may take a break and stay in a hotel for the night and then resume your travel again in the morning.
The roads are always not safe for a single woman to travel at night. So, learn more about the roads that you are going to take up while relocating and accordingly plan the travel.
Get familiar with the new place
Life in a new place for single women may pose a lot of challenges. But if things get familiar for you and you are able to make some good friends there, you will be able to manage things in the new city much better, even when you are all alone.
So, make it a point to go out whenever you get time and explore the place. Join social groups and attend social gatherings to get in touch with the locals. Trust me, getting familiar with the new place is fun and exciting and it actually helps in getting settled after moving.
Conclusion
Unlike ancient times, most women today are educated, smart and independent. This gets all the more proven when we get so many moving requests from women relocating to another city solo. It takes guts for a single woman to move out from her familiar ground and relocate to an unknown place and live life on her own terms. Well, for her courage and bravery, I salute her and would definitely like to help her with my moving advice for a woman relocating solo. Hopefully, these moving advises are going to be useful in making their relocation safer and hassle free.
In case of relocating alone, it is important to consider safety first. Like for example, study about the place you are relocating to, hire the movers that are branded and trusted, find a safe home to stay in your new location etc.
Also, you need to get accustomed to the new place quickly. This is because the more you know about the place you are moving to, the better you will be able to face the challenges that may come your way.
Remember, there are good people everywhere; you just have to make the right choices and you will be able to get it right.
If you have relocated solo, and know any other important moving hacks, then I would like to hear it out. Feel free to share your relocation tips and hacks by commenting below.
All the very best!