According to experts we spent on an average of around 26 years of our life in sleeping and that's like a lot of time. Obviously in order to get sound sleep and feel comfortable, you ought to love your bedroom. No matter how much of time and money you have already invested for bedroom makeover, you may feel it need to change from time to time. Even a little bit of change in location of furniture and other decor elements can spice up your bedroom.
In my view, one should do occasional makeover of master bedroom because that's how you won't get bored with same set of stuff in your bedroom. May be changing the lights or replacing the curtains, hanging a new painting or simply replacing the flower pot and night lamps; there are lots of things that you can try during bedroom makeover.
We kind of get used to and don't feel like doing complete makeover of the bedroom every now and then and rightly so because complete makeover may cost lots of money and time. But for me, bedroom makeover is not a costly affair and it can be done even on small budget. Try making simple changes here and there and you will feel like entire bedroom has undergone a makeover.
But before you spend your time and money randomly on bedroom interiors you should pause and think. Think of the décor elements that you think needs to be replaced and matches your priority. Are there things that you don't actually need now? You can get rid of them and bring in other elements in its place. For example, there may be a baby painting in your bedroom and now you may find it irrelevant and feel like replacing, just go for it.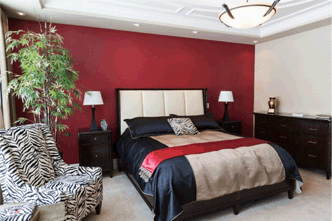 There are many more ways for bedroom makeover that can be done even on a budget and if you have such plans then this post is for you. I am going to share some simple and cost effective ideas for bedroom makeover and that can be done with minimum investment and on a small budget.
So are you ready? Let's dive in.
Here's how to bedroom makeover on a tight budget
Bedroom makeover should not always be a costly affair and this is something that even you can do of your own. But remember I am talking about the makeover when you have already done the bedroom interior designing and after sometime you feel like changing something to make it alive again. Obviously for this makeover to be successful, you will be replacing, removing, introducing new elements and do lots of things that you love and like.
Bed and Mattress
If you have a fixed budget on your mind then you should give the first priority to buy a nice bed. Since this is the heart of your bedroom and this is where you sleep so focus on its comfort rather than it looks.
People often fall in love with their bed and mattress, but according to experts you should not use a particular mattress for over 6-7 years of time as they tend to get older and eventually stop giving optimal comfort and support to your body.
So when should you think of replacing your mattress or bed?
If you have used a mattress for over 7-8 years, maybe it's the right time to replace this
If you experience back pain or neck pain, you should check your mattress and may think of changing it.
If you don't feel comfortable sleeping or touching your bed, it may be the right time to change it
Wall colors and wall painting for bedroom makeover
The colors on your walls are also a major factor to set the right mood and comfort for you to sleep properly. Avoid using vibrant colors to retain the tranquility and peaceful ambience of the room. Rather paint them with calm and smooth colors like light sky blue, cream white, super light green tint etc. While coloring your walls keep track of the choice of lights you are going to use as that will determine the finished look. Don't color it in a way that does not suit the kind of lights that are focused on your wall otherwise it will not create a matching effect by reflecting wrong colors. Also by incorporating the distinction into accents and decor or bedding, can smartly let you achieve the look you are planning for.
Look at colors from different perspective
You can also go for splashes of color i.e. instead of going for plain colored walls you can follow a more subtle approach by matching color through decor and bedding. A pillow or artwork is an innovative way to express your creativeness without disrupting harmony. The best part is you feel proud of yourself every night when you go to sleep.
Lights
Choice of lights should be done strategically, as your comfort is at stakes. If you love to read during bedtime then you can keep a bedside lamp since a night lamp might not provide enough light for you to read properly and if you use a bright light then it may disturb your spouse or other family members.
While sleeping you should make sure that there is no entrance through which street lights or any other form of light can enter into your eyes while you try to sleep. You can also use black-out curtains, heavy drapes, or blinds to shut out sleep- disruptive lights.
Obstructing light at night
You can also use dimmer switches for regulating the intensity of light whenever required. If you don't have a control over the light flow, then use an eye mask to obstruct the light.
Allow Sunlight into your room
With all this precautions of obstructing light at night, you should also have proper arrangements for proper exposure of your room to sunlight during the morning. This helps to keep your body's clock on track.
Avoid lighting candles
It might be tempting for young couples to use candles during they sleep, as they think it looks cute or romantic. But it is not a good practice to keep a candle lighted flames during night as it posses the danger of a fire break.
Sound regulation
Sudden loud noises have disastrous effects especially on people who have weak hearts. Hence focus on making your room a bit sound proof, if you have an AC on, then most of the sound will not enter your ears, due to the present of the AC  and the since the room is partly air tight. Plug in ear buds in case one of your family member snores.
Re-arrange furniture position
It is important that you do not tip over things at night so place your bed properly. Make sure there is no obstructed path to your bed which might result in stepping on something or running into objects in the night. Try to align your bed facing the doorway or windows. A sturdy headboard can help create a sense of stability. Don't place a mirror directly opposite to your bed where you directly face while sleeping. It is a bad Vaastu practice and also you might get scared by having a glimpse of your own image on the mirror in the dark.
You should fix your switch boards in such a manner so that you can easily access them when you are relaxing at your bed. As you might often feel lazy to rise from your bed and go to the nearest switch board to switch on the fan, plug in the mobile charger etc. So it is better to have a switch board right at your bedside where reaching is quite convenient for you.
General pest control for bed bugs
Not a makeover, but still its important for a sound sleep at night. Look for bedbugs and cockroaches infestation in your rooms. Look for small red marks on your skin or any allergies, which might be a positive proof of bed bug bites or cockroach licks on your skin. You can try various DIY pest control methods to get rid of them or you can call a professional pest control agency to deal with them. Just make sure your bed room is free from these harmful and unwanted pests.
Cleaning and Smell factor
Change your bed-covers daily and try to keep your room clean at all times.  Every home has its own aroma. Try to maintain it that way, use room fresheners if required. Make sure that your bedroom is properly ventilated for fresh air to pass through it. Keep your room simple and uncluttered in order to make your sleeping environment intimate and cozy. This will ensure that you wake up every morning refreshed and charged for starting the day.
Over to you
All the above tips mentioned are mostly reasonable and do not require you to spend abnormally. So follow these tips if you wish and add more if I had missed something. If you are still unsure you can always take help from a professional interior designer for this purpose.
Best wishes for your makeover attempt!