Moving a house safely and successfully without damaging any of the goods, takes a lot of planning and efforts. And at times handling the whole process of relocating can really become stressful. On top of that, you need to take care of so many things, all at the same time, that it becomes really difficult to avoid certain mistakes. And mistakes means, it's going to affect you badly and you will end up with bad and stressful moving experience.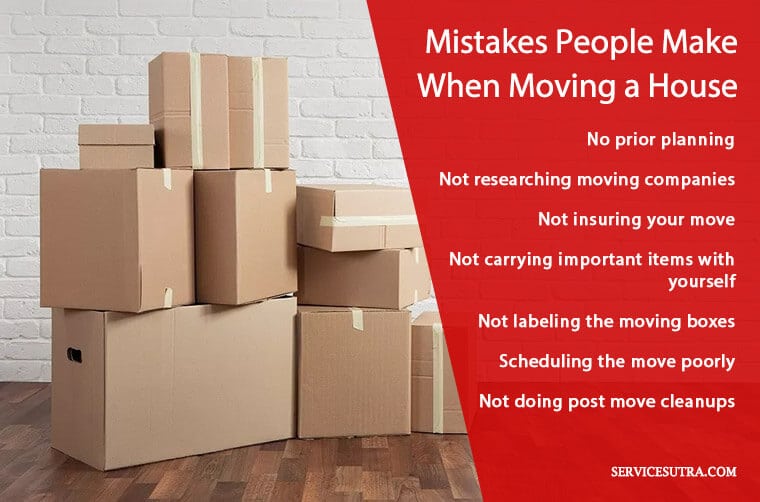 While some of the moving mistakes can still be managed, a few of these can lead to a lot of unnecessary expenses and complications in moving. If there is an upcoming local or interstate move on the cards and you want to avoid the common mistakes people make when relocating, then here's the post worth checking. Today, in this post, I am talking about 8 most common mistakes you should avoid when moving a house or relocating. Apart from listing the common mistakes people make when relocating, I am also sharing the effective solutions on how to avoid those mistakes. And if you want to have a safe, secured and hassle-free moving experience, then it's worth reading this post.
If you have any prior experience of moving a house, then you might have committed some of these moving mistakes already. But, the key to avoid these mistakes is to have a proper plan in place. You can never have a successful and hassle-free home relocation unless you have planned everything minutely and perfectly. And then, your plans must fall in place, because there are other stake holders involved as well, like your moving partner or the moving company you are working with.
And, that is why, it's important to know about the common mistake people make when moving a house, and how to get rid of these moving mistakes.
Common moving mistakes and how to avoid them when relocating
Home relocation can be messy and difficult if you have not done your planning, preparations and execution of your plans properly. But, if you have done it accurately, then things are not that difficult to handle.
Prior home relocating experience may help a lot in avoiding some of these moving mistakes. But for the first time movers, it may be a little difficult due to lack of information. So, if this is the first time you are moving, you better check some of these common moving mistakes people make when moving and learn how to avoid these mistakes.
Mistake 1: No prior planning
The most important thing that you need to note down is to avoid planning your move in a hurry. Of course, if yours is an emergency situation, then that is a different issue. But apart from that, you should always plan about your upcoming move much ahead of your actual move schedule.
When you have time, you will be able to plan everything with a calm mind, decide carefully what's best for you and then make the choices. You will also have enough time to sort and pack the items which in turn, will reduce the chances of missing on any item when moving.
Also, with time in hand, you may make some changes in planning and execution if needed. In contrast to that, if you are running short of time, you will have to adjust to it, and stick to your previous plans even if it seems unfavorable to you.
Mistake 2: Not researching moving companies
Not doing enough research before hiring a moving company may result in a bad hire, and that can be terrible for your overall home relocation. There is a lot of demand of the packers and movers services everywhere, because they really help make home relocation a lot easier. But, you also need to research the moving companies well, because you don't want to end up hiring a mediocre relocation company or paying more because of lack of options.
Unfortunately, many people do not do enough research and end up hiring a mediocre relocation company. Handing over your belongings to the inefficient and inexperienced companies can be very risky.
And hence it becomes very important for you to do enough research, read every review, compare prices and then decide on hiring a moving company. Take estimates from several companies, compare rates properly and then make the choice as per your preference and needs.
Avoiding mediocre moving companies should be on your priority and with adequate research, you can easily spot and avoid fraud relocation companies and avoid falling prey to them.
There are many who get lured by the extremely cheap prices and do the mistakes of hiring such movers, and then getting fooled by them. Hence, avoid companies that offer abnormally low prices and go for moving companies with good credentials.
You should also read the fine print and terms of services and the contract very carefully before signing and agreeing to hire a moving company. This is one common mistake many commit when moving and you need to beware of it.
Did you know that on Servicesutra, we only allow registered and credible interstate movers? You can use the free quote request form to get matched with up to three moving companies near you in one go, and then compare and evaluate their offers for free? You heard that right.
Mistake 3: Not insuring your move
Your home relocation can become very expensive, if any of your expensive goods get broken during the journey. And therefore, it is always advisable that you insure your goods by taking transit insurance when moving. There have been many such cases where the customers have faced losses by not taking up transit insurance of the belongings.
Now, it is not that accidents will occur but what if it does occur? Hence, it is always better to be on the safer side. Once you have got the insurance, then you will remain tension free that if by chance there is any mishap and your costly items get damaged, you won't have to bear too much losses.
And, trust me, insuring your move does not create too much of a difference in the overall moving costs. In fact, not insuring your move can actually land you up in more trouble, in case anything goes wrong.
Mistake 4: Not making the list of items
Packing is one of the most difficult, time taking and probably the toughest aspects of home relocation. And, things get more complicated if you do not maintain a proper checklist in advance. You will get confused what to carry and what not to while sorting and eventually everything will turn into a mess.
This is why, it is advisable that after you have decided to move, start with making the checklist of items to move. Instead of making an unnecessary attempt of carrying every item with you in your new home and inviting a whole lot of troubles while moving, learn to sort items wisely. Taking a call on what to move and what to abandon or donate can make lots of difference in overall relocation costs.
Therefore, you should note down what are the things necessary for you to carry and what items you want to sell, donate or discard. Also, make a separate list regarding the items you are planning to carry in your essentials box. Believe me; the checklists will help you sort things much better without mixing things and messing it up.
Also, it will give you enough time to plan and sell the items that you do not want to carry. Be it through online or by giving it to someone you know, making a checklist of inventory will help you plan the selling of the items properly as by that time, you already have decided what not to carry with you. You may also donate things to charity if you want to.
Mistake 5: Not carrying important items with yourself
Well, yes, the list of the top mistakes to avoid while moving a house will definitely include missing out on carrying essentials items with yourself. I already mentioned it once while I was talking about the checklist of the items, but thought of mentioning it separately, because it is one important thing that can actually make your home relocation much easier. And therefore, you should not fail to prepare a separate box to carry the most essential items like medicines, baby foods, toiletries etc.
This is going to be your survival box which will contain all of the crucial items that you usually require on daily basis. An essential box will be the last box you will pack before the move and is going to be the first box you are going to open after reaching your new home.
It is one box that will help you survive the last few hours of moving preparations, during the journey and in the initial days of moving in your new home. So, it is one crucial thing that you should not miss out.
Mistake 6: Not labeling the moving boxes
Labeling of the boxes after packing the items is a must, and you must never skip it. It is very much necessary for you to label the boxes in order to track down your belongings later on while unpacking.
In addition, labeling helps in better protection of the goods as well. In other words, if you have labeled the box full of delicate items, then automatically, even the movers will know that it contains fragile items and will handle the box with utmost care. On the other hand, if you haven't labeled it correctly, no one will understand that it contains items that are too fragile and needs careful handling.
Similarly, labeling the boxes with types of items it contains can save plenty of your time when unpacking. So always label the boxes and indicate what it contains may be room wise or item wise and then how to place and handle the boxes.
Mistake 7: Scheduling the move poorly
Scheduling the move poorly is another mistake that people often commit. I mean, if you want to make your move profitable in all ways, you need to schedule a proper move date.
Of course, your convenience should be considered at first and then the weather forecast. But there are other things that you must take into account for a hassle free move. Like for example, try to avoid moving on the weekends as there is more rush on Saturdays and Sundays. Also, a mid-month move is usually cheaper than the end or the beginning of the month.
It is always best to schedule a date at down times and enjoy the great discounts. Now, if money and traffic is not an issue for you, then it is OK but if it is, then schedule the move date accordingly.
Mistake 8: Not doing post move cleanups
Whether you are currently living in a rented apartment or your own house, just before you finally lock the home you are leaving in, it is seriously important to clean the house you are leaving. May be, other tenants are supposed to come, but even if there is no coming to leave there, it's important to get the house cleaned.
Apart from cleaning the house, here's what else you should do before moving:
Switch off all the lights and other power switches
Leave a note with your new address so that mails can be forwarded
Say final good bye to your neighbors and share your new address with them
Over to you
Most of us lead a hectic life and lack the time for planning a successful home relocation. If that is your case then I would just recommend you to hire a very good and experienced packer and mover and involve them in end to end implementation. This will reduce your work load and help you relocate without hassles. You just have to do a good selection of the company, and sort out what items you want to pack and move.
But, if you are a do-it-yourself person and love taking responsibilities, then I would suggest you to be a little cautious and avoid making the common moving mistakes that people make when relocating. The reason is because you are more actively involved in the relocation process, and so you are most likely to commit these mistakes.
Of course, for experienced individuals, planning and implementing a move will be comparatively easy. But for a first timer while planning a move, things may appear confusing and overwhelming.
Home relocation can be really tricky, even for an experienced person and hence it requires proper planning. There are many things to look at and that causes different types of mistakes. There are many common mistakes that people make when relocating and we have already discussed it all.
What other mistakes do you think people make when relocating, and how can one avoid those mistakes?
Feel free to share your views and ideas by commenting below.