Not sure if you have moved a house in the past. But, if you have, I am sure you would agree that, the first day in your new home is going to be the busiest and the most difficult one to manage.  Since you have just moved, there'll be moving boxes all around, and you may have to struggle in finding and locating the most crucial and essential items. But there are ways to deal with this hassle, and that's what I am going to talk about in today's post. If there is an upcoming move and you want to relocate conveniently without having to struggle in locating the most essential items after reaching your new home, then you can't really afford to miss this post.
So, what is an essential box or survival box for moving?
Essential box or survival box is like an emergency kit. It contains the most essential items that you may need immediately after moving to your new home or for initial few days. You can call it open first box, for it contains items that you can't do without. The essential survival box will help you survive the first few days of moving into your new home easily, and hence it is important.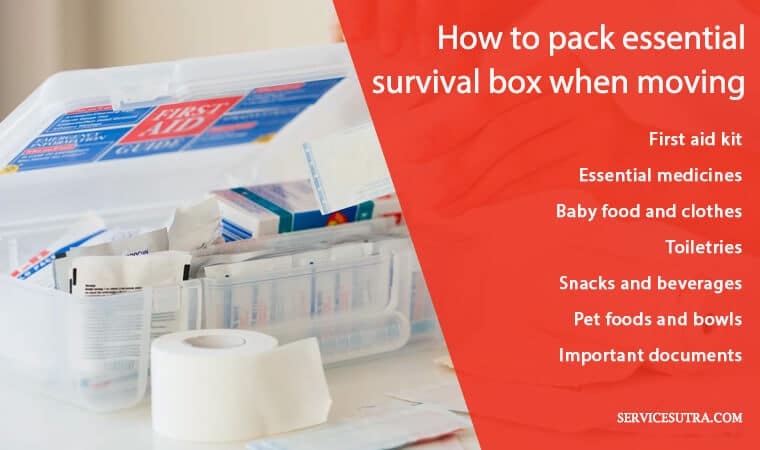 Some of the most crucial and essential items to include in moving day essential box includes:
First aid kit
Essential medicines
Baby food and clothes
Toiletries
Snacks and beverages
Pet foods and bowls
Important documents and Keys etc
All of these items should be packed separately and labeled as essential survival box.
It is highly recommended that you pack an essential survival box when moving. It does not matter if you have a professional mover on board to help you with packing and moving or you are moving on your own, you should seriously consider packing an essential survival box, and labeling it properly, so that you can easily locate these essential items while setting up your new home, without randomly opening all of the boxes.
As you already know, all in all the home relocation process is going to be tiring, and at that time, your mind, body and soul wants nothing but a soothing and refreshing shower, a healthy and satisfying meal, and enough rest for few hours.
But, you cannot have all of these without some essential items, and that is exactly what your essentials box is going to contain.
How to prepare and pack essential survival box?
Ideally, you should prepare and pack the moving essentials and survival box at the end. Of course, while sorting and packing other household items, you need to keep aside those essential items in to a separate box. But when it comes to packing them in the essentials box, you are going to do that at the very end.
However, when it is about unpacking of the boxes after reaching your new home, the essentials box will be the first box you are going to open for it contains all of those essential and crucial items you require for comfort as well as to tackle minor emergency situations.
Because of the hectic moving day schedule, it is obvious to miss out on essentials items. But, when you know how crucial it could be, I am sure you are going to prepare and pack moving essential survival box.
The moving day essential box should definitely contain essential items you require immediately after moving, like:
Important medicines
Emergency first aid kit
Soap and toiletries
Set of towels
Some extra set of clothes
A few snacks and cookies
Ingredients to prepare a meal
Important documents
Torch light and candles
Pet foods and bowls
Keys
Based on your lifestyle and needs, you can of course add more items to the list.
To make it even easier to pack the moving essential survival box, you can even divide the list of essential items under different categories. You can categorize it based on the purpose they serve like
Bedroom essentials
Bathroom essentials
Kitchen essentials etc.
This way, you will be able to keep track of all of the essential items, and it'll be easier for you to sort, pick and pack your moving day essential survival box much efficiently.
How to pack kitchen essentials box?
A tiring body will require some good food to get charged up again. But in order to prepare a meal, you require a few of the essential items.
Here's how to pack kitchen essential box when moving, if you pack all of these items, you can quickly setup the kitchen:
Nonperishable foods items and some healthy snacks. Like for example, pasta and pasta sauce, a jar of peanut butter or jam, crackers, canned vegetables and meats, cereals, a bag of bagels etc.
Plastic utensils and paper plates
Mugs and cups
Tea bags, a bag of ground coffee and bottled water
Coffee maker or a coffee pot
Sugar, salt, pepper, powdered creamer and other important spices you think are necessary
Paper towels
An all purpose cutting knife
A bottle opener and a can opener
Toaster or a small toaster oven
Dish soap and dish towels
How to pack bedroom essentials box?
After a tiring and exhausting move day, rest obviously become even more important. And therefore you have to pack the bedroom essentials box separately.
Here's how to pack bedroom essential box when moving:
A bed linen set for each of your family members- blankets, sheets, pillows, pillow cases etc.
Comfortable night dresses for all of the members
Carry extra clothes for each one of you depending on the current weather conditions there. Do not forget to take extra underwear and socks as well.
A night lamp, flash light or candles
Thick curtains to ensure privacy (mainly if you have not put curtains in your new home yet)
An air mattress (in case your home is not furnished or if you do not have time to set up one)
How to pack bathroom essentials box?
After a long hectic and busy move day, a refreshing shower is all you need before having your meal or hitting the bed. Hence you require some basic toiletries and bathroom essentials.
Here's how to pack bathroom essential box when moving:
Toilet paper
Hand soap
Hand towels
Shampoo, shower gel, hair conditioner
Bath towels
Bath mat and shower curtain
Blow dyer
Combs
Other personal care items (like toothpaste and tooth brush) and cosmetics as per your preference
How to pack emergency medical essential box?
It is seriously important to carry an emergency medical essential box to tackle emergency medical situations.
Here's how to prepare and pack an emergency medical essential box when moving:
Regular medicines of the family members
Emergency first-aid kit
Pain relievers
Allergy medicines
Eye care products
Hand sanitizers
Glasses, contact lenses and contact lenses solution (if applicable to any of you)
Any specific medical items that you or any of your family members needs on a regular basis
How to pack kids essentials box?
If you have kids, then you also need to carry some essential items that you are going to require to keep them calm and occupied.
Here's what to pack in kids essential box:
Extra sets of clothes
Necessary medicines
Their favorite snacks and beverages
Books, portable games, toys, craft supplies (like pencils, pens, coloring books), stuffed animals etc. All of these will help to keep your kid occupied before you finally relocate and then settle in properly.
How to pack pets' essentials box when moving?
If you have pets, you need to think of them as well. Even they get stressed and frightened when relocating. Therefore, you need to help them get adjusted to the new environment.
Here is a list of things you need to pack in pets' essential box when moving:
Water and food bowls
Adequate pet foods
Pet carrier and bedding
Leashes and collars
Grooming and clean up items
Favorite toys
Other comfort items
Basic tools to pack in the essentials box
Apart from packing all the necessary and essential items, you also need some of the essential tools. And, here are the most essential tools you should pack in the tools essential box:
A knife
Set of screwdrivers
An adjustable wrench
Scissors
Hammer
Measuring tape
Flashlight
Zip ties in various sizes
Light bulbs
Batteries
Work gloves
Robes
And, any other lifesavers that you think is necessary to carry
What to pack in a cleaning essential box when moving?
Cleaning supplies are kind of difficult to pack in the essentials box. But it is equally important and you can't ignore to have a separate cleaning essential box.
Once the movers leave, you will have to give your old home the final cleaning touch. You cannot do it if you have already packed the cleaning supplies in the other boxes. Hence, I will suggest you to keep some of the most essentials ones and carry them in the first open box.
Here are some cleaning supplies that you need to pack in the essentials box:
Garbage bags
Rags
Sponges
A broom
A bucket
A mop
An all purpose cleaner
Dishwashing liquid
Paper towels and wet wipes
Glass cleaner
And, other important ones that you usually use while cleaning
Other miscellaneous items worth packing in moving essential box
There are some other items that you may also like to pack in a separate box while moving.
Important documents like passport, driver's license, birth certificate, education and professional documents, medical records, credit and debit cards etc.
Power strips and extension cords
Gadgets like phones, laptop, cameras, tablets etc. that you can use to find information or get in touch with others
Chargers and adopters of the devices
Electric fans, umbrellas, portable heater depending on the current weather conditions
Safety pins of all sizes
Entertainment items like music player, radio, portable games etc.
A copy of important addresses and phone numbers
Some cash
What else to know when packing essential box
Now that you have learnt what items you need to carry in the essentials box, I am sure you are going to pack a couple of moving essential box that'll help you survive the initial few days easily in your new home.
While packing these essential boxes, just be sure to pack these items very strategically and ensure safety.
And here's how to pack these items for safe and sound transportation:
Make sure you pack the liquids at first in sealed plastic containers. This will help you avoid staining and leakages.
Labeling your essential box is a must, and you must also keep it aside away from the other boxes so that it does not get loaded in the moving truck accidentally.
Avoid sealing the box until the last minute. This is because you may need to take out something or put in something at any time.
Be sure that the box travels with you to ensure that it arrives with you.
Pack the box at the very last moment but while you were sorting the items, make sure you keep aside the items that you plan to carry in the essentials box. This way you can avoid packing the items that you may require shortly before, during or immediately after your relocation.
Over to you
There are so many important things to look at when moving a house. And, packing essential survival box is definitely a must. The moving essential box contains all of those crucial items that you are most likely to require immediately after reaching your new home.
Obviously, after spending all day in packing and managing several other tasks, you may not have the energy and will to unpack all of the boxes at one go. Hence, if you have a separate bag that contains all of those crucial things that you require on a regular basis, it will help you greatly in unpacking and surviving for initial few days.
I have already shared everything worth knowing about moving essential boxes that can be crucial to first few days.
Various items listed above may appear like basic, but these are the goods you need, immediately after reaching your new home. Obviously, you can add and remove essential items as per your requirements. But, preparing an essential moving box is a must. The essential boxes can actually create a huge positive difference, and make your move a lot easier and hassle free.
And finally, if there is an upcoming move and you are yet to find a suitable moving company for safe and cost effective local and long distance move, then you can quickly request free moving estimates from leading movers and packers near you.
General FAQs
What's an essential moving box?
Essential moving box or first day survival box or first open box is like a normal moving box that contains the most essential household items that will be required immediately after moving to your new home.
What essential items one should pack in moving essential box?
Depending on your lifestyle and needs you can choose the most essential items you would need. But in general, the moving essential box must have some of these essential items like first aid kit, essential medicines, baby food and clothes, toiletries, snacks and beverages, pet foods and bowls, important documents and Keys etc.
Is it better to create multiple essential and survival box when moving?
It's always better to create multiple moving essential boxes, because having separate boxes as per your needs will make the unpacking much efficient and easy. You won't be unpacking all of the boxes at a time, so, when you have essential boxes, you'll exactly know which box to open first and where to find an specific item like a towel or baby foods.