Let's be honest. You are emotionally attached with every household goods that you have purchased over a period of time and ditto for your car. And packing and moving such precious household goods transporting your car is not easy. It's a complicated and a tedious process.
But only for you, not for the movers and packers companies because they know what it takes to get your goods packed and transported safely. You have a busier personal and professional life and you may not have time to pack and move of your own. But good news it there are movers and packers companies out there who can take the entire burden and get your goods pack and move safely without any hassle.
But the hard thing is to find such reliable and qualified movers and packers companies who can get it right.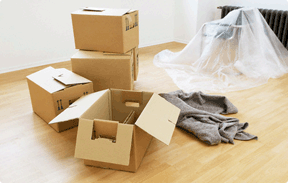 Do you know which movers and packers is right for you?
There are plenty of movers and packers companies out there in your city, irrespective of the city you are staying in. But the difficulty, of course, is to find a movers and packers you can rely on and who is competent enough to quote you the right price.
That's where ServiceSutra can help you. It lets you compare and hire qualified movers and packers companies for packing and shifting of all types of household goods or motor car.
Instead of you making random calls, it lets you compare rates and credentials from trusted movers and packers companies who are serving your city. Since we make multiple movers and packers companies to compete with each other, you are sure that the price you get on ServiceSutra is the most competent one. You may even check out the profile and reviews from the past customers who have used them on ServiceSutra.
Which mover you work with is really important
I am sure you would agree that the rates of service actually depend on the scope of work and the kind of service provider you are dealing with. So if you are looking for an interior designer and speak to three different interior design companies, you will be surprised with the quotes/rates because all of them will quote you different price for the same task.
Similarly when you speak to three different movers, rates of service are bound to be different but that's how you actually get the idea of correct and fair price of the service.
Also you are relying on a movers and packers company for packing and shifting of household goods and thus it is really important to ensure that the service provider is capable of handling it well. That's only possible when you have options and when you reach out to rightly placed service providers. Isn't it?
ServiceSutra is here if you need help hiring a movers and packers for local home shifting, long distance relocation or storage of household goods anywhere in India.
What to look for when choosing movers and packers?
Movers and packers industry is still dominated by smaller professionals who may have parted ways from their employers and started their own company. It's good because as a consumer you have plenty of choices and availability. But there are some disadvantages as well because such service providers may not have proper network across the entire destination. If that's the case, then unloading of goods could be an issue.
So what's the right way to evaluate the movers and packers?
It's simple. Do check everything you can about the service provider and take a call only when you are fully satisfied with the service provider and its credentials such as;
Proper license to conduct the business
Sound branch network
Insurance
Id proof and address proof of the company
Bank account in company's name
Flexibility to make payments by cheque
References of past customers
You can add items to this list of your own. But the point here is to be double sure that you are actually dealing with the company who are good at it and who is rightly placed.
How do you evaluate a service provider like movers and packers?