Having a home of your own is amazing, but to become a good home owner is a little complicated. It takes a lot to build or purchase your dream home, but it is even harder to keep it up to date for years. It requires regular and continuous maintenance and only then you can maintain the beauty of your home. I am sure you are maintaining your home properly and even if the value of your home get depreciated finance wise, you are ensuring that the value of your home is increasing in real life. But if you are clueless and wondering about how to maintain and increase the value of your home, then here's the post worth checking. Today in this post, I am sharing 12 incredible home maintenance tips and ideas that'll help you to increase the value of your home.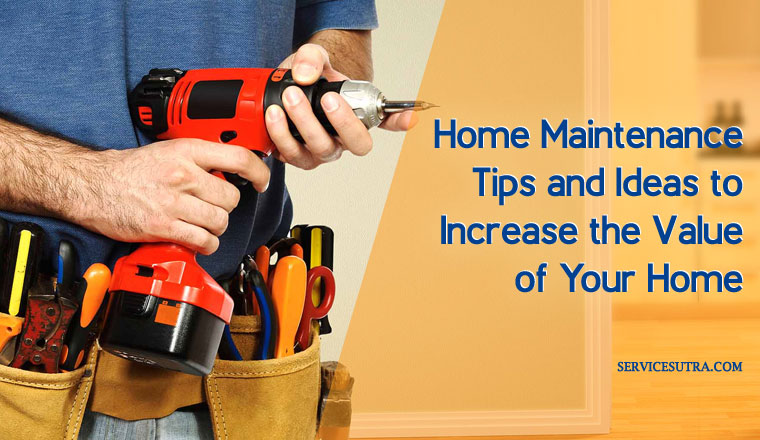 I find many individuals taking lot of efforts to build homes but often finding it hard to maintain it till the end. But let me tell you that while new homes always attract a lot of attention, all thanks to the new designs and technologies, it's your responsibility to take care of your and maintain it properly to increase its value. It is not that you have to spend a lump sum amount to renovate your home every year or so, but taking care of general maintenance and making occasional improvements should work well.
Sometimes you can make some little changes in your home that can increase the whole look and worth of your home. Well, I guess by now, some of you must be wondering how that is possible but trust me little tricks work and it has worked in my case too and so I decided to share those tips and ideas with you. And I am happy to share those amazing tricks and ideas to help you increase the value of your home easily and in a cost effective manner.
Owning a home always feels great and it feels even greater when you are able to increase its value by every passing day. The space we live in can be modified in certain ways depending on your budget that will give a boost and add a whole new appeal to your home. Many want to increase their home's value in inexpensive manner because they have plans to sell it to someone else with a good profit margin. On the other hand, others simply want their space to be more valuable and that is why they look to create changes but in a cost effective manner. So whatever be your case, if you are interested in increasing the value of your home, then this detailed post is a must read for you.
So, without wasting much time, let's start our discussion on how to increase the value of your home.
Maintenance tips to increase the value of your home
Everyone wants a dream home and I am sure you are no exception. But ever wondered about how to take care of the property and make it even more valuable instead of letting it depreciate in value? I am sure you do? Well, there are many tricks and ideas that can literally help you increase the value of your and listed below are the best ones.
Home maintenance budget
Most of the fixed assets, including our home require occasional maintenance and renovation.  Obviously any renovation or maintenance work requires a minimum budget, so ideally you should allocate a budget for annual maintenance and renovation work. This is mandatory when it comes to maintaining and renovating your home. You must make a proper budget before you start your work.
It is important for you to know your spending limits and you should never overdo it. Starting the work and then running out of money is worst and so avoid such situations by fixing your budgets from the very beginning. This will help you in jotting down the things that you want to renovate and at the same time get an estimate how much money may be needed to do that. So fixing a budget is a must and once you have a budget, you can renovate your home accordingly and increase the value of your home.
Take professional help
Proper maintenance and occasional renovation can surprisingly increase the life and value of your property. Be it a home or office, the owner have to ensure that every part of property is properly maintained and is up to date.
Some time we get inspired by looking at other properties, and at other times the inspiration may come from a picture in a magazine or from online sources. There are many websites out there where you can find various ideas that can increase the functionality and life of your home.
Getting inspired by any source is okay, but unless you are professionally equipped, it's always better to seek professional help. You can easily find a renovation contractor or a local interior designer and contractor who can help you get things done as per your need and budget.
Thoroughly inspect the properly
Even before you start the renovation or maintenance work, it is important that you thoroughly inspect your home. This is much needed as unless you do a thorough inspection of your home, it will be difficult for you to know whether something is already broken, and needs to be repaired urgently. You can do inspection yourself or take the help of a professional who can help you discover hidden problems based on which you can start with the renovation work.
In fact, the earlier you do the inspection, the better for you because problems may be big and the more you delay the more loss you may have to bear.
Painting your home
Interior and exterior painting can seriously impact the longevity of your home. Apart from making the space look beautiful and new, proper properly painting your home can increase the overall health of the walls. Here's a detailed post about house painting and how it can add a special appeal and value to your home. Getting your old home painted will deliver a whole new look to your home and is definitely one of the easiest thing to do to increase the value of your home.
Possibly you should paint the exterior every alternate year. We usually avoid interior painting because the house has to be vacated, but thanks to the new technologies, now interior painting is just a matter of your decision. Various companies have introduced machine based express painting services and they can get it done real fast without any hassle.
Cleanliness has no alternative
It is a known fact that the more clean and beautifully decorated your home is, the more will be its worth. Cleanliness mainly begins with you and you do not always need to read books or internet sites to get it right. While daily house cleaning is the best solution, many find it hard to do that due to their hectic schedule. For that, you may maintain proper discipline, do not litter things here and there, make sure each of your family members follow that and in the weekends you may do a bit of cleaning yourself.
For the weekdays, you can keep a good maid servant to keep your properly cleaned and organized. This way probably you can keep your home clean and create a good impression on your visitors that in turn will surely increase the value of your home.
Enhance the entrance
The entrance of your home forms a part of the first impression and so you must never ignore it. Make sure that the entrance of the house is beautifully decorated and most importantly well maintained. This will act as a feel good factor for someone who views your home from outside or for someone who comes to visit your home for the first time.
The entry doors serve as architectural components that must complement with the overall design of your home. So if you feel that the entrance of your home is not at par with your home's décor then you can start searching the net to get good ideas or contact your local home improvement shop to get some innovative and attractive replacement. Also, maintaining the cleanliness at your home's entrance is mandatory. Enhancing the entrance of your home can surprisingly increase the value of your home.
Renovate your kitchen
It is rightly said that kitchen is the heart of your home and so you must beautify it to increase the overall value of your home. You can go for mini remodel by changing the paint color. You may also go for new cool tiles to give your kitchen a whole new look.
Apart from renovating the kitchen, it is also very important to keep it clean. Make sure you are cleaning it after every usage. Keep a proper bin in the kitchen so that you can dump the disposals there. Also, arrange your cups, dishes, spoons, glasses etc. in organized manner. This look will create a unique appeal and automatically increase the value of your home.
Don't ignore the bathroom
It is one space that needs your attention as it is the main ground for spread of germs. Unclean and dirty washrooms might lead to the occurrence of various diseases among family members. Keeping it clean and stink free is the basic thing that you must do without fail.
And, as far as the beautification of the washroom is concerned, you can go for granite or marble countertops. You can also upgrade the bath area. Install a shower with stone surround tiling. Keep proper clean mirror inside your bathroom with enough even lighting there. Also, use the wall mounted lights to keep the bathrooms bright and warm. In addition, never forget to keep good bathroom air fresheners to eliminate any foul stink.
Floors add on to the beauty
Most real estate pros recommend good flooring because the good quality flooring can simply increase the value of your home. It is not that you have to spend a lot in flooring or you have to re do the floor all over again. But just a few simple things like decorating it with designer tiles, putting some nails to get rid of the distracting squeaks, or repairing floor boards that are damaged will do the trick. And, even if you can't afford so much repairing at least cover the damaged floors with a beautiful carpet.
You may also go for wall to wall carpeting, hardwood floors or strategically position the rugs to beautify the floor of your house.
Maintain a beautiful garden
There is no doubt about the fact that going green adds to the value of your home. It not just increases the scenic beauty, but going green can make the environment very lively and aromatic. Moreover planting trees also gives you many added advantages such as it reduces noise, increases privacy and also helps in storm drainage. Besides, in countries which experience extreme summers or cold, planting trees  in front of the home blocks the sun or the entry of cold winds that in turns keeps the rooms natural cool or naturally warm. This phenomenon helps you to cut your heating or cooling expenses.
However, make sure your yard is not untidy as that will fully act as a turn off. You can clean up the garden once in a week, prune the trees, get rid of the litter or can keep a gardener that will take care of your garden, clean it and fertilize and water the plants regularly. Here's a detailed post on how to maintain a home garden and I suggest you to check this post for further reading.
Get the lighting right
Trust me, lights in your home play a very important role in increasing your home's value and you must be careful while using lights. The easiest solution to this is to install light control dimmers on the switches mainly in your bedrooms, dining room etc. This creates a lot of drama and ambiance as well as is excellent for energy efficiency.
For bathrooms, chose lights that are warm and bright. In such case, go for wall-mounted up lights and ignore the overheated bulbs. You can go for LED under-cabinets lighting to get rid of the dark corners.
However, talking about lights, I feel natural light is best and so make sure you keep your windows open to let the natural light get in. You may also position the mirrors on adjacent or opposite walls to your windows that will create reflection and make your rooms look even brighter. Light have to be perfect, neither so harsh and nor so dim.
Eradicate foul smells
Now I don't have to make you understand how disgusting it feels to remain in a space that stinks. Well, yes smells may be due to wastes that can be the nice breeding grounds for the germs and so keep your home clean and use nice room fresheners to get rid of the foul smells. Make sure to keep the windows (and doors if you can) open for 1-2 hours every day to let the outside air come in. This will freshen up the interior air and make your home airy and bright.
Sometimes, your home may stink in case you do not clean your pets frequently. Cleaning your pet is important as they may be carrying unhygienic stuffs with them and spreading germs all around. So clean them using nice pet soaps. Also make sure you are cleaning their excreta properly in order to avoid any foul smell.
Conclusion
Home renovation is a very interesting thing and when done routinely, it can increase the overall value of your home. However, by home renovation, I do not mean that you need to always spend thousands of bucks to beautify your home. In fact, little things if done smartly can work wonders to create a whole new look to your home.
Many people take the help of interior designers to makes their homes appealing but if you want to do it on your own, make sure you hire the best possible contractor for the job.
However, for increasing your home's worth few things are basic and needs your attention. For example the bathroom, the kitchen, your home's entrance, the flooring, good lighting, a clean yard etc. creates a good impression on others and automatically augment the value of your home. However, cleanliness is no less important, so no matter how beautiful your home is, an unclean and disorganized home will act as a big turn off for whoever visits your home. On the other hand, a clean and well organized home shows the perfect discipline in your life and will increase your worth in people's eyes. So make sure to keep it properly cleaned and well organized.
Are you planning to renovate your home and wondering where to start and how to get it right? Try using some the tips and ideas discussed above while maintaining and renovating your home and see how it increases the value of your home.
What else do you think one should do to increase the value of a home?