Last week only, a friend who is moving to California on a project assignment for six to eight months was searching for warehouse for household storage in Hyderabad. He was looking for affordable warehousing solutions in Hyderabad to store his household goods like TV, fridge, washing machine, cupboard and other furniture he had. Since I have been working with movers and packers companies since long, he asked me whether it would make sense to book a warehousing service provider for household storage in Hyderabad. I told him, yes, it will be good for him and we had a detailed discussion on how storage and warehousing services can be used and how to find, negotiate and book a warehousing company in Hyderabad.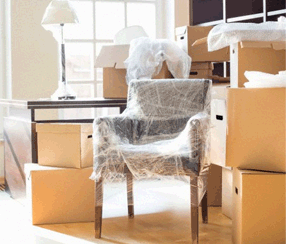 Household storage solutions can be used for storage of commonly used household materials e.g. home and kitchen appliances, furniture, kitchen utensils etc. Mostly movers and packers companies offer storage and warehousing services and it is widely available across most of the major cities in India such as Hyderabad, Bangalore, Mumbai, Delhi, Gurgaon, Kolkata etc.
I am sure there are many who don't have much idea of how to find storage and warehousing service providers, how much does it cost, for how long this service can be availed and so on. Hence I decided to articulate the most common things that matters the most and decided to write this post.
So if you are looking for warehousing services for household storage in Hyderabad or know someone who needs storage services then read through this post and also share it with who want to know about it. I am sharing some of the most common and interesting facts about the process of storage and warehousing and how it works in Hyderabad or rest of India for that matter.
On warehousing and household storage in Hyderabad
As I said above, household storage solutions in Hyderabad is available where you can store domestic household articles such as bed, almirah, fridge, washing machine, dining table, sofa set, kitchen utensils and much more.
But that does not mean you can store anything and everything. As the name suggest, it is meant for storage of general household items which is not inflammable, liquid etc. You cannot store wine and liquor or petroleum products in a storage unit.
Warehousing facility is provided by movers and packers companies who usually have a godown or a warehouse located mostly in the outskirts of Hyderabad.
For how long one can store goods in a warehouse?
This is one of the important things to know. Because sometime you only want to store your goods in a warehouse for just a couple of months till you get a suitable flat. At other times, you may need to store your goods for longer period of time like 12 months or 15 months or even more, like my friend is moving out for more than six months and hence he may need to keep his tuff in the warehouse for 6-8 months or even more.
How much does it cost for storage solutions in Hyderabad?
Well this is the most difficult one and the one which is very critical. Obviously knowing the cost of storage solutions in Hyderabad is equally important and crucial for you.
So let me put it like this;
Costs of storage solutions are not fixed, because that depends on the volume and types of goods that you have. Storage companies usually come over to your home for an inspection and then they propose you their estimates for storage service.
You have all the liberty to compare and negotiate for charge of storage services, but that's how it works. Different storage solution providers will charge you differently depending on the kind of facility and service they offer. But usually they will charge you monthly rent plus packing, handling and transporting charge.
Now what is packing and handling charge?
Mostly people think that they can pack their stuff themselves, but that's not how it works. Before picking your goods for storage, movers and packers (who offer storage services) would like to pack everything themselves to ensure your goods are fully secured. Hence the charge for packing and handling charges includes charges for loading and unloading (both ways when they pick your goods and when they bring your goods from warehouse to your home)
How do I Book household storage solutions in Hyderabad?
You know, storage usually is a long term contracts and it could go from weeks to months so finding a storage company who is established and can be relied up on is really important. Obviously you can search for them online or can compare and book storage services in Hyderabad on ServiceSutra.
But finding contact numbers of storage and warehousing companies available in Hyderabad is just one part. The second and most important part is to negotiate with them and evaluate the company you are likely going to book.
Here's how to do it right;
Talk to a couple of companies to get better understanding of how it works and how much it may cost to store your goods in Hyderabad.
Avoid dealing with individual, rather work with companies that s legitimate and has its office and warehouse with adequate insurance and security in place.
Make it a point to visit the warehouse yourself and evaluate the facility yourself.
Do they have protection from flood, water-logging, fire, theft, pests like termite, rats etc?
Discuss about security and insurance.
Make payment in cheque only, avoid paying cash.
Never forget to negotiate because there is always some scope for negotiation on rates.
Over to you
Household storage services are available in Hyderabad, but you should be smart enough to find and work with storage service providers who are established and who have adequate security arrangements and who is legitimate. It's a long term contract, so it's important for you to compare rates, discuss, negotiate and then book a household storage service provider in Hyderabad.
Where do you keep your goods in Hyderabad when you have to go out for months?