Thanks to the availability of number of moving companies near you, relocating with all your household materials has become easier today. The movers and packers can take out all the stress of your move and get you relocate from city to another city, state or country, much more efficiently and safely.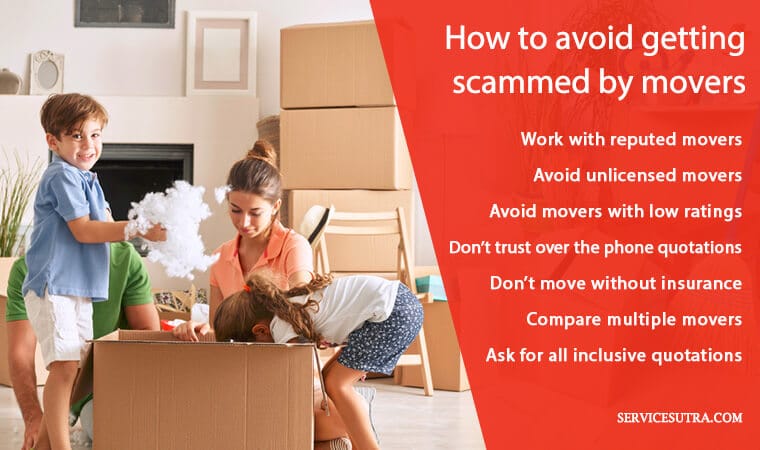 But, as you may already know, starting packing and moving business does not require a lot of investment, and hence there moving companies are mushrooming everywhere. Many of these companies are not the best in trade, and intentionally or unintentionally, they end up scamming their customers.
If there is an upcoming move and you are wondering about how to avoid shady movers, and save yourself from getting scammed by such shady movers and packers companies, then here's the post worth checking. Today in this post, I am sharing some quick and simple moving tips that'll help you to avoid shady movers, and avoid getting scammed by them during your next upcoming move.
Home relocation can't be avoided today. But hiring a professional mover and packers can significantly reduce the moving stress. And therefore, all of us consider hiring good movers and packers near us.
This has led to the emergence of so many moving companies, even in smaller cities and towns in India or anywhere for that matter. But, sadly, there are some shady movers among them, and the challenge is to spot and avoid dealing with such mover and packer companies.
Such shady movers will obviously try to lure you with low prices, but they are guaranteed to fool you at the end. And therefore, you should always be alert, choosy while hiring a mover and packer company for relocating your household goods, office furniture, car or other types of goods.
How to spot shady movers and packers near you?
The best way to avoid shady movers and not get scammed by such moving companies is to avoid such companies altogether. And to avoid such movers, you must know how to spot shady movers and hire the best and reputed movers and packers near you, because only when you can spot them, you will be able to avoid them.
Spotting such shady mover packer companies is not a big a deal, just look for the red flags, and unless you are very sure, do not hire such company.
Here's what else you can do to spot shady movers and packers near you.
Poor online reputation
All good moving companies care about their brand, and therefore, they do everything possible to satisfy their customers and win their trust. Winning customers trust helps them maintain good reputation online and offline.
Therefore, when you are searching for the movers and packers companies near you, you should always check their reviews and ratings on various sources online. And remember, one or two bad reviews does not make a company bad, so keep that in mind while checking for online reviews and ratings of moving companies.
Not licensed or registered
All the interstate moving companies must be registered with and licensed by FMCSA that is the Federal Motor Carrier Safety Administration. So, it is important that you check the FMCSA website and look into the licensing information. Each of the interstate movers has a USDOT number by the US Department of Transportation. This is a proof of the legitimacy of the moving company. So, if you do not get any licensing information about any company, take that as a big red flag.
Keep in mind that the local companies that do not cross the state lines are governed by the individual state regulations, and not by federal regulations. But, the reputable and the trustworthy local companies do adhere to the federal regulations and take enough pride in their works.
In India for instance, moving companies are required to obtain trade and establishment license from the municipal corporate office. Similarly, if the company is claiming to be a registered company or an ISO certified company, then just ensure that they actually have the registration and certification by looking at the original set of papers or online.
No matter whether you are relocating locally or interstate or internationally, make sure to check the licensing information of the company you are planning to hire.
Over the phone estimate
Is it possible for a mover to give you an exact estimate over telephone without a detailed in-house inspection? No, even if they can give tentative cost estimates over the phone, they get the chance to tweak the prices after looking at the list of items.
For giving proper estimates the professional will have to determine exactly what items you are carrying. Also, they need to look into the special items properties like awkward shape, too heavy, extremely fragile, too valuable etc.
In addition, the moving company representative will also look into other details that determine the final cost like for example, special packing requirements, narrow hallway, more number of stairs, disassembling of furniture pieces etc. Only after inspection, the movers and packers can give you an estimate that is same or at least close to the final bill amount.
In contrast to that, if any company is forcing you to consult the dealings over the phone, does it seem unnatural? I mean how one can give accurate estimates without knowing what is to be moved and looking at the property? So, my suggestion is to call the companies for in house survey, and then ask for the final quotation. Most of the moving scammed happen because of this, where the moving company will suddenly increase the prices, and try to justify the same.
Refusing proper insurance
Each moving company is legally bound to take responsibility of the items that they are moving from one place to another. It is also the right of the customer to ask for the insurance, and if needed ask for additional insurance of specific items as well. The customer also has the right to ask for compensation in case of any damage caused to the items while getting transported. So, if any company does not provide you with enough moving coverage, then it's better to avoid such mover packer company.
Other warning and signs to look out for
Apart from the above-mentioned tips to spot shady movers and packers companies, there are other warning and signs that can help you to spot shady movers and packers. These are actually minute details, but noticing these signs can help you avoid shady movers.
Whenever you talk to any moving company over the phone, look whether the representative answer the phone with their company name or not. This is because each reputable company is proud of their brand name and is also proud of what services they provide, so they will obviously take the company name while answering every phone call. If that does not happen you should be alert.
If you are not able to find the website of any company because they do not have one, then that may be a red flag. This is because in this era of internet, each and every reputed company has a website. Now, if they have a website, see whether important information like license number, insurance options, local address etc. are properly mentioned or not. If not, then avoid such companies.
If the mover does not provide you with flexible payment options but demands a large deposit from you or a cash only payment, avoid it.
If any companies gives you blank documents or incomplete ones and ask you to sign, then it's better to avoid such companies.
On the day of the move, if you see that the representatives are coming in an unmarked vehicle, display some kind of unprofessional and rude behavior or bring dirty, damaged packing materials, then that is definitely a warming sign.
How to avoid getting scammed by shady movers?
Now, that you have learned how to spot the shady moving companies, it is important for you to avoid getting scammed by them.
Here's how to do it right:
Devote more time to finding reputable companies. Check the websites, online reviews very carefully. Look for the licensing information and check the unresolved claims. Ask for the references from friends, relatives, neighbors etc.
If you do not get any references, you may even think of taking the help of reputable online platforms. ServiceSutra is definitely one platform to look out for. We have screened and on boarded some of the best moving companies near you.
After short listing companies, take in house estimates from at least 3-4 moving companies. Compare the rates, credentials, reviews and then go for the best one as per your judgement.
Avoid going for too low prices as you may land up in the hands of inefficient or shady movers, who will try to lure you with hard to refuse attractive deals. Always go for companies offering you with standard market rates.
Properly check out the licensing and the insurance documents of the companies.
Avoid handing over very valuable documents of yours to the movers. Always carry such documents and other valuable possessions with yourself during relocation.
Take clear pictures of your items (especially major appliances and furniture) before packing. These will act as proof in case of any damage.
Before signing the documents, make sure you understand all of the terms and conditions.
How to deal with a bad moving experience?
Despite taking precautions, there are too many ways a moving experience can go wrong. But, the most common reasons for the blotched movers are as follows:
Your belongings got broken or are missing
This is exactly why you should go for proper insurance coverage options. In fact, unless you are moving with very less items of no significant value, the moving insurance that the companies provide with no additional cost is not enough. You should go for additional coverage to avoid any significant loss.
Your belongings are delivered late
Late delivery is one of the most frequent reasons that lead to conflicts between the company and their customers. If by any chance your items did not get delivered on time, call the moving company immediately, and ask the reason. The nature of the problem will obviously vary, but the best way to deal with it is to stay calm and follow. But, yes, you must inform the company about what inconveniences the late delivery has caused you, and also ask for compensation in case of any out of pocket cost that you had to bear due to the later delivery.
The final bill is way more than the estimates
In such a case, you need to consult your moving companies regarding how come the final bill is so much more than the estimates you were given. If the company is a good one, then they will definitely try their best to honor the estimates they have given. But, if the company is bad, then at first try to negotiate with the company and come to an agreement that will benefit both you and the company. However, if that attempt fails, then simply file a claim against the moving company.
Rude movers
The day of move is always going to be a little stressful, especially when you are relocating for the first time. No matter how much you try, there are bound to be some sort of mishaps that may give you more tension. In such a situation, having good professionals by your side can be of great relief. But, if in your case, things are just the opposite and if any of the company representatives behave rudely with you, then do not take this attitude of the person so lightly. Simply call the company and report about it. In most cases, this is a minor issue and is dealt swiftly.
How and where to report about the moving company?
At times, the matter is not so simple and reporting about a member of the moving company is not enough. You need to take more steps if you feel that the company has wronged or scammed you. Here are some things that you may consider doing:
Resolve the issue with the moving company
The very first thing that you should do is to resolve the issue with the company itself. Consult your company, provide as much evidence to them as possible and request to go for a fair settlement that will benefit both you and the company. While doing it, you need to stay calm and composed. Avoid getting too angry and violent because such a behavior of yours can actually go against you.
Leave an online review
If the movers you hired is playing smart or dumb or ignoring you or not providing you with satisfactory solution, then the next solution you have in hand is to leave an online review. See, most of the branded companies are very much aware of their brand reputation, so if you leave a negative review, they are most likely to contact you and solve the matter. However, even if things do not work for you, at least be happy that you have warned other people about the moving.
While writing the reviews, make sure that you write in details what actually happened. Rate the company accordingly. Keep in mind that your one review can save many from getting harassed by the company you had hired.
File a formal complaint against the moving company
If none of the above steps work for you, then it is time for escalation.
File a complaint with the Department of Transportation- The Federal Motor Carrier Safety Administration will accept the complaint that you made against the moving company in matters of overcharging, unlicensed and uninsured movers, damaged or stolen belongings etc.
File a complaint with AMSA
The American Moving and Storage Association website has a separate section for filing complaint against moving companies. Fill the special arbitration form to inform them about what has happened with you.
File a complaint with BBB- You can use the complaint section of the Better Business Bureau website to file a complaint or visit their nearest visit.
File a lawsuit against your moving company
If you are still not able to get justice, then it is better to go to small claims court. But, before that, make sure you take proper legal advice and weigh in the options you have with proper care. Firstly, try to understand and question yourself is everything worth it? Will the eventual justice justify the money, time and your nerves? If yes, then go for it.
Conclusion
This world is a mixture of good and bad. So, just like there are good and trustworthy movers out there, there are the shady ones as well. So, whenever you are about to relocate and is in search of movers, you should try your best to hire the best moving companies available near you.
When hiring movers, just double check the license, registration, certification and avoid getting lured by hard to believe lower moving quotes. Quality comes with a price tag and when you handing over all your valuable belonging to a mover and packer, it's better to give it to a company that you are sure about. I have already shared everything worth knowing about how to avoid shady movers and not get scammed by such movers, and if you follow these tricks, you will be able to make your relocation much safer and hassle-free.
But, if by chance you fall in the hands of bad movers, and have a bad moving experience, then don't just give up. Fight back for your rights.
General FAQs
Here are some of the questions that others are asking.
When should I pay the movers, before or after the delivery?
Usually, the leading moving companies won't ask for upfront full payments. They generally offer 60:40 or 70:30 payment terms, but there is no such hard and fast rule. If you are moving locally, you can usually pay after moving and getting delivery. In case of out of state move, the movers may ask for part payment upfront. In any case, make sure to pay online or through any media other than cash so that you have the valid roof of payment.
How to choose a reliable mover for long distance moving?
It's very important to work with only the best possible mover and packers near you. To find and choose the most reliable movers, it's best to consider taking quotations from three or even four local movers packers companies and then evaluate their credentials, reviews, payment terms and overall service guarantee. Also avoid movers with hard to believe low price and one with no valid business license.
Should I tip movers and packers?
Paying tip to movers and packers may not be a bad idea, especially if you know that they have worked hard in packing and relocating your goods. If you are satisfied with the service quality, behavior and know that they did their best job, then tipping movers and packers is not a bad idea. How much to pay is totally on you.