Are you planning to sell your home, because you are moving to a new and bigger house? Are you struggling in getting interested buyers, willing to pay what you are asking for? At times, it becomes really difficult to find the right kind of buyer who would be seriously interested to buy the house, at right price. If you are moving to a new house or relocating to a different city or state, and want to sell your hold house, then here's a post worth checking. As today in this post, I am discussing a few important and essential house selling tricks that can help you to sell old house faster and easily before you move to your new apartment.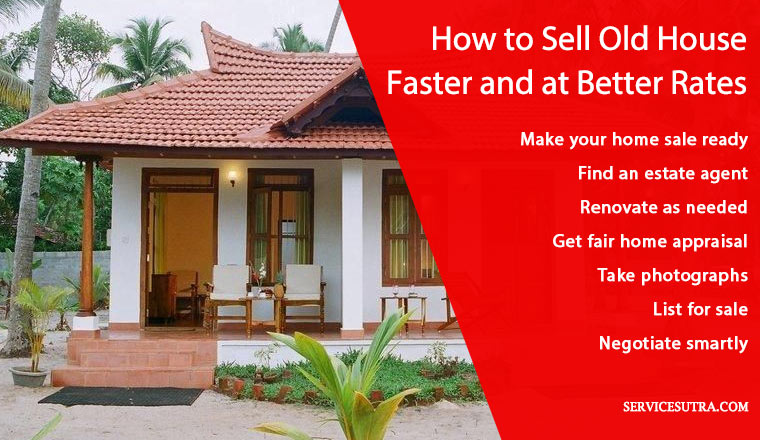 I have sold my old house as I have relocated to a new apartment closer to my office. And you know what; I found it really hard to sell my old house. Sometimes I got the interested buyers, but there was budget mismatch, at other times payment terms had some issues. After showing the property to many potential buyers, finally, I ended up selling my old house with the help of a realtor friend. But I got to learn a lot from the whole selling process and now I know how to sell old house faster and at better valuations, easily, and I am happy to share it all in this post.
However, before I get into the details of how to sell old house, it'll be better for you to start looking for your new home. Best is if you can go with the process of buying a house and the selling of the old house simultaneously, or else, you may buy a new home and then start finding customers to sell the old house after you have shifted and relocated to the new house.
Now, you may be thinking the other way round and feel that you can use the money you got from selling the old one to buy a new home. But do also consider the fact that selling the home may put into under too much pressure to buy a new home very quickly as your buyer may be waiting for you to move out. So, think about it and act accordingly.
Now, coming back to how to sell old house easily before moving to a new house, here are few things that can help you sell your old house easily and at right price.
Make your home sale ready
Once you have made up your mind to sell a house, you need to make sure that the property is ready for sale. And the best way to make your property ready for sale is to do proper inspection of your entire house.
If there is any need of house painting, minor renovation, then it's always better to do it upfront. But be clear about what to fix and what to leave, and even when you are fixing something, figure out how to get it done at minimal costs. The cost of painting a house are generally not very high, especially the repainting costs. But, a fresh coat of rightly selected wall paint colours can do wonders and make it sale ready.
Also, decide the timeline within which you need to finish off all the works and make your home full ready for sale.
If you have too many furniture and other items, then you may consider using household storage and warehousing facilities available near you to safely to store your goods. In this way you can empty your home faster and prepare it for sale without putting pressure on yourself to find and buy a new home to shift immediately.
When a prospective home buyer see the clean, well maintained empty house, they feel good and it helps them visualize everything positively and that may help you sell faster and at better rates.
Find an estate agent
If you want to sell your old home quickly and at a good valuation, then the first thing that you need to do is to find a good real estate agent or a realtor. Having a good real estate agent will not just help you find good and qualified prospects and potential customers quickly for your home, but they will also help you sell the home at best price.
While searching for an agent, do look for someone who is experienced and have qualified team to qualify good prospects in your city or area.
Listing your property here and there on different online listing and classified websites may work at times, but there is no substitute to having a professional realtor on board. They can bring in good qualified and relevant buyer for your property.
Make exterior look attractive
Sometimes, the potential buyers judge whether to enter the house and see the interior by looking at the exterior of the house. The curb appeal matters a lot while selling your home. So, you need to make the exterior of your home very attractive and welcoming and trust me, buyers will automatically get interested in buying your home.
Starting from a freshly painted main door to a beautifully decorated garden to big, bold house numbers to keeping the garage organized and well maintained etc. everything in the exterior matters, so do take all of these into account and increase the value of your home before selling in the market.
Do minor renovation
I am sure by now you have decided what to change and what not to, as it is important that you start with the home renovation or repairing work quickly because the more you delay, the more the time you will have to spend in selling the home.
Remember that cleanliness is also of primary importance to attract good home buyers. So, go for a full deep cleaning of the entire house before listing it for sale. Clean the carpeting, get rid of the area rugs that are worn out and replace them with new ones, paint and seal cracks if there is any, and also clean the entire interior and exterior space.
If possible, do some minor up-gradation in the bathroom and kitchen because that is something most people are sensitive about. And a fully renovated bathroom or an upgraded bathroom can actually act a very positive aspect and help you sell your home quickly.
Get fair home appraisal
Do some proper homework in advance if you want to avoid getting shocked by home appraisal that is less than what your home is worth of. Make it a point to make a list of all the home improvement and repairing works you have done before the appraisal, and ask your agent to tag along on the appraisal. Well, your agent may be able to help you raise your home's value by offering insights about the various benefits of your home.
Photo shoot
The listing photos play a huge role in helping you get potential customers, so when the photographer comes to take photos of your home, make sure that the photos come attractive. For that, you may turn on every lamp, keep the window coverings pulled open and also make sure your home is well organized and very clean.
In the listing, see to it that only the most attractive photos are given along with proper description of the other spaces. In other words, make sure that your home's best features are highlighted properly.
List your home for sale
Staging your home for sale definitely means cleaning the home and making it free of any clutter. Try to make more room on surfaces and inside your cupboards and closets to show off your space. And, yes, don't forget staging your outdoors as well. You may actually think of going for a shined-up stainless steel grill and a hammock in the backyard as that may attract many buyers.
However, showing off your home does not mean you will have to spend lots of money on it. Pare back things that you already have or borrow certain items from your close ones if you need to fill in gaps. And, even if you are making new purchases, select items that you are likely to use in your new house as well.
Negotiate smartly
At the end of the day many things do depend on how much of a smart seller you are. Now, considering the fact that you are not experienced in selling homes, it is better to do as much research about the basic aspects of home selling as you can. While deciding the price, do consult your real estate agent about the present value of the home and accordingly set the asking price for your property.
If you put your home at or slightly below the market value, trust me, it will help you get more buyers. But be sure of the fact that the buyers will make offers over the asking price. But, make sure you judge and review every offer before finalizing anything.
Remember that the offer having the highest price may not be the best choice every time. This is because the offer that is lower may actually have more profitable terms or may even come in cash. So, please do pay attention to every possible detail in the offers of the buyers because that is the sign of a smart seller.
Over to you
A lot of effort goes into making a move a success and if that involves selling your old home, the pressure does intensify. Taking care of all the hassles associated with packing and moving, finally relocating and getting settled in your new home, and ensuring that your old house is sold at the right price, taking care of so many tasks is not easy.
However, with proper planning, things can get a lot easier for you, like hiring movers packer for moving and using the expertise of professional realtors to sell your old house can save a lot of hassles.
However, before you list the property for sale, it is important to inspect the property properly, make minor changes as required to the property to increase the value and make it attractive.
Of course, your estate agent will help you in it, but you need to be right with your expenses as well. Make sure to not spend a lot of money in renovating, just keep it balanced to that you can sell it faster and at good rates.
Last but not the least, the better and the smarter seller you are, the better it will be for you to crack a good deal. Just try to focus on the positive aspects of your home and try to attract as many buyers as possible.
The more offers you have in hand, the more options you will have to choose from. However, do read every detail mentioned in the offer and make the best choice.
I know it sounds a bit complicated but with the guidance of an experienced real estate agent, and with some basic homework and research, I am sure you will be able to sell your old home at a decent price. Have you sold your old house after moving to a new house? What else do you think one can do to sell an old house faster and at better rates?