Home shifting is a very complicated activity, especially when you have dropped the idea of hiring a professional packing and moving agency. But if you have decided to do it all by yourself instead of hiring a packer-mover service, then you have to be prepared to brace loads of hassles and other complicated issues such as, lack in coordination with the transporter, insurance agency, inconvenience in arranging packing materials and what not.
When you have a reliable moving service by your side, they take out many hassles. However, when you are on your own, you need to have a solid relocation plan in place. Otherwise, you may end up making mistakes that could turn out to be too expensive at the end.
But, there is no need to worry because if you are mentally prepared (which you already are), you can definitely do the packing and moving all by yourself without involving any movers and packers agency. It may be a little complicated, but then there is nothing that you can't handle when you are determined.
In this post I am sharing some easy to follow DIY packing and moving tips that should help you in many ways. I am sure even if you follow some of these packing and moving tips, you will be able to get it right without any issues and hassles. So ready to go?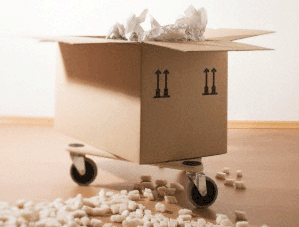 Packing and moving tips that matters the most
Whenever you plan to shift your home, packing all your household stuff is that one thing, which is very problematic. But, here are some tips or ways which you can follow to pack your household goods.
Before you shift to an new home, start  detaching the parts of the furniture, which can be disassembled. Do this task at least 1-2 weeks before you are shifting.
Before packing electronic appliances, make sure to unplug the power cable, and clean it in order to avoid any moisture during the shifting process. If fridge is to be packed, make sure it is defrosted and dried.
Make sure to pack items according to their group. Groups them according to their utility, for instance-pack all the kitchen items in a box, and the bathroom items in another, and label the boxes properly.
Put all of your necessary, and small items in one box. Try to pack them in such a box which can be kept with you easily while travelling. Small things can be easily lost, so its essential to pack them in a box that can safeguard them.
Pack medicines and other aid stuffs in a box that can be easily carried, and label them properly as 'first aid box'.
Pack electronic appliances like DVD, home-theater, audio systems and others in their original boxes, that were provided by the manufacturer using the thermocol.
Don't pack lots of items in one box; this will help you ensure there is no extra weight that cannot be carried in one box.
Make sure you pack all your heavy items in smaller boxes. Balancing the weight of each box down is very important.
Start packing weeks ahead of your actual schedule of moving. This helps you to pack your goods slowly, and as per your comfort. Also there are less chances of missing anything.
When disassembling the items, make sure you mark them and understand how to assemble them later after shifting your home.
Make sure to pack valuable possessions like ornaments, jewelleries and other costly items separately, and keep them with you. Also make sure you have the keys of your new home.
Over to you
I am sure these do it yourself packing and moving tips can make lots of difference. But the most important tip for do it your-self approach is to think practically and keep calm. You can be rest assured that the process of packing and moving your goods could become much simpler, and hassle free. In-case you wish to hire a professional, post your requirements in our site and we will connect you to three Packers and Movers service providers in your city, so that you can compare rates and hire the best.