Moving a house can be hectic and frustrating for any normal individual, especially when you are moving to another state. Successful move involve proper planning and coordination with moving companies who can help you relocate. It takes lots of time and efforts to find moving companies, compare quotes, screen moving companies profile and finally moving. Amidst all of these, if you have a baby or a little kid, then it's going to be even more frustrating. Taking care of all the coordination and taking care of your baby or a kid at the same time is indeed not easy. But, you know what, there are ways to move with a baby and that's what I am going to help you with in today post. If you are moving house with a baby and you are not sure how to plan and move without hassles, then here's the post you don't want to miss out.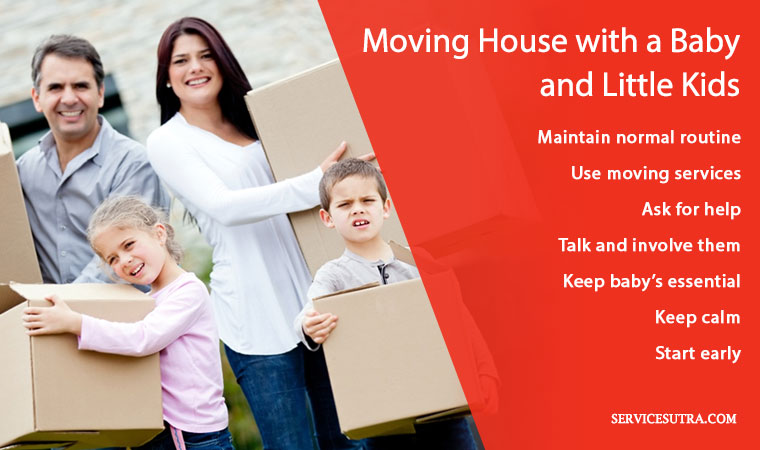 When you are moving house with a baby or a little kid, you can't afford to take things for granted. Right from ensuring that you good reach on time, to taking care of your baby all through the process, you can't take it lightly.
Can you imagine a situation when your goods are packed, movers have picked and transported your goods, you have reached your new house, but the goods are still in transit? How do you plan to handle the situation? What'll happen if the goods are delayed by another 3-4 days, and what if it's a winter season?
But the, no one said moving a house is easy, especially when you have a baby or a little kid and you all are moving to a different state. But, with proper planning and strategies, you can make your move smoother and hassle-free to a great extent. If you are planning to move to another state, and you are looking tips and idea to move with a baby or a little kid, then continue reading this post.
Best tips and things to do when moving house with a baby
If you are moving house with a baby, then just remember that the little ones are immature, so they are not going to understand your problems. Most of the time, they are going to act impatiently and throw tantrums adding to your irritation. It's natural to get angry, but you have to keep your cool, and handle the situation well. If you get angry and shout on your little ones, then the situation is not going to improve, rather it may worsen.
As far as your babies are concerned, you need to keep them happy by feeding them on time and by making them sleep on time. And at other times, you simply have to keep them engaged.
Each one of us has got certain needs and basic requirements. Similarly, babies and little kids also have their own childish needs. The only difference is that we can take care of our needs on our own but they can't.
You, being the parent have to take care of their likes and dislikes and needs and if you are able to do so correctly, trust me, you will have no issues in moving house with a baby or a kid.
Taking care of the likes and dislikes of a baby does not necessarily mean fulfilling all their demands. But, what you got to do is to give them the needed importance and attention which they want, instead of ignoring them.
There are many such small things that can help moving house with a baby much easier.
Here's the list of best tips for moving house with a baby or a little kid:
Maintain normal routine
If you are moving house with a baby, and you want to move without hassles, then make sure to not disrupt your baby's normal daily routine. One of the most vital things that you need to keep in mind while planning a move with your baby is, no matter what, you should not disrupt their normal everyday routine.
Irrespective of whether you're busy sorting, packing and coordinating with moving team, you can't forget to feed your little one on time.
Babies love their routine so any kind of disruption can make them cranky. To avoid any such situation, please maintain the routine which they are accustomed to. And, as far as planning and preparing for the relocation is concerned, you can utilize their daytime or early nighttime sleep hours to get your work done.
That may put a little extra pressure on you because you may have to wake till late at night.
Talk to them
Toddlers love to get importance and so when you are discussing about moving with your kids, they may feel excited and be ready to help and co-operate with you in the process. This will automatically make them feel important and hence they will not disturb you.
In fact, discussing with them about the move will not just put them at ease, but it will also make them help your little one know what to expect from you during that time.
However, while talking to them about the move, make sure you keep things simple for them and make the whole prospect of relocating from your old home to the new one very fun and exciting. Trust me; it is going to take a lot of hassles away from the process of moving with a baby.
Involve them
Once you have discussed about the move with your kid, it is important that you involve them in the process. Your kid cannot plan things, but you can make him do his packing. There are many ways to make packing fun for kids and you can actually use these tricks to make the whole moving process easier. They will remain engaged with the tasks and responsibilities that you have given them, while you get free time to look at other pressing tasks.
Use moving services
The confusion of doing it yourself vs hiring movers and packers is obvious. If you are unsure about whether to use moving service by a professional relocation company or do it on your own, then let me help you. Do it yourself move will work when you are moving to a nearby neighborhood and you have just a few household goods to pack and move.
But if you are moving house with a baby, you should rather use professional moving service than struggling with the process of self move.
Hiring a packer and mover will lessen your burden and worries to a great extent. So, at least give it a thought before taking a call.
Ask for help from friends and family
One of the other tips I would like to share on moving house with a baby or a little kid is that, ask for help. You should not hesitate to ask for help from friends and extended family without hesitation. This is actually very much needed on moving day. Well, this is because, in all probability, the situation is going to be a little chaotic on that day and it's not going to be easy handling it all alone.
Even if you have a professional moving company on board to help you, you need to be present with them end to end in order to guide them on what to pack and what not to. And handling a baby on your own may be a little difficult, so if a friend can help, then you should ask for help.
However, if you do not have any such close ones around from whom you can ask for help, then consider a babysitter to make things easier for you. I am sure you won't regret this decision.
Pack and keep baby's essentials with yourself
If you are moving house with a baby, and you have a moving company to help you, then you should avoid packing the baby belongings first. But make sure you unpack them first once you have relocated.
Now this is really important to note because many people think of packing the belongings of their little one in the beginning. But, that is wrong because the last thing you will want to do is to start hunting for their toys, pacifiers etc. right before the move.
Instead, it is best to pack those belongings at the end, and even better if you keep most of them in a separate box and label the box. In this way, it will be easier for you to find your kid's belongings in emergency at the time of unpacking.
In fact, I would recommend you to keep some of the important items like for example, foods, toys, pacifiers, blankets, diapers, medicines, extra clothes etc. along with you in the car. In all probability, you will need them during the journey.
However, when it is about unpacking the boxes after reaching your new home, make sure you unpack your baby's belongings first and rearrange them. This is because putting together the nursery quickly will create a familiar environment for your little one and hence it will become easier for them to get adjusted to the new place.
Keep calm
Do remain calm during the move and carry essential items for babies with yourself. Little kids are keen observers and if they see you panic during the move, they will automatically become impatient. And, if they are so anxious from the beginning, they may throw a lot of tantrums and not eat or sleep properly causing unnecessary trouble to you. So, if you want them to remain calm, the very first thing that you need to do is to stay calm yourself.
Start traveling early
You never know what happens on the road, so it is advisable that you start the journey early during the day. This is because relocating with your little one during the night is not that safe. Daytime is always safer while travelling on road. However, for fixing the time, you must also check the weather forecast and accordingly plan.
Also, keep updates about the condition of the roads before taking a route, especially if you are traveling by car. By any chance, if any road is blocked or is under any construction which may delay the journey, then do enough study about the other safe and alternate routes, so that you can avoid any kind of disruption during the journey.
Dress up your kids according to weather
If you are about to relocate to your new home and you got to make a long journey, then make sure you dress up your little one with comfortable clothes, s per the weather conditions. If you are journeying during summer, then the baby dress must be light and soothing. But if you are travelling during winter, then make sure he/she is properly protected from the cold. Also, make it a habit to carry a couple of extra clothes (or many based on travel duration) for your baby during the journey. I bet you will require them some way or the other while travelling.
Ensure the new house is kid friendly
Once you have already decided that you will shift to your new home, just be a little sure that your new space is entirely safe for your little one. In other words, make your home baby-proof before you relocate there.
Here are some things that you need to note:
The electrical outlets must be covered.
Make sure the choking hazards like the packing materials and cords are out of the reach of your child.
Use safety gates to block all of the staircases and other dangerous portions of your home.
Use child-resistant locks on cabinets and drawers mainly those containing medications and chemicals products.
The heavy furniture e.g. dressers, book shelves etc. must be anchored to the wall.
Over to you
Moving house with a baby or a little kid is not going to be easy, especially when you don't have a big family. Taking care of baby and looking after all the chores of packing and moving can be hectic and frustrating at times.
But, there are many small little things that can help you get it right. I have already discussed about many such tips and hacks that should help you move house with a bay or with little kids.
Moving without hassles is all about proper planning and when you plan everything well then moving is going to be that difficult.
Have you relocated with a baby or a little kid? How do you think one should plan and what to do to make the move stress-free? Share your tips and hacks by commenting below.
Here's wish you a safe and hassle-free house moving.