Office moving is no less challenging than relocating a home. In home, you generally have few larger items and fewer smaller items. But in case of office, you usually have number of heavy furniture like cupboards, computers, electronic appliances and accessories etc. All these office goods require safe and secured packing and careful handling of all these goods.
What is more problematic in case of office moving is that you have to ensure minimal downtime in delivering your product and services. And to ensure minimum downtime during an office move, you have to start planning your move well in advance.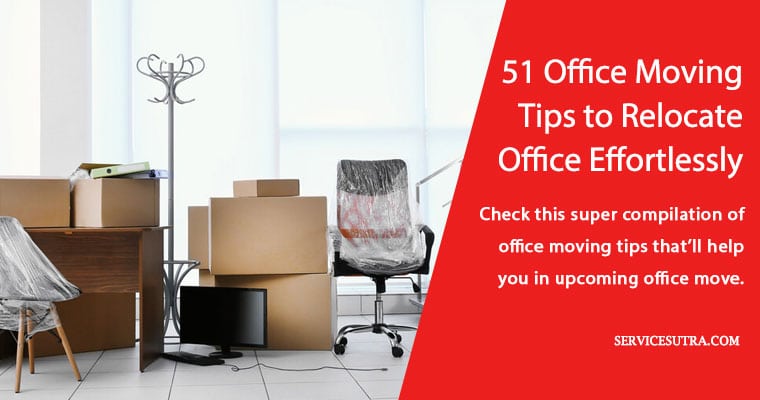 And the second big concern while moving an office is that you have to take care of the entire team and departments. You will have several people working in your office, and ensuring that each and every work desk is packed properly, you got to involve your team through the process of office relocation.
Office moving tips worth checking
If there's an upcoming office move, and you are wondering about how to relocate your office safe, sound and effortlessly, then here's a super compilation of 51 office moving tips to relocate your office safely and easily.
So, are you ready?
Here we go.
First of all, office shifting requires extensive planning and therefore, no matter what, you should start planning for office move fast and ahead of scheduled relocation date. And using an office shifting checklist can really help you plan your upcoming office shifting much efficiently.
Normally the business relocation should be planned months before actual moving date. But if it is a very large commercial move, then it is even better to start planning at least six months before moving.
Now that you have a relocation plan in place, just make sure to figure out a moving budget.
If needed, cut off all the unnecessary expenses so that you can have a decent budget for the office relocation.
In order to have a fair idea of how much money you may require for the office relocation, it is advisable that you do your research on the office moving, and learn more about the standard market rates and all possible expenses that you will have to bear.
Now while office relocation is in process, you got to search and find a new office where you will be moving to.
While you are searching for a new office space, make sure everything is suitable like size of the office, power, internet, connectivity, location etc.
If you have plans of expanding your company, then do keep that in mind while selecting the size of your new office space.
Engaging and taking your team in confidence can be seriously important when you're moving an office. So, call a meeting and share the office relocation plan with your team.
The Information and Technology (IT) department must be informed in advance so that they can start planning the transfer of all the technical things like server, other equipment, phone connections, internet plans etc.
 Do check the state laws regarding the duration of time a company is required in order to provide notice to the employees.
 Lessen your headache by appointing a move manager who can do proper follow ups with various teams and the movers, this will help speeding up things smoothly.
 Now, that your office move is progressing well, you go to hire a good moving company, which has specialization in office relocation services.
 Make sure you do proper research on the packer and mover company before hiring it.
The company must be registered insured, and you can verify the same by verifying relevant documents and papers.
 It is advisable that you shortlist at least 3-4 professional moving companies, take office moving quotations from each of them as it will help you in comparing rates, bargaining and in cracking good deal to move your office.
Do not finalize any deal without meeting the company representatives face to face. It's always better to ask them for a survey and get complete relocation plan, along with the quotations to compare and choose from.
Clear all your doubts and do check all of the important documents of the relocation service provider properly before you sign any contract with a mover packer company.
 Do not delay in hiring the movers much because the experienced and trusted movers get booked quite early, especially if you are planning to move during the peak moving season (March to August).
 Well, if you want to avoid the rush, you may think of relocating in an off season as well.
 Moving in an off season will not only help you hire the experienced and efficient movers easily, but will also help you in lessening the overall moving costs due to the less demand of the movers service at that time.
 One more thing about off season office move is that most of the movers are available during that time, so you will be able to fix dates as per your convenience.
 While choosing a mover, try to avoid companies offering you with too cheap rates as that may make you fall in the hands of inexperienced or inefficient mover packer.
Schedule the move with the building you are moving in as well as the one you are moving out.
 Unless your company owns the building you are moving out or in, most buildings will not allow moves during office hours, so you need to be informed and prepared for that.
It is better to fix the move timings outside normal business hours or even better during the weekends.
 Check with the building authority regarding any other rules or requirements for moving.
 Many times the buildings limit the duration of time you can park at the loading dock, require you to protect and cover the floors properly or even demand prior reservation of the elevators. Therefore, it's better to check with them about all of these from before to avoid any complications and disturbances later during the move.
Determine what printed materials like the envelopes, business cards, and stationary require changes in address, and order the re-print accordingly.
Do not forget to change the digital address on your social media pages, website, email address signature etc as needed.
Update all your clients, vendors, and stake holders about the office move, so that they can make required arrangements.
When it comes to sorting items and deciding what to move, make sure the head of each department take an inventory and decide what needs to be relocated. 
 See to it that the useless items are not relocated as that will just unnecessarily increase the packing and overall moving costs.
 It is best to sell the items that are no more useful, but are still in good shape. This way you can cover a part of your office moving expenses.
 If you do not get good customers to sell, simply donate the office equipment and other items you do not need anymore.
Items that you are not moving can be recycled or sold out, so plan accordingly.
 Ask your team members to make a list of their own belonging, especially items related to their own work station and department.
 Assign everyone the work of packing and taking care of their own desks, they should pack, and label the box on their own and then movers can finally seal the boxes.
 Before you finally relocate, please be very sure that the new office space is completely ready to move in, otherwise that may take a toll on your business operation.
 Do follow ups with the moving company time to time.
 Take proper care while packing the items because any loss or damage to office goods and accessories may turn out to be fatal.
 Follow specific instructions while packing and moving sensitive devices.
 Labeling of the boxes is mandatory to avoid important office items getting misplaced, and also to avoid issues in unpacking, so make sure all the boxes are packed and labeled correctly.
If you are planning to buy new equipment or electronics for your new office then make sure to place the orders well in advance so that things get delivered to you on time.
It is best to relocate the non-essential items first, non essential means items that do not affect the normal office operation and functions.
Most of the office movers do not relocate the plants, so if you have plants in your office, you may have to appoint someone for that.
It is important that you give your employees some time off from work on the day before the final move, so that they can pack their own items that are not packed yet, and also take all the personal belongings with them.
On the day of the move, it will be a smart thing to have 2 managers present during the entire office packing and relocation, one at the old office space and the other one at your new space.
Be sure that all the data cabling is installed and tested before your IT team arrives for setting up the network and other equipment in your new office.
While setting up your new office, do take help from each of the department to ensure things get configured and operational faster.
Successful office relocation requires involvement from everyone and, therefore all the team and departments should work collectively to get it right.
Over to you
A lot goes into making office relocation successful. There is actually lot of work that needs to be done regardless of the size of the move. So, it is always important that if you want to relocate your office, start planning your office move in advance.
It's important to involve your team members, discuss the entire relocation plan with them and engage them through the process.
I have already shared a list of most important office moving tips that you can use to relocate your office safely and effortlessly.
FAQs on office moving
How do you prepare for an office move?
As you know moving to a new office requires adequate planning, especially when you are moving a big a size office. And therefore you have to prepare well for an office move. And the best way to prepare is to:
• Inform your team and make a relocation timeline
• Involve your teams from different departments
• Make a move coordinator to look after the relocation process
• Make a list of important office goods that needs to be moved
• Find out items that can be sold/donated or recycled
• Find moving company with experience in commercial moving
• Get your new office prepared
• And finally move.
What to do when you move your business?
The best thing to do when moving an office is to have a open discussion regarding the move with your team. Involve and engage them and let them collect and even pack their own belonging. Take help from a professional moving company and get your office relocated safely.
How long does an office move take?
Usually it does not take more than a day or two to get everything packed, but it depends on the size of the office you want to move and number of people your mover has employed for the packing. If the office is being moved locally then it can be done within a day. But it may take anywhere between two days to up to a week to complete the office move, when you are moving your office to another state.