Home shifting is a very common thing in the main city of Delhi as well as in the NCR locations. Be it local shifting or moving to some other city or state from Delhi, people here are very open minded and they are quite active as far as home shifting is concerned. However, home shifting is not so easy and can be stressful if you plan to do it on your own or if you do not have prior experience of relocating. If you are relocating for the first time, you may find it hard as it's not going to be easy for you to arrange everything like truck, packing materials, insurance, labor etc all alone. In fact, not just the first timers, the aged people and those who cannot take much pressure, will also face difficulties handling the complexity of relocating household things. So, the best way to relocate without hassles is to find and hire a professionally managed movers and packers company and let them handle everything smoothly. And if you are in Delhi NCR and wondering where to find such movers, then here's the post worth checking. Today in this post I am going to tell you about how to find and hire the best packers and movers in Delhi NCR for local and interstate home shifting.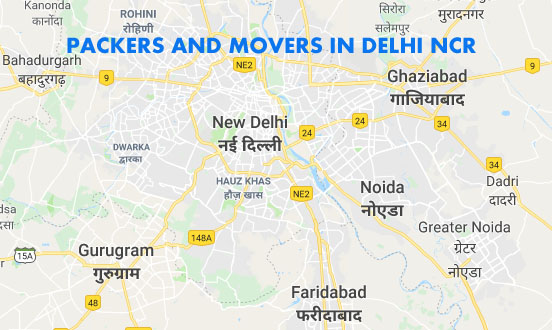 Hiring a packer and mover to relocate to and from Delhi NCR is indeed the wisest thing to do but the efficiency of the packer and mover is also very important and needs to be well judged before you hire one. If you search in Google, you will find names of various packers and movers in Delhi NCR and you will automatically get confused regarding whom to choose for all of them look like same. You literally have to go through every profile, read every review and then decide. And I am sure you know how difficult it can be at times to trust the online reviews, for there are many fake reviews even on google. Therefore, it is practically difficult as well as very time-consuming.
The old classic way of hiring a service or buying a product is probably still the best way to get it right. You need a service? Take quotations from a two or three companies, compare and evaluate their profile, cross check on their capabilities and quality of service delivery and you are well on your way to pick the best possible vendor or the service provider.
Here at ServiceSutra, that's exactly what we help you with. We connect you to the most relevant service provider (with human touch) who serve your area and who is available to help you at the moment. We also create a fair competition by connecting you to three different agencies, and empower you with the choices. The power to finally choose a movers and packers is still with you and you can choose (or ignore) the service provider if you are not happy with the offer they have made you.
How are the packers and movers in Delhi (NCR) region?
The professional team of ServiceSutra with sheer hard work and dedication in the past few years has made a name in this field. We have on boarded some of the leading packers and movers companies from over 250 cities across India with the location of Delhi (NCR) taking a center stage.
The packers and movers in Delhi NCR are very efficient with several years of experience in this field. They are all well equipped with the modern techniques and use the latest tools and equipment to ensure the safety of the goods during loading, unloading and transportation. Whether you travel within the boundaries of Delhi or shift your home to some other city or state, these companies are there to help you through the relocation. They are efficient in transporting your car as well, which is a very common thing in Delhi (NCR). They have professionally trained men who are well behaved and they are well acquainted with the local languages apart from English and Hindi, which will further make you comfortable working with them.
In fact, if you are looking for packers and movers in your home area and not the city as a whole, then we have the solution to that as well. We have service providers divided as per your location and we have already served many customers in those areas as well. Let us discuss in details about it and talk about the names of the locations.
Packers and Movers across all major localities in Delhi NCR
Here is the list of areas in Delhi where you can find the best price from packers and movers enlisted on servicesutra.
Vasundhara Enclave
ServiceSutra has many packers and movers in the region of Vasundhara Enclave in Delhi. With friendly professional behavior, these companies have years of experience in handling small and large household shifting assignments. Irrespective of the volume of the goods to be packed and moved and distance between Vasundhara enclave and the destination you wish to relocate to, you can be rest assured to get best price offers. We make three different agencies to call and quote you for the job. You can compare their estimates and take a call as per your preference.
Dwarka, Delhi
ServiceSutra has many packers and movers in Dwarka region in Delhi. You can easily contact us in case you live in the Dwarka location or in any nearby surrounding. These are very efficient people and I am sure they will perform your home shifting duties diligently for they have years of experience and do understand how to get household things packed to best of safety standards. Feel free to request free estimates from a couple of leading relocation agencies in Dwarka, Delhi for free now.
Mayur Vihar
If you live in the Mayur Vihar area in Delhi, and wish to relocate from Mayur Vihar to another locality within Delhi or NCR, then we can be of great help. We can connect you to three of the leading movers in no time. We have some of the most competent relocation agencies on board who offer end to end shifting and storage services in Mayur Vihar. The relocation companies on board are very well experienced in handling all types of home, office and car shifting services. They can help you relocate to and from Mayur Vihar region even on short notice. Feel free to request free quotes and estimates now.
Greater Kailash
Greater Kailash is another location in Delhi where we have local movers and packers. They can help you with local shifting within Greater Kailash or from greater Kailash area to anywhere else within Delhi NCR or to another state. If you are wondering about the rates and charges of local movers in Greater Kailash, you can simply post your request here or call our helpline number 07044123404.
Rohini
If you are planning to relocate to or from Rohini in Delhi and you are searching for the cost effective movers and packers agencies in Rohini then we can help you. The movers on board serve Rohini area and they are available for local and interstate shifting assignments. Whether you want to relocate the next day or you want to shift within a couple of weeks, getting quotations and short listing movers and packers can help you in many ways. Click here to learn how we can help you find the best possible movers in Rohini Delhi.
Janakpuri
We have good service providers in the Janakpuri region of Delhi as well. So if you are living there or in the surrounding areas, you can contact ServiceSutra whenever you plan to relocate within Janakpuri or from Janakpuri to other region in Delhi NCR. We can help you find best price offers from leading movers and packers in Janakpuri for both local and long distance household shifting and car transportation services. The movers offer all types of shifting and storage services in Janakpuri, Delhi at reasonable rates.
Chanakyapuri
Chanakyapuri has many good packers and movers who are very experienced and efficient and we have enlisted most of them right here on Servicesutra. So, if you are a resident of Chanakyapuri, Delhi and wondering about how to get best price offers from movers for shifting or storage services then just tell us your requirements and we'll quickly connect you to the most relevant movers in Chanakyapuri, Delhi within minutes
Vasant Kunj
You will find many trustworthy and efficient packers and movers in the Vasant Kunj region of Delhi as well. All of them are highly experienced and are well equipped to ensure a hassle free home shifting experience for you. Apart from packing and shifting of household articles and goods, they can also be of great use in transporting car and motorbikes from Vasant Kunj.
Saket
If you are a resident of the Saket region of Delhi and you are planning to do local or out of state home shifting, then you can contact ServiceSutra to get connected with the best packers and movers in Saket region and hire the best one after knowing their quotations. Rates of movers for shifting or storage service could vary depending on the number of items you wish to pack and move or storage.
 Uttam Nagar
Uttam Nagar is a prominent residential location in Delhi but if you are relocating to a different locality in Delhi or elsewhere in National Capital region, then you can find some of the best movers in Uttam Nagar. Briefly tell us about your relocation or storage needs and we'll take care of the rest.
 Patel Nagar
ServiceSutra has many packers and movers in the Patel Nagar location and many of these companies have already garnered praises from its clients. If you want to hire them, then contact ServiceSutra to choose among the top 2-3 of them.
Our efficient team has not just handled the area wise home shifting needs in Delhi but also has been taking care of the shifting needs of the people of the Ghaziabad location. Here is the location wise division of the various packers and movers in the Ghaziabad region.
Indirapuram, Ghaziabad
There are many packers and movers in the Indirapuram location of Ghaziabad, most of them are well experienced and use good technologies to carry forward the transportation process safely. You can contact ServiceSutra to connect with them.
Vaishali, Ghaziabad
If you are looking for the best packers and movers in the Vaishali location, then do not even think twice before raising a request or directly calling in our helpline number. We have well efficient service providers in this location and can easily help you connect with them.
Crossings Republik, Ghaziabad
You will find many packers and movers in the Crossings Republik of Ghaziabad but if you have difficulty in choosing the correct one, then do not forget to inform us. We will provide you with the top 2-3 companies and you can accordingly choose the best one of them.
Shalimar Garden, Ghaziabad
If you are a resident of the Shalimar Garden and you are looking for good packers and movers who happen to serve in this region, then congratulations you are on the right site. Simply give us a call or fill our online request form and we will connect you to the best available and local service provider for home or office shifting within minutes.
Loni, Ghaziabad
We have on boarded some of the best packers and movers in the Loni region of Ghaziabad. They are available and offer local home and office shifting, car transportation and storage and warehousing services for household stuff. So if you want to connect with they make sure to submit the free quote request form or call us on our helpline number 07044123404.
Raj Nagar Extension
We have good service providers in the region of Raj Nagar Extension and if you want to connect with one and hire it for your home shifting, then you inform us. We will recommend you names of 2-3 companies. Choose any one among them.
Govindpuram, Ghaziabad
The packers and movers in the Govindpuram are well experienced with lots of satisfied clients in their kitty. We have enlisted the best among them with reasonable charges and so if you want to hire them, do not hesitate to submit your request to receive free quotations and estimates within minutes.
So far, I talked about the various areas in Delhi and Ghaziabad where you can get good packers and movers but let me tell you that we have packers and movers from other locations of Delhi (NCR) as well. We have many efficient packers and movers from Faridabad, Noida, Gurgaon locations and we hope to expand our list of service providers in the Delhi (NCR) areas and do tie-ups with more of them in the near future. We just don't enlist any company coming our way, we do adequate checking for registration, license and then over the phone interaction before we onboard a service provider. This helps us maintain the quality of the platform and connect you to only the best from the lot.
The basic services that the packers and movers Delhi (NCR) offer
The packers and movers in Delhi are well experienced in all kinds of shifting. They are well equipped with the modern techniques that ensure the safety of the goods. Highly secured vehicles are used during transportation and the packing materials used are also of good quality. There is also the option of insurance of your goods that they provide you with in order to help you incur accidental losses.
The charges they ask for are as per market standards and also depend on your requirements. In fact, they provide you complete start to finish moving help starting from packing your goods to loading them, then transporting them to new home and then unloading and unpacking and even helping you in rearranging them in your new home. So naturally, the quotations they give, i.e. their charges are nominal and they are completely worth the money.
Here is a brief listing on the services these packers and movers provide:
Both local and interstate home shifting
Packing your goods with the best quality packing materials
Advanced techniques used while loading items
Transporting your materials in vehicles that are highly secured
Helping you to unload and unpack your goods
Will assist you to rearrange the items in your new home
Packing and shifting of furniture and office goods as well
Transporting your car to other states using car carrier
Insurance coverage of goods (optional)
No hidden charges
Storage and warehousing
How can you get quick free estimates for booking?
The process of getting free quotation and estimates is pretty simple. You can simply create a request for no obligation quotes by submitting the free quote request form. Once created, you will be contacted by our team who will try and understand your requirements and connect you to up to three different movers and packers agencies who are available and who serve your locality within Delhi NCR.
The service providers will contact you as fast as within 15-20 minutes during work hours. All three of them will submit their quotation that you can evaluate and choose from. You can also call in our Helpline number 07044123404 and tell us your requirements.
There is also the option of pre-quote survey where you can ask the companies to visit your home before you select them. This is free for all the locations in Delhi (NCR) and so you can easily opt for that to assess your shifting needs, get a rough estimate regarding the amount you have to pay and also clarify your quarries if any.
Over to you
There are so many packers and movers in the market but not all deserve your trust. Your goods are precious to you and so their safe transportation is mandatory. Proper verification is needed before you hire the company and for that, you can easily consider to take the services of ServiceSutra, which is absolutely free for you.
We have a huge base of packers and movers from various parts of the country e.g. Chandigarh, Meerut, Patna, Kolkata, Rudrapur, Delhi NCR, Bangalore, Mumbai, Pune, Thane, Goa etc. Our professional team does a lot of hard work in finding the best companies after several verification. We do tie-ups with only the licensed companies and so you need not worry regarding the safety of your goods except for accidental delay or accidental loss that can happen to anyone anytime.
ServiceSutra with sheer dedication and hard work has been successful in garnering the praises from our customers. Indeed, we do try a lot to connect people with the best companies to enable them to have a hassle free home shifting. So, if you are a resident of Delhi (NCR) and have a shifting requirement, do not even hesitate to knock us. We will be more than happy to serve your needs and connect you with the best service providers.