There are various factors that one has to consider while shifting their house. And one such factor related to shifting home is the understanding of the rates of packers and movers companies.  With the growth of packers and movers in almost every cities across our country India, finding one competent shifting service providers is not going to be an easy task at all. You'll need to do loads of research, survey, background check, screening and etc, in order to find the reliable and the best packer and mover service. Reliability should be anytime preferred over the rates, because you can work hard and re-gain the money, but if your goods are damaged you have to again spend on buying those stuffs.
Most of the packers and movers companies offer free online quotations for home shifting, storage services, as well as for car transportation. But, is that enough to know about their rates and services? No, right? This post will help you in understanding what else has to be considered, and how to decode the home shifting estimates that a packers and movers company has submitted, or mentioned in the quotations. Did you know that apart from packing and shifting services, movers and packers also offer house cleaning service? It's not like the typical housekeeping service, but they just take care of normal cleaning, removal of garbage and etc, that may appear during the packing task. A seasoned relocation service provider may offer you such value added services, and also give you the freedom to choose professional help in anything related to packing and shifting of a house. You'll also have the freedom to skip any such value added services, to cut down the costs of overall home shifting and relocation.
Here are some of the other factors that you'll have to look into, before hiring a packers and movers service: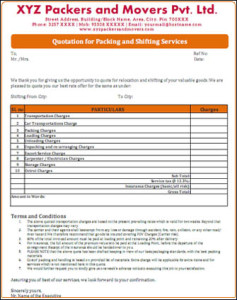 All inclusive cost of home shifting
Most of the disputes that arises while shifting a house in India are related to the hidden costs, that are charged by the service providers after the work is done. So, before taking any decision of finalize a packers and movers company, make sure that the company is offering you an all inclusive estimate for entire home shifting services. Estimates for packing and shifting must be a consolidated one, and it should be clearly mentioned that it includes cost of every single thing such as fuel cost, service taxes, highway toll taxes, octroi in case you are moving from one state to another, and everything else. These clear and consolidated estimates will help you get the real picture of the overall costs of hiring a movers and packers, to shift a house. It will also help you in choosing the one, that fits your budget well.
Look at the payment terms
When you hire a movers and packers company, you must definitely be prepared to pay the service provider. But, request them to keep the payment term very flexible, and both of you must mutually agree before finalizing the deal. Payment terms do not play any big role, especially when you are shifting a house within the city. But it matters a lot, when you are hiring a mover for domestic shifting. Even movers and packers companies have to make certain payments in advance, so you can't make full payment after delivery, but definitely fifty-fifty or sixty-forty is a feasible option. If any packer and mover is asking you to make full payment right away, then its best to avoided them.  There are many other movers and packers in the market, who are willing to offer you such flexibility in making payments. So, choose the one who's flexible with the payment issue.
Look at the value added services
Movers and packers companies offer several complimentary services (they also call it value added services) which you may require, or may not. It completely depends on the type of shifting, and volume of goods and other circumstances. But it's a good idea to negotiate with the movers, and get some value added services such as free storage of your goods for a week at the desired destination. Who knows, you might have to vacate the room one week before the schedule date, in order to get an accommodation in the new city. In such cases, they can store your goods for free at their storeroom/warehouse, and provide you with this value added service.
Similarly, if you don't have much goods to move, and you are sending only a few of the essential goods using a shared transportation system, then you should bargain with the mover to offer you door to door service, so that they make sure to deliver the goods using small vehicles from highway to your house. Think of anything else that you may require, and discuss that in advance with the service provider before taking your final decision of hiring them. Usually, movers and packers will commit about such value added services verbally, but later they start giving excuses when you demand it. So, please beware and ask them to mention everything on a paper.
Look at the costs of unloading and other post delivery services
In case of domestic shifting, a team of labours and executives will come and pack all of your goods, and then load it into a truck for transporting them. But did you ever think how the unloading process works? Do you really believe that a team of labour will be traveling with the truck from Bangalore to Hyderabad, in order to unload everything (assuming you are moving from Bangalore to Hyderabad)? No way! They won't. So, who is going to handle the task of unloading and re-arranging? Started wondering? Don't worry, domestic movers and packers companies usually have branches in most of the major cities. But in case they don't have a branch in any XYZ city, they'll definitely have tie-ups with other such service providers. So, that's how they make arrangements and ensure that your goods will be unloaded perfectly. They cannot even delay unloading from the truck, otherwise they may have to pay more to the truck companies. That's why we suggest keeping some of the funds locked, and paying the rest half of the amount after completion of the contract at the final destination.
It's your turn to take a call now
Internet services is booming in India, and in other parts of the world too. Most of the things are being done online, such as banking, shopping, mobile recharge and etc. But there are still certain things that requires some offline interaction, and finding a movers and packers company for home shifting is one such task. It's a good idea to request for a no obligation quotes from trusted movers and packers companies in India, for any type of packing, shifting, storage or transportation service. But still, one must take offline quotations and meet the service provider face to face. Always trust relocation service providers who offer you the freedom to choose, and who is willing to customize their relocation services as per your needs.
Over to you
No matter where you are shifting, whether its a local shift or a domestic one, or even an international relocation, its always better to take quotations both online and offline, do a background check and screening of the service provider before hiring them before relocation. This doesn't only help you check whether they are efficient and reliable or not, it also helps you compare and choose the one that can tailor your needs well. If you find the task of searching packers and movers difficult, you can request for quotes in our website. And within 15 minutes, three-four reputed packers and movers will connect with you, and give their quotes.