Home relocation companies in Delhi can help you with home shifting and relocation in Delhi NCR. There are various home relocation companies in Delhi and NCR region who specialize in handling different types of relocation, shifting and storage related services. Relocating household materials like TV, fridge, washing machine and other home appliances is a complicated process, but only when you plan to relocate without adequate planning. But when you have a home shifting plan in place and deal with a trusted relocation companies in Delhi, you can relocate your household goods without any hassle.
Finding and hiring a trusted relocation company in Delhi for home shifting services is one of the crucial decisions you would be taking. After all it's the relocation company and their people who will be carrying the vital tasks such as packing, loading, unloading, unpacking and rearranging after delivery of your goods. So it's important, really important.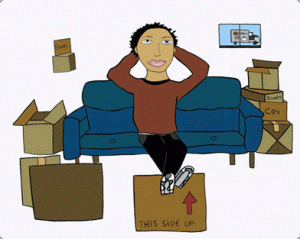 Later in the post we will be learning about some of the crucial aspects such as:
How to find relocation companies in Delhi
How to verify and hire the best relocation company in Delhi
How to save money on home relocation services in Delhi
So are you ready? I heard you saying yes, so let's proceed;
Here's how to find relocation companies in Delhi
Relocation companies aka packers and movers companies offer various types of services as I have already stated. They can help you with;
Local household goods shifting in Delhi
Employee relocation services
Office shifting services in Delhi NCR or from Delhi to outside of Delhi
Car transportation services using car carriers
Storage and warehousing services
Home and garden plants and pet relocation
Most of the relocation companies in Delhi would be happy to offers all of these services or whichever specific relocation or storage services you may need. But then that's not how one should go about hiring a relocation service provider. Packers and movers industry is not so well organized here in India. So it's better to deal with relocation companies who specialize in offering services that you need.
So if you want to shift your house locally within Delhi NCR then the best match for you would be a relocation company who offer local shifting. If you are looking for storage services then you should go with a company who has well managed warehousing facility in Delhi and so on.
I am sure by now you know what type of service provider you need. Once you know that, finding a suitable and relevant relocation company is going to be much easier.
Let's get started with searching and finding a couple of relocation companies in Delhi and here's how to get it right.
Make a tentative list of major household goods and appliances that you want to pack and move.
Search for Home relocation companies in Delhi on the internet. When I say internet that does not mean you only have to search on Google, you can certainly try asking your Facebook friends, Google plus circles, twitter or LinkedIn connections.
Do whatever it takes but speak with at least three or four relevant relocation companies to begin with.
Talk to these service providers and get quotations from all three or four of them that you are talking to.
Compare their prices and evaluate their terms and condition (payment terms etc).
Now rate them based on their profile and rates of relocation services that they have proposed.
Evaluate everything well and you will be good to take a decision.
When you follow this systematic approach of searching, evaluating and hiring a service provider, you will most likely get the best service providers on board for all types of shifting and storage related services.
Advantages of comparing rates over choosing a mover randomly
Moving and relocation is not something that you every day and naturally you may not know all about the process, associated costs and most importantly which service provider to choose for the task. So if you hire a mover randomly whoever comes in your search, you may end up paying more or get engaged with the wrong service provider.
When you compare offering from different service providers, you get to know the process in detail. Also since you have options you can compare and negotiate with the service providers.
How to verify and hire the best relocation company in Delhi
There are many relocation companies in Delhi NCR and all of them may appear to be the best among their peers. But choosing the best among them is the key to the success of home relocation. When you have substantial information about each of the service providers, you should be in good position to verify everything and take your final call.
Here's what you should be doing to verify the service providers you are talking to;
Check all types of registration certificates e.g. trade license, service tax registration, PAN card and other certifications like ISO 9001 or IBA approval as per the relevance.
Check for online reviews and feedback of the service providers.
Evaluate finer details of the terms and conditions mentioned in the proposal/quotations.
Evaluate then on the basis of branch network.
Payment terms and delivery time.
It's possible that all three or four relocation companies you have approach will offer you different kind of price, terms, delivery time payment terms. So it's important to verify everything practically.
Here's how to cut the cost while relocating house in Delhi
We are talking about home shifting and relocation services in Delhi in this post, but the cost cutting techniques discussed hereunder is relevant to home relocation in any city in India. You may not be in a position to apply all of these money saving tips, because different situations demands different strategy. But feel free to apply them as you like.
Look around carefully and fix your list of inventory.
Carrying everything that you have in your old house to new house may not be the best idea.
Sell off anything that's not in use. Even if your truck will remain empty there is an associated cost for packing and handling.
Plan early and start selling such stuff online like old furniture, or a desktop PC monitor.
Compare rates from multiple movers before hiring one.
Do negotiate with movers and relocation service provider. There is always some possibility.
Do some of the packing yourself when possible.
Avoid taking value added services like unpacking and re-arranging, or free meal.
Summary
Home relocation is a complicated process to execute it of your own. You need a truly reliable and professional relocation service provider to relocate your household materials safely. Hiring a movers and packers need not to be a costly affair if only you manage to search, compare, evaluate and negotiate with them. Searching for movers on Google is not the only option; you can use your entire social network and even ask your friends and colleagues offline for best reference.
Finally, you can use ServiceSutra to compare rates from top three relocation companies in Delhi without any hassle and efforts.