Relocating from one place to another is as it is a big decision for any individual. It requires mental preparation and prior planning and proper research about moving companies, packing, insurance etc to get it right. And, when it is about relocating your business, it is even more complicated and tougher. When you move individually from one city to another, then it is a matter that concerns only you and your family members. But, in a business, there are various other things that one must take note of before considering to relocate the business. If you are planning to relocate your business and wondering about various things to consider while relocating your business, then here's a must read post for you. Today I am going to talk above several important things worth considering before you decide to relocate your business.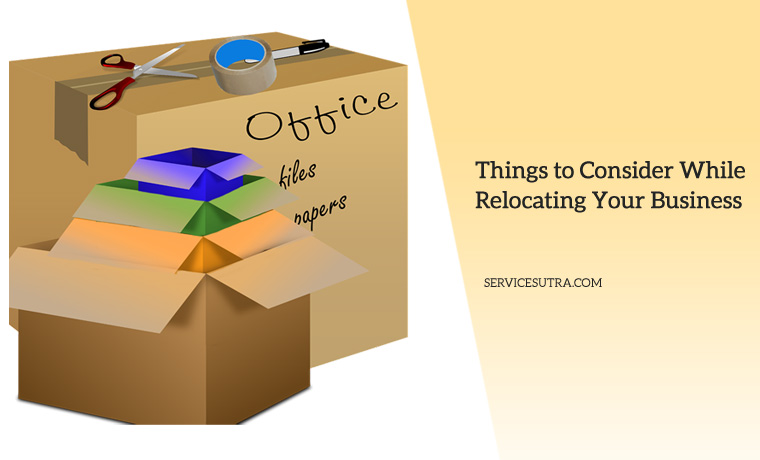 In case of relocating your business, you have to think about various stakeholder like your suppliers, customers, staff, sourcing of materials, production and so on. The decision is a kind of make or break situation where if you are right, then you win and your business will flourish. But if you take any wrong step, it may put you at a huge loss which might get really difficult for you to correct easily. However, relocation a business can rarely have 100% advantages or 100% disadvantages. It is basically a 50-50 situation.
It does require enough research about the new place you plan to relocate and then only can you come to any decision. I know it sounds quite confusing and tough to make but I can help you in making your decision a little easier. I will share with you the list of top 10 things to consider while relocating your business. These crucial things will help you in the decision-making process about relocating your business.
Obviously, if your current business location is not working for you, then you have every right to think whether you need to relocate the business, but to get it right, there are many other things you should consider. If you are currently in any such situation and you are wondering what to do, then take a note on my list of things to consider while relocating your business. It concerns most of the aspects of business relocation, to be more specific the pros and the cons, which will give you an idea and will ultimately, benefit you in decision making.
So, are you ready to know more? I think you are, so let us begin our today's topic of discussion without further delay.
Things to consider while relocating your business
Most decisions that we take in our life is not easy. It includes a lot of challenges. But, you must be always ready to face it. Similarly, if you are businessman, you will have to face many business-related challenges where you will have to keep your head cool and take the decision which you think is right for your business. The decision to relocate your business is a part of it and here also, you have to be careful so that you do not end up at a loss.
Below is mentioned a list of 10 things to consider while relocating your business. Have a look at these and use these to the best of your advantage:
Safety factors and your reputation
Before taking the decision of relocating your business to a new place, you need to consider the safety factors. If the environment of the place where you plan to start your business is not friendly and supportive, then that is going to affect a lot in finding and retaining talented employees. Also, the number of your potential customers or clients approaching you may reduce due to this. This can even have a drastic negative impact on your brand image and reputation as well.
Hence, you have to do proper research on the locality of the new place before relocating so that people do not feel threatened to work there. Moreover, you do need a suitable environment for official works, interviews, meetings etc. and so the safety and reputation are important factors to consider.
Proximity to targeted consumers
If relocating to the new place increases the proximity to your targeted consumers, then that is going to be highly beneficial for you. But, if it is the other way round, then it is definitely one of the important things you need to reconsider while relocating your business. This is because; there is every possibility of losing your potential and target consumers to your competitor which will have a huge impact on your business as a whole.
In that case, what is advisable is to have prior talks with them whether they are OK to travel that much for the business dealings or will they be comfortable with making the deals over the phone or through email and visit your new place once in a while. If they are agreeing to it, then that is fine else you need to think again before coming to any conclusion.
The number of competitors present in new location- When you think of relocating your business to a new location, it is obvious that you want to do it for your profit. But, if you move into a location where there are already too many competitors offering people with similar services or products, then your whole relocation is going to be a complete failure. You may face extreme difficulty in establishing your business in a place whether others have already made a name over the years. So, when you are planning to relocate your business, make sure you are moving to a place whether there will be less competition and more demand for your products or services.
Losing your old employees
Relocating your business to a new place which is quite far from your current location obviously may not be favorable to all of your employees. While some may still agree to relocate to the new place and continue working, many may instead decide to resign from the job. Also, there is every chance thatthose who are Ok to relocate in their new office initially may be having thoughts of simultaneously searching for jobs in locations suitable for them. So, whatever it be, the concerning factor is, you may be losing some of your old employees.
Now, if that number is a handful, then that will not make too much of an impact on your business but if that number is large, then that is not good. Firstly, you cannot get so many new staffs all at a time and even if you do get that, training them and making them equally efficient like your previous ones will be very time and energy consuming.
However, every business has some more talented and reliable employees who handles important departments and are at good positions. So what you can do is to arrange for a formal meeting with them, discuss with them about your relocation plans, listen to their side of the story and then come to any conclusion.
Research the location you are moving to
Take information from a trusted source working in that locations before you decide to move your business. Before you take any decision about relocating your business, it is very much necessary that you do enough research on the demand of the products or the services you provide to people in that particular location. To be doubly sure, you may consult a trusted source who probably has been working in that location for quite some time. He can easily guide you and give you advices regarding the prospects of your business in that area. This will also give you a firsthand account of the location you are planning to relocate your business and will help a lot in the decision making.
Visibility and promotional strategies
One of the other things to consider while relocating your business is the exact location where you plan to move your business. This is necessary to note as visibility is an important aspect to be thought upon for your business to flourish in the new location. If your business is in a primary location of the new area like for example near any mall, any station, near larger business etc., it will then be advantageous for you. People will visit those places and will become aware of the existence of your business, the products or the services you offer to people etc. This is very much needed in the initial stages if you have to create a brand name in a new location.
Slowly, when you start getting noticed, take the help of various innovative promotional strategies so that it draws the attention of your potential clients and customers. This will make your business popular and help you benefit in the long run.
Take note on the operational costs
Operational costs forms an important part of the business, and hence it is definitely one of the important things to consider while relocating your business. Do enough research whether shifting to the new location will have tax advantages or disadvantages? The amount of sales tax must also be taken into consideration. In some states, charges are there upon commercial leases as well, which means you will have to pay more on the commercial rental properly and hence that is another point of concern which you need to note.
Also, you need to be aware whether the relocation of your business has any negative impact on the taxes of your customers. Because if it does, then you might be losing some of your good customers to your competitors and that won't be good for your business.
The other important expenses
Relocating a big business from one place to another is no child's games as besides the responsibility, there are many expenses that you have to bear. First, comes the moving and the transportation cost of relocating the items. You will also have to spend quite a lot in furnishing the new business premises and also in training your new staffs. You will need professional commercial movers and packers for office shifting. To design and furnish your new office, you may have to consult an interior contractor. So consider these things and related expenses before you decide to relocate your business to a new place.
Moreover, in the initial stages, you will have to spend bucks in advertisements and promotional strategies. Then, making connections and business contracts with the new vendors for raw materials, transport etc. may also cost much. And, if you think of importing the materials from some neighboring state, then that may also increase the overall production cost. To cover things up, you will then have to hike the prices of the goods or products or increase the rates of the services you provide which in turn, may lead to losing of many potential and trusted customers. So consider these things carefully before you choose relocate your business to another place.
Remember, all these things are the possible consequences which you may have to face. So, you have to take note of these and only if you find that you are OK to afford the expenses or if the expenses are not that high, then only make the decision of relocating your business.
Consider the business premises
Firstly, you have to ensure that the business premises and the surrounding areas are safe as I already said you in the beginning and then you need to check the amount needed to rent a commercial property. If it is low, then great but if it is quite high, then you have to consider how long you can afford it till the time your business establishes. Check out whether the other business in that particular location has the same clientele as yours as that may not work in your favor.
You must also consider the other facilities or amenities which will come along with that business premise before confirming to anything. If, they do not have proper parking facilities for your clients, that will have a huge impact on your business. So, how good the business premise in your new location is an important thing to consider while relocating your business.
Workplace culture is important
You were so long working in a familiar environment and you got acquainted with it but you cannot always expect the same thing once you relocate to a new place. In other words, there may be a big change in attitude among the people of the new location which in turn, will make it difficult for you to implement the same workplace culture as it was before. There may be a lot of disparity which may affect the work as a whole. Hence, the work place culture of the new location is one of the important things to consider while relocating your business.
Over to you
The decisions that one takes in any kind of business are the deciding factors that makes the business a success or a failure. One wrong decision can make you a beggar from a king within days and vice versa. So, any decision requires careful research and thorough understanding of all the possible factors that affect your business. Just like other business aspects, the decision of relocating a business from one location to another is not so easy and there are important things to consider before relocating.
I have already mentioned few of the most essential things for you to consider while relocating your business. These are the basic things and you must not ignore. You may be lucky and things might go in your favor but what if it happens the other way round? For, that, you need to be prepared and only after weighing things properly, you must come to a conclusion. The growth of the business is the main motive and so you must take steps carefully which will enable you to do so.
Once you finally decide that you want to relocate your office, then use a office moving checklist to plan and prepare everything from sorting out inventory to finding and screening movers and packers to relocate conveniently.
Until, then, I wish you all the success in your business relocation plan. Do share your feedbacks, experiences and suggestions in the comments section. What else do you think one should consider while relocating a business?
And finally, if you like my posts please show your support by liking, commenting and sharing.