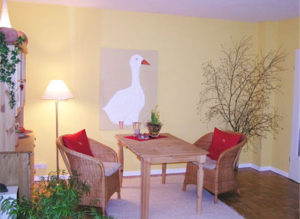 I was invited to my friend place last to last weekend for a get together and the way she had decorated her dining room was just amazing. The dining room itself was not quite big, but it was certainly well organized and aesthetically amazing. She herself works in an interior designing company, for sure I was expecting it to be nice looking, but it was more than just perfect both aesthetically and functionally. I could not resist myself from asking for some tips to decorate dining room and I am happy that I got the idea for the post from her.
Whether it's bedroom, dining room or living area of the house, you want every room and corner of your house to look good, no? If you feel like your dining room needs a makeover or you have just purchased a new flat and looking to decorate dining room correctly then just read through. I am going to share some amazing simple ways to decorate dining room that I learned from her.
Here's how to decorate dining room
If you are planning to decorate the dining room, don't do it randomly. Start with a little bit of planning, figure out your priorities, likes, dislikes and the kind of impression you want to create. Once you know the functional and aesthetic needs of the space, you can make the plans to decorate dining rooms.
Here are some of the quick and simple ways to decorate dining room;
A fresh paint: This is the first cost effective way to decorate your dining room instantly. A fresh coat of paint of the colour of your choice will just do the magic. You can select a light colour for the walls, as then you can do a lot of experiments with other décor items like furniture and accessories. Select neutral shades like butter yellow, cream, sea green, pistachio green, or baby pink. These kinds of neutral shades will make the place calm and relaxing and that's what you need, no?
Wall decor: Do not keep the walls of the dining area blank as this will look dull and boring. Remember, you garnish your plate before serving; similarly, you should not leave the wall blank. It's a wise idea to hang some interesting pictures here as per your choice. You keep a poster of a quotation, of a natural scene anything. The picture must calm your mind and complement the space and that's the point.
Furniture: As the name suggests, the primary furniture of the space is a dining table and some 4-6 chairs surrounding it. The furniture must be selected according to the size and shape of the space. If the space is small, then you can use folding chairs and tables so that you can fold them up when not in use. If the space is large, a round, oval or rectangular table will go well in the space, but if the space is small, then go for round tables. Select the chairs that go well with the table, in regards to the size, furnish, and colour. Be the furniture of same colours. If the table is of deep blackish polish, then the chairs will also be the same or something that goes well with the colour. You can add some extra sitting cushions on the chairs to make it comfortable and cozier.
Accessories: There are some specific accessories that go well in the dining space. If there is a window in your dining space, then you can hang a wind chime which will produce a tingling sound. You can keep a potted plant to cover up those empty dull corners of the room. Keep a flower vase or a fruit basket on the dining table, the sense of colours will make the space look charming and bright. Place the table mats, glass mats, on the table; you can select deep coloured mats so that they do not get dirty easily.
Lights: The light fixtures of this place must be selected carefully. A pendant light is perfect for dining place, even a simple chandelier will do. You can use bright white lights or even concealed golden lights for the place. Make the place bright enough so that it does not look like a dark cave.
Rugs: You can place rugs in this area, but do not cover the whole room in carpet. If there is food stain on the carpet, then you may find it difficult to wash it as the carpet is huge in size. On the other hand, you can use rugs here, where the table and chairs are places. If there is any food stain then you can clean them easily. Go for rugs when it comes to dining room.
Conclusion
Decorating a dining room to make it look good should not be an issue. It's just that, we have to use accessories and elements in such a way that everything complements each other. When the colour of the wall, furniture, rugs and curtains, everything complement each other, then the magic will happen.
I have shared some of the basic tips to decorate dining room and I am sure there is no limit to the creativity. Get started and use some of these tricks to create a magical experience for yourself, family and friends!
If you have decorated your dining room and received compliments for its beauty, I would request to share those tricks here!!