Cost of household storage services is a recurring one. That means if you want to store your household goods in warehousing facility in Bangalore, then you will be charged depending on the length of time. Volume of goods which is to be stored and the period for which you want to rent out the storage space are two major factors that affects the costs of household storage in India.
There is hardly anything that you can do as far as the length of time is concerned. Because if you are moving abroad for say one year, then you have to store your goods for one year, there is nothing that can be done. But you can certainly fix the inventory and volume of goods which you want to store in the storage space to cut the cost. Can't you? Give it a try and I am sure you will be able to get rid of some of the materials.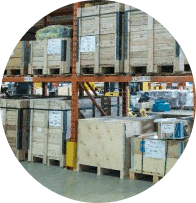 So if you are planning to store your household goods and appliances in a warehouse and you are concerned about the costs of storage services then you should read it further. I am going to share with you some of the smart ideas on cutting the cost of household storage in India. So are you ready to explore these ideas?
5 smart ideas to cut the cost on household storage services
Before we go any further, there is a small little clarification I would like to make. Storage and warehousing is a broad term but we are discussing about the storage of household goods like TV, fridge, Washing Machine, Furniture and other materials when moving abroad or while you are searching for a new home after moving to a new city. Don't get confused with cold storage or industrial warehousing facility here. This post is exclusive about storage of domestic household goods only.
So what types of storage services are available and who offer this facility?
To answer this question let me tell you that movers and packers companies who primarily help you in packing and shifting of household goods or relocation of car, they offer storage services. Some of the movers and packers companies who are well established have their own godown or warehouse for intermediate storage of goods. They use certain parts for permanent storage and some portion of storage units for temporary storage. Temporary storage is used to store goofs for a week or two and then send it when they have the full load materials. You can see this in reference with part shipment.
Permanent storage units are usually available for renting out. Out of this they offer two options, one for shared storage and the other one private access. We'll talk more on this later in this post. Stay tuned.
I hope you got enough idea of storage, now let's look at the cost saving or cost cutting techniques and ideas.
#1 Adjust the inventory
As you know, you are renting out space for storage. Depending on how much of space you are occupying your cost of storage will vary. When you occupy less space, the cost of storage will automatically will go down. Now you may ask how do you adjust and optimize your inventory to occupy less space. That's something you ought to figure out. Look around and double check if there is anything that can be sold out? There may be a piece of furniture which is worth less than what you might have to spend on storage. Find out such items and adjust your overall inventory. You may find one and may not, but give it a thought.
#2 Do some of the packing yourself
Before keeping your domestic household goods and appliances, it has to be cleaned and packed properly. If your goods are not packed then it won't be safe to transport it from your home to the warehouse. So obviously there is cost involved in packing. How about packing some of your goods yourself? Have you kept original carton boxes of any of the home appliances? If you have, you can easily pack such home appliances yourself and save on packing charges.
#3 Opt for storage facility closer to your home
After packing all of your goods for storage, your service provider have to load everything on to a truck and move it to the warehouse. Naturally, depending on the distance between your home and the warehouse, cost of transportation will be calculated. So it makes more sense to choose a storage company who have godown nearer to your home. Transportation charges should be looked up on seriously because it's a two way charge; moving from your home to warehouse and warehouse to your home again when you need your goods.
#4 Use shared storage instead of private one
Storage companies can give you both shared and private storage units. Shared storage is used most commonly and that good. But if you want you can ask for private access but that will cost you more compared to the shared storage. It's up to you to take a call.
#5 Compare and negotiate on costs of storage
Last but not the least is to compare rates of multiple storage companies. You may not have enough idea about how much it would cost to store your basic domestic household goods. And interesting thing here is if you talk to three different companies, all three will propose different rates. Naturally when you compare you get to know finer details and make better decision.
Also when you when you compare and have options, you can do negotiate with the service provider to an extent. But let me warn you that doing too much of negotiation is not a good practice because then the service provider may start compromising on the packing materials or other cost saving techniques.
Over to you now
Packing and shifting of household goods is complicated, but usually it's over within a week or two. But storage of household goods is a long term contract. So it makes sense to pay full attention and be very careful on how and who. How means the process and who means the service providers you are dealing with. Evaluate every offer carefully and meet the service provider face to face before you take the final call.