When it comes to decorating our homes, some of us may like to have that modern touch, while other may just prefer the house with vintage looks. While both modern and retro decorating it has its own unique style and class, I personally love that unique vintage and antique look.
Also feel that there is something fascinating about old and imperfect things which cannot be easily explained in words. And, probably that's why when you enter my sweet home you get that amazingly good looking vintage look.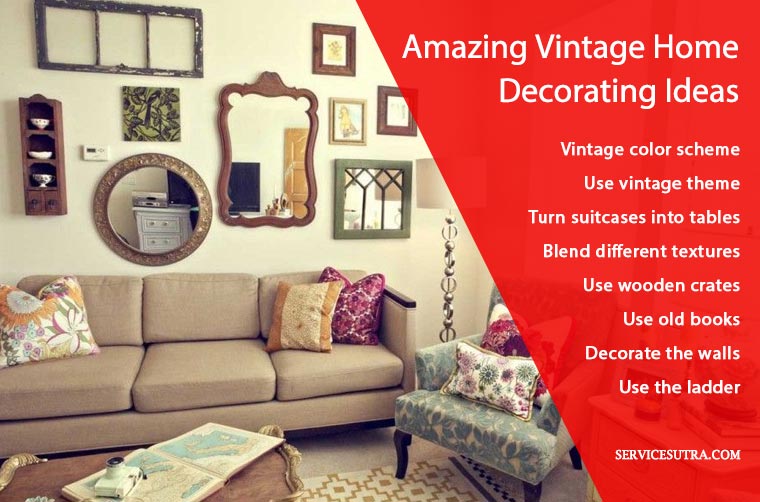 And if you always wanted to give that amazing vintage looks to the interior decoration of your house, and you are unsure about how to get it right, then you can't really afford to not check this post. As today in this post, I am sharing a few of the best and most amazing vintage home decorating ideas for Indian homes that anyone can easily try and implement.
India is known for its culture, heritage and traditions which we all like and are proud of. But, if you are looking for that overall vintage look, then simply keeping vintage and antique pieces here and there may look incomplete. But when you follow a theme, and use vintage decorating elements wisely, you can actually get to create that vintage look for the interior of your home.
And you don't really have to do it for your entire home at a time, so to begin with you may simply try to recreate the living area and then follow to other rooms in your sweet home.
Best vintage home decoration ideas for Indian homes
If you have visited the ancient Indian homes, it gives you a unique feel because those actually reflect the simplicity of our ancestors. Today, in this era, technologies have made day to day life much easier but have somehow taken that simplicity from our lives. Most of us do not feel happy with little things and always want to grab the best and the most expensive ones. But, if you want to really give your home that vintage look, you will have to find happiness in simple things because that will make your home stand out from the rest.
Here are some vintage home décor ideas that will suit perfectly in an Indian home:
Vintage color scheme
The easiest way to give your home a vintage feel is by choosing the right color scheme. I personally feel that you should go for colors that are less saturated and gives a flatter feel in comparison to the other hues.
And therefore, you should use such types of a color, and then complete the vintage look by collecting vintage decorative items that comes within the same color palette to decorate your home.
Using right set of color, followed by vintage decorative items will help you create a unique vintage look for your rooms.
You may like to add a neutral Persian rug or a dark leather trunk on a center table to get more of that vintage feel.
Use vintage theme
Theme is very important if you want to create a vintage look. And therefore, you may think about things of the past that you were attracted to. Like for example, if you liked the music of ancient times, then you can think of dedicating an entire space to old music records, posters of the bands, a phonograph etc.
Turn suitcases into tables
Well, this is a simple and very unique idea to create that vintage look in your living area. If you have vintage suitcases and you are not using them for any purpose, then it is time to do some cleaning and use it like a center table or a nightstand.
Blend different textures
Mixing vintage and antique décor textures is a great way to add warmth and that old look to your home. Like for example, you may think of layering a neutral fur rug over large Persian rugs. Then you can keep some silk pillows on the couch in your room.
Mix and match
One of the things which I prefer while decorating a space is mix and match, and you must try this to give your home that vintage look. What you have to do is to mix the vintage furniture with antique collectibles. Like for example, you may think of keeping a puffy chair in a room and decorating the walls with some black and white photos. This is just an idea. If you like it, go create one for yours.
One more thing there is no compulsion that if you want vintage feel, you will only have to use vintage items. I mean that is a bit difficult to find only antique items, so do not hesitate to mix the old ones with some new items.
In fact, there are things that you will have to buy new, like for example a mattress, rug. If you place these, it will not affect the look much and hence I feel it is perfectly fine if you place few new items amidst old ones.
Use wooden crates
One of the best ways to create that vintage look is by going for wooden crates. This is actually a great antique home décor idea which I feel every home should have. The best thing is that you can use the wooden crates for various purposes You can, not just, use them for holding some documents in your home office, but also use them as coffee table and place that in your balcony or in your drawing or living room.
Use old books
If you have old books, then make it a point to add them as a part of your home décor instead of just stacking them somewhere, because old books give the space a natural vintage touch.
Starting from keeping 2-3 books decorated in your center table or dining table or placing some with your old photo, to simpler things, like placing the books separately in a bookshelf, you can use the old books to decorate your space in whatever way you want to.
Vintage patterned blankets
If you are not able to find vintage furniture or they are too expensive then you can actually use vintage patterned blankets to cover up the new ones. This will help you to soften the look of modern furniture, and evoke that unique vintage decorating feel.
Decorate the walls
In order to decorate your home in vintage style, you must consider decorating the walls in vintage style. And therefore, you may try decorating the walls using all those cool black and white photos, vintage mirrors, old signs, vintage frames etc. So, visit your local antique store, buy these stuffs and then incorporate them by making a photo gallery on the walls of the living room and other rooms.
Experimenting with doors
Transforming the doors into headboards is one of my favorite ideas among the best vintage home décor ideas for Indian homes. You just have to incorporate and improvise and use the old vintage doors in your home by using them as headboards and ditch the modern headboards that we get today. If you want that rustic look, then you may even think of painting the old doors with the same color of the furniture in that particular room.
Use the ladder
If you have an old ladder at home, don't just ditch it because that can be made a part of the vintage look that you are trying to create for your home. Well, you can use that ladder in your bathroom to hang towels or make DIY shelves for storing the antique collectibles you may have.
Showcase the history
You can actually add a personal touch to the whole vintage look of your home by simply arranging the collection of family mementoes and memorabilia that you have got. It looks great and shows how much proud you are of your history.
Keep things imperfect
Last but not the least, it is important for you to know that if you want to create true vintage look in your home then it is absolutely ok to keep things imperfect. This is because if everything seems polished and brand new, then no matter how much you try, you will not get that exact vintage feel. So, if your chair has got dents or if your vintage vase has a chip at the base, just let it be.
Of course, if the damages are too much then you can go for repair or replenish the items, but if the imperfections are minor, just keep it because that reflects the work of time on them which makes everything very natural.
Over to you
When it comes to decorating your home, there are so many themes and modern home decorating ideas that you can try. But among all the modern themes and home interior decorating styles, my favorite is the vintage looks.
But, unlike popular belief, vintage home decor does not necessarily mean that it is going to be dark and boring. Because in reality, it is very interesting and you get a lot of scope to experiment. Apart from that, it keeps you connected and helps you create that rich and royal kind of an ambience.
In order to create that vintage looks for your home, you don't just need to use vintage items, but actually you can mix them with new ones and create the uniqueness.
The more interesting thing is, if something is imperfect at your home, which actually adds to the beauty and the naturalness unlike in modern decors where everything is expected to be picture perfect.
So, if you love vintage looks, create your own ideas and feel free to experiment with different type of classic and antique decorative items.
But please remember to avoid giving your home that excessive luxurious look because that in many case may destroy the whole purpose. Instead, keep things simple, subtle and as much minimalistic as possible.
If you have other vintage home decorating ideas then feel free to share by commenting below.
Until then, experiment, experiment and experiment with different vintage home decorating hacks and ideas.
Happy home decorating to you!