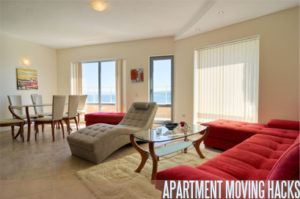 Apartment moving may appear like a much complicated task and you may be true to a good extent. To a good extent because there are so many smaller tasks and activities involved and unless everything falls into Place, you may end up in a mess. But apart from this, moving will become much easier when you know how to get it right. There are certain preparations and precautions that you need for apartment moving and that's what I am going to talk about in this post.
Apartment moving becomes much easier when you start planning and making arrangements way before you start packing. You ought to decide if you want to hire a movers packers agency or move on your own. If you plan to hire a mover, you have to find some and then schedule a site survey for detailed and accurate estimates for apartment moving. Book tickets for your own travel and so on.
Apartment moving tips and hacks
If you are planning to move your apartment and wondering where to start then just read on. I am sure by the time you reach the end of this post; you will have a very good understanding of the process of hassle free apartment moving.
Apartment moving will become much easier if you follow some of the tips you will see below.
1. Huge detailed master plan
Make a detailed master plan. List all of the major tasks that you have to complete like finding movers, booking tickets, preparation of inventory, declaration of worth of goods being moved for insurance etc. You may also like to include things to be packed, things to get disposed off/sold, how to pack, materials needed, date of moving etc. This master list of things and activities will work like a checklist for apartment moving.
2. Pack and move the essential things only
Select the items that you want to move after rigorous screening. Screening should be done on the basis of necessity. You will obviously not want to congest and clutter your new apartment, so select the items accordingly. There are goods which you do not use, or which are damaged, you can sell or throw away such items before the move. There are online portals where you can post an advertisement of the goods to sell, and earn few extra cash to pay the apartment moving bills.
3. Start packing according to the room
Start packing items of each room, and complete one room at a time. If you start with the drawing room, then pack all the items like the sofa, center table, all the accent pieces, TV, stereo etc. After the drawing room is empty, then proceed to another room. You can pack the items of each room in particular boxes and then label the boxes accordingly.
4. Packing materials
Proper packing supplies are very important for the protection of the goods. The original boxes of the appliances are best for the appliances; you can use hard wooden crates, or cardboard boxes according to the type of the items that you are packing. Bubble wraps, Polyethylene foam and chips and granules can provide good cushioning to the goods so that the walls of the boxes do not create pressure on the goods. You can use crumpled newspapers and bed sheets for packing the goods. If you visit local shops and retail stores then you may get hold of some packing supplies as well, free of cost. You must use packing tapes for the joins of the boxes. The more tapes you use, the stronger the boxes become which in turn results in safe and sound apartment moving without damaging any item.
5. Know where your stuff is going
You have to remember which boxes contain what, and for this reason proper labeling is required. Use a marker pen, and write on all the sides of the boxes which items are there in the boxes. There are few items that you will need as soon as you reach your new place. Keep these items handy so that you do not have to shuffle all the boxes. Labeling the boxes properly will help you get the item that you need.
6. Start packing keeping time in hand
Do not start packing at the eleventh hour; keep enough time in hand so that you can pack comfortably without any hurry. You must start packing at least a month before the actual moving date. Keeping some items unpacked which you need till the last day like the toiletries and the mattresses and pillows; you must pack all the other items.
7. Ask for help
Packing is a tough task, it may not seem that difficult initially, but when you are about to do it yourself you will be facing tough challenges. The appliances and furniture are heavy and bulky, and packing and moving them is very difficult. You can ask your friends or relatives to help you out. But the best way to get the job done is asking the professionals as they are experts and experienced in this kind of job.
8. Choose a convenient date
It is better if you do not select a weekend or a national holiday for the move as on these days the charge gets higher due to the rush. Choose a normal weekday for the move. It is best to be flexible and talk to the moving company before selecting the date of the actual move.
9. Necessary changes
Go to the post office, and also the banks and other places where your contact information like address and phone numbers are given. Make the necessary changes in address so that you do not miss any important letters or deliveries. Inform your neighbors and relatives about your new address, so that you can maintain contact even after you have shifted to your new place.
10. A Goodbye party
You can arrange a small get together with few selected family and friends who will be missing you a lot after you have moved to a new place. You can arrange a small party with few drinks and some snacks like pizzas and some finger foods, your guests will not feel bad about it as they already know that you are in a mess of moving.
11. Prior visit to your new place
Before you actually move to the new place, visit the place yourself and check whether the place is in good condition, like electricity, running water, proper locks, well maintained drainage etc. These are some of the basic necessities without which you cannot survive even for a day. Talk to few other people of the flats to know the place better etc. This is important step to avoid future problems. 
Over to you
No one can deny the fact that apartment moving is a little complicated thing to handle all alone, especially when you don't get time to plan it well. But proper planning and preparation can help you in many ways while moving an apartment or a house. Early planning and thoughtful decision making is the sure shot way to effortless apartment moving. I am sure some of the tricks we discussed above will be of great help while moving an apartment.
What else do you think one should do for hassle free apart moving?