Relocating a home itself is a complicated task to handle and if you are a single and planning to relocate then you better prepare yourself before you start. From finding movers and packers companies to booking your own travel ticket and finding a new home in the city you are relocating to; it's not going to be an easy thing. But that should not stop you from celebrating the new job or excitement of home relocating to a new city. After all you are all set to relocate your household goods to a new city and you must enjoy the excitement of moving and seeing new peoples and places. For this to happen, you need to have a plan of action and prepare yourself mentally to have fun and look after everything very carefully.
Since you are relocating to a new city and you are single, you will have to handle everything single handedly and patiently. While relocating a home, it's going to test your mental and physical strength so prepare yourself well in advance. You are leaving the city and moving to a new place where you hardly know anyone. It's going to be both exciting and challenging in different ways.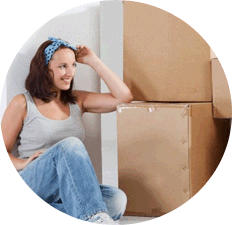 But nevertheless when you have decided to relocate, then I am all the way with you to help you out. Here are some steps that you should ease out on relocating your house and make it a comfortable move. So are you ready? I heard you saying yes.
Organize your inventory
DIY packing and moving can be fun, but not when you are all alone because it's a tiring process. Involves lots of physical efforts and so it's better to take help from a professional movers and packers in your city. But before approaching a mover, you should have a very clear idea of what goods are there to be packed and moved. So start sorting and make a list of major and minor items you want to move, sell or donate.
Hire a professional mover
Long distance home relocation is best handled by movers and packers companies. And when you have to manage everything single-handedly, then there is no choice but you should hire a professional mover. When you hire a mover, they will take care of everything from start to end. They will bring packing materials and equipment of their own to pack every item safely.
But all moving companies you are evaluating may not be equally well i.e. professional, competitive or friendly. So be very clear about which moving company you are dealing with and make sure that there is no hidden costs and that the team is truly professional. I am sure you would not like to argue with a mover during the move.
Get it packed and moved
Since you are all alone, the day of packing is going to be quite hectic because from start to end, you have to supervise the overall process all alone. If you have a friend or families then ask them to come over and help you; obviously packing is to be done by the professionals, but supervising the process is equally important. For instance if the mover packs lots of goods in one box (just to save the packing materials), then it could turn out to be a nightmare if things get damaged.
Precautions to be taken
Movers and packers industry is very volatile in a sense that there are plenty of moving companies who don't have proper office or required infrastructure to deliver the best of service. But that's not an issue if you are smart enough to filter out such shady movers. So how do you do that? Here's how you can screen moving companies and hire the most reliable ones;
Meet them in person after basic discussion over the phone.
Get a free in house survey conducted so that you get accurate estimates.
Understand risks involved like what happens if anything goes wrong like an accident?
Declare true value of goods and insure everything so that you can claim if needed.
Unpack major items like fridge, TV, Washing machine so that you can inspect all is well.
If there is any damage, don't sign the delivery challan and ask for claim of damage/loss.
Don't make full payment in advance and avoid paying in cash.
When you know everything and have put everything on paper you are safe. So avoid taking verbal commitments and have it all in written and on the paper.
Post home relocating
Depending on the distance between two cities (source and destination of the move), the movers and packers company will deliver everything to your home. You should reach your new home before movers arrive so that they can unload and unpack your goods. If delivery is delayed because you were not present, they may charge you some fees due to delays from your end because the fare of the truck will increase in that case. So ensure they can deliver and unload in timely fashion.
Once the goods are delivered, get major items unpacked and check them. And if all is well make payment to the mover and relax for a while. Since major items are already unpacked by the moving company, you may take time to unpacking other boxes as per your convenience. You should unpack boxes room wise possible, like kitchen, bathroom, followed by bedroom and living area but there is no such rule.
Since you are in a new city, you may not have friends and may not be aware about the locality and the community. So start exploring slowly, make friends, join hobby classes and have fun.
Conclusion
Relocating a house from one city to another is always complicated and a tiring process. And if you are single (women) it's going to be even difficult. So start planning and do everything in a systematic manner without hurrying. Start with organizing your inventory, find a mover to help you pack and move, discuss and everything clearly with the mover before signing the contract and you are on your way.
Feel free to take help from friends if needed on the date of packing and moving because who know when you will get to meet your friends again.
What process do you follow when relocating house in India?