If you are planning to shift your home in Delhi NCR then the very first thing that may come to your mind would be the packers and movers Delhi rates and charges for home shifting service. Well, we get to speak to thousands of users like you every month, and most of the time; the very firth thing they want to know is the packers and movers rate chart for home shifting services. Obviously, everyone want to find out the rates of movers and packers before they decide to hire one. Knowing rates of moving companies for shifting helps them budget their move conveniently. So if you are wondering about rates for home shifting services in Delhi or want to see tentative rate chart, then here's the post worth checking. I am going to give you a good overview of everything worth knowing about rates and charges of movers and packers in Deli NCR. And you can safely make it work for other cities as well, to get a ballpark idea of overall cost.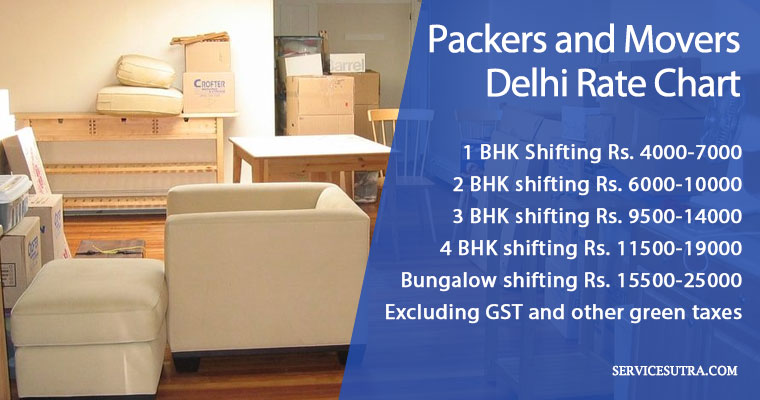 But as you know, the movers and packers do not usually work on fixed rate model. Rates and charges packers and movers in Delhi could easily vary from Rs. 4000.00 to Rs. 25000 for local home shifting within Delhi NCR, based on the volume of household goods, distance and quality packing materials and overall service. But even if finding absolutely accurate home shifting rates may not be possible unless the movers and packers take a look at the overall household goods you want to shift, you can get a ballpark idea of home shifting rates through the packers and movers rate charts, I am going to share right here in this post.
Packers and movers Delhi rate chart (tentative) for local home shifting
For local home shifting, the primary costs heads include packing materials, labor charges, transportation costs and goods and service tax. Depending on the number rooms you may have to pack and shift, the movers and packers will bring packing materials, labor for packing, loading, unloading, there is transportation charge and GST as applicable.
Here's a tentative packers and movers rate chart for local home shifting in Delhi NCR
| | | | | |
| --- | --- | --- | --- | --- |
| Type of house to move | Packing material | Labor charges | Transportation | Tentative shifting charges |
| 1 BHK shifting | Rs. 1200-2200 | Rs. 1500-1800 | Rs. 1300-3000 | Rs. 4000-7000 |
| 2 BHK shifting | Rs. 2000-3500 | Rs. 2500-3000 | Rs. 1500-3500 | Rs. 6000-10000 |
| 3 BHK shifting | Rs. 3500-4500 | Rs. 3000-4000 | Rs. 3000-5500 | Rs. 9500-14000 |
| 4 BHK shifting | Rs. 4000-5500 | Rs. 3500-5000 | Rs. 4000-8500 | Rs. 11500-19000 |
| Bungalow shifting | Rs. 5000-8000 | Rs. 5000-7000 | Rs. 5500-10000 | Rs. 15500-25000 |
The above rate chart shows the tentative rates for local home shifting in Delhi, excluding GST which is charged @5% only.
This packers and movers rate chart should give you a fair idea of how much it would cost to avail packers and movers service in Delhi for Local home shifting in Delhi or within neighborhood cities like Gurgaon, Faridabad, Ghaziabad and Noida.
But just a gentle reminder here, that it's always best to ask a couple of movers for a free survey, and then compare quotations and offers that you receive to take the final call. There is no fixed rate and hence, they charge based on the quality of packing materials and overall service quality.
There are different types of packing materials and different ways to pack household goods. For local home shifting, basic quality wrapping using cardboard, foam and bubble wraps is good enough. But then depending on the delicacy of the item, house of the floor and distance, you should take a call. When you want top quality, multi layer packing, the costs are going to be a little higher than the basic packing. But then, that offers the peace of mid.
FAQ about house shifting rates in Delhi NCR
No matter what, a person who is relocating and paying the relocation costs from his own pocket, is mostly concerned about the overall home shifting rate and costs. We interact with thousands of users like you and based on our experience, we have created this frequently asked questions that should help you understand the rates and pricing of movers and packers services in Delhi.
So are you ready?
Here is the most frequently asked question with answer for your reference:
Question: I don't have even a 1 BHK of goods, and just want to move one Cupboard or just a fridge or an Air Conditioner only. What would be the shifting charges for local move in Delhi?
Answer: We come across people who have already relocated or sold out old household goods, but want to relocate just one single time of odd dimension that need professional help. Some time it could be a fridge, a bed or wardrobe. Unfortunately, most of the movers and packers in Delhi NCR or anywhere else in India for that matter, won't take such single item moving assignment. And if a movers and packers company agrees to take such assignment, then the prices can be at higher side. The best thing to do in such situation is to use man and van service. That's cost effective way to move single items within a city.
Question: I have already packed most of the household items and I just want to relocate these to another area which is less than 5 Kms from my current house. What could be the cost of movers and packers service in Delhi?
Answer: Ideally, when you are hiring a movers and packers company, you should let them handle packing. They are professionally trained and have all the packing materials which are required to pack your used but costly household items securely. There is high chance that the movers will suggest to pack those heavier household appliances and furniture securely, but if you don't even want that, then you can reduce the cost of packing materials and a bit of labor charge to get tentative idea of shifting charges.
Question: Can I request for just a van like a TATA Ace and a couple of labor from movers and packers?
Answer: No. Usually hiring movers and packers make sense when you need complete service. If you are looking for just a mini truck with a couple of labour, you can easily find them in your neighborhood. But beware those labours may not be professionally trained to handle odd size household materials like a cupboard or steel almirah with mirror. Even a minor mistake could lead to damages and scratches, even if your are shifting locally within Delhi NCR.
Question: What if I am currently living on 3rdfloor and my new house is on 4th floor in different area. Do I get charged more for floor escalation?
Answer: Usually first, second floor does not matter in smaller shifting. But when you are moving plenty of items like a fully furnished 3 BHK house, and you live of 4th or above floor, with no lift access for moving goods, then it's going to affect the overall cost to some extent. Naturally, it requires more effort and number of man hours and hence the increase in rates. But this increase should not be a significant one.
Question: what are the factors that affect the overall shifting rates and charges in Delhi NCR?
Answer: There are many factors that may affect the overall shifting rates and charges. Some of the key factors that affect the rates of packers and movers are listed hereunder:
The volume of inventory and nature of goods. the quantity and type of items which is to be packed and moved can affect the costs of packing, handling, transportation and insurance. So this is one of the primary factor that could affect the costs of shifting – both locally and for interstate relocation.
Next is the kind and quality of packing materials being used for packing.
Distance between your current house and the new house (in same city or different city) certainly affect the transportation cost.
Insurance charges – Value of goods being packed and moved could affect the insurance charges which is normally charge based on value of goods.
Applicable Taxes including GST and other state and road tax like toll etc.
Question: Why different packers and movers in Delhi quote different rates for same distance?
Answer: The main reason for variation in rates of different movers packers companies in Delhi (or elsewhere in India) is the service quality, packing materials being used and of course the brand value. There are a few renowned moving companies who have large infrastructure followed by superior branch network and their own fleet. Naturally they are capable of handling the overall relocation much smoothly and hence they charge heavenly. There are mid size companies, who offer neat service and they charge accordingly. And then there are mediocre moving companies, who start by quoting hard to believe low price and they start extorting money as they progress. So, you need to be very careful while hiring a moving company for local or domestic shifting services.
Get best home shifting rates in Delhi NCR in one click
The demands for home shifting services in Delhi NCR region have increased many folds in recent years. Thousands of people including working men and women, students and professionals are relocating to and from Delhi NCR region every day. Naturally, there are plenty of demands for services offered by various packers and movers companies in Delhi.
Due to the high demands and no barrier to entry in this business, hundreds of new movers and packers companies are coming up every month in Delhi NCR region, especially in New Delhi, Gurgaon, Faridabad and Ghaziabad city. There are all types of moving companies in Delhi NCR – the best, mediocre, shady and all and that makes it really difficult for a consumer like you to choose the best movers with affordable rates.
In fact if you talk to three or four different companies and analyze their quotations, you will be surprised to note that difference in rates could be anywhere between 25% to up to 35% and that's a lot of money, especially when you are moving your complete house or an office.
We can help you get best rates for home shifting and here's how:
Tell us about your home or office shifting requirements by submitting the quote request form or by calling us on 07044123404.
Receive call back and offers from 3 local movers and packers in Delhi, who are pre-verified
Schedule a time for free in-house survey or request quotation over phone or email
Compare their prices, payment terms and other terms of services and hire the movers that you like the most, directly
Requesting quotes is easier than you can imagine and it's completely free. There is obligation to hire movers and packers unless you like the offer they make to you.
And if you have any other question related to rates and service charges of movers and packers then please feel free to write us back or directly call us on 07044123404 to speak with a moving expert.
Here's a related video that you may like to check.
Happy relocation!