Moving abroad can be overwhelming and exciting, but there are certain tasks that you must consider addressing before relocating, and that's what we are going to talk about in this post.
Are you moving abroad from India and excited about it? Let me congratulate you for that, because a whole new life is waiting for you up there. However, it is important that before you move out of country, you take care of certain essential things in India.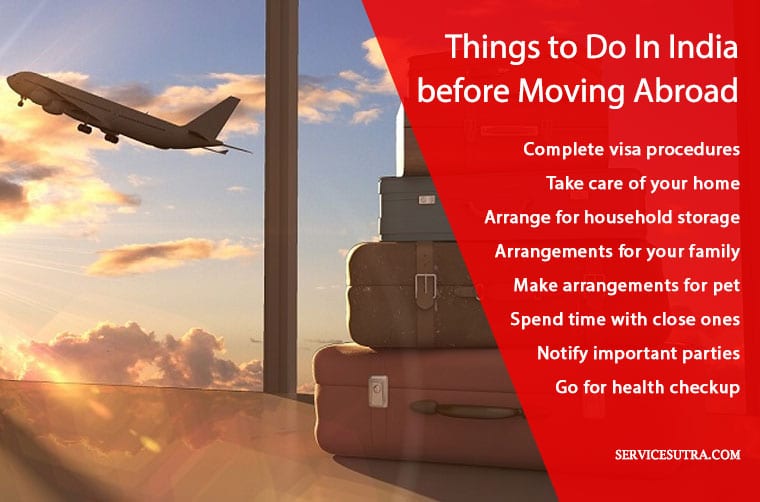 Now, all of us may be in different circumstances and may have different priorities. And if this is a long-term relocation, then there is lot more to be taken care of in India before relocating abroad.
So far you have stayed in India and now that you have got the opportunity to relocate abroad, you cannot just leave everything behind unattended. Starting from completing the Visa procedures to handling your bank accounts to thinking about what to do with your Indian home etc., you certainly have lot of decisions to take. If you do not get certain issues addressed correctly before moving abroad, then things might get worse in your absence.
Moreover, it is not an interstate home relocation where you can visit your home town anytime you wish. In case of international relocation, things are quite complicated. Many times, there are Visa related problems and people cannot travel back to India whenever they want to as they may not be able to reenter that country again. This is a common issue which occurs when your Visa is on the process of extension and you have not got the reply yet.
Also, international moving costs in general are costlier, so travelling to India very frequently from abroad may not be easy and affordable all the time. So, it is necessary for you to take care of all your responsibilities before the final relocation. But what are the exact things to address in India before moving abroad? That's what we are discussing in this post.
Important things to do in India before moving abroad
International relocation requires proper planning and execution. But, besides planning everything for the actual move, you should also utilize the time you have in hand to tie loose ends here in India as well.
Listed below are a few of the important things to do in India before moving abroad:
Complete visa procedures
Once you have decided to move abroad, the first thing that you got to take care is the Visa. Learn about the Visa related rules and regulations of that country you are moving to and accordingly get the visa procedure completed.
Arrange for all the necessary documents required and then apply for the Visa. Give the interview and once you get selected, start planning your relocation.
If you are planning to live there permanently make sure you have a long-term Visa otherwise you might just have to return within few days. For that, try to submit as many valid documents as possible so that you get Visa for long. Also, make sure the passport you have is valid.
In short, it is important that you solve the entire present Visa and passport related issues well in advance, otherwise it may create unnecessary problems for you moving forward.
Take care of your home in India
If you are moving permanently along with your family, then you got to do something with your home in India. You cannot just leave it unattended as you never know what can happen to your home in your absence. Like, there are cases where property has got seized in the absence of the owner. Moreover, if a home is left just like that with none living there or taking care of it, then that may increase chance of theft or damages over a period of time.
So, if you do not have plans to return to your old home anymore, it is best to sell your home to someone else before leaving. And, if you do not want to sell it and have plans to return sometime or the other, at least designate a trusted family member or relative or neighbor who can take care of your home and handle property related issues on your behalf. Basically, that person will be the emergency contact person in your absence.
Now, if you have been living in a rented apartment for long, make sure that you have paid all the rents and no amount is due. Also, inform your landlord that you are leaving in advance so that he/she can start searching for other tenant.
Arrange for household storage
Whether you are moving for short term like a few months or for years, you may like to move your goods to a safe and secured storage and warehousing facility. Storage and warehousing services are available for short-term and long term uses and you can choose as per your needs. Sending your goods to a nearby household storage and warehousing unit will make more sense, when there is no one here to look after your house, or when you are living in a rented apartment. Why pay rent for the entire flat, when you can keep your goods stored safely at cheaper rates in household storage and warehousing service near you?
Sell or give away things you don't need
I always recommend you to relocate only the items that are essential or special to you and leave behind the not-so-important stuffs. I mean it is useless to carry items you do not require because it will unnecessarily just increase the moving costs as well as be wastage of your time and energy.
Hence, it is best to either sell the household items that you do not need any more or donate them to some charity before you leave.
Arrangements for your family
If you have parents at your Indian home, then you need to make necessary arrangement for your parents. If they are still strong and can take care of themselves then that is fine. But if they are old or sick, then you need to make necessary arrangements for their safety and well being.
You may either shift them to any of your trusted relatives' house or appoint a trusted person to take care of their needs on your behalf. If they are too sick, it is also recommended that you hire someone trusted for 24*7 to look after them and give medicines and food on time to your parents.
Spend time with close ones
You are relocating to another country and obviously, it is a somewhat emotional situation both for you and your family. And therefore, it is important that you spend as much time as possible with your family members and other close friends and relatives before you leave. Enjoy family time because you may not be able to see them again for a long time.
Make arrangements for pet
If you have a pet and want to take your pet with you then make sure you learn about all the rules and regulation of that country regarding pets before moving. And, if you are not taking your pet with you, then it is important for you to dedicate some time in finding a good family to adopt your pet. Whatever be the case, you have to make proper arrangement for your pet.
Re-route your mail
Before moving abroad, it is important that you get your mail re-routed to your parents' house or to the house of any of your trusted friend, relative or neighbor. You may go online and make changes as required for any subscription or documents in the address to re-route your mails henceforth.
Notify important parties
One of the important things to handle in India before moving abroad is to notify important parties about your relocation. Starting from the banks where you have accounts, to brokerage firms to employer's HR department to magazines and the newspaper you are subscribed to, to utility companies, insurance, credit cards etc., everyone needs to get notified.
Go for health checkup
I always recommend people to do proper health checkup before moving abroad. And, if something negative come in the test reports, make sure you start with the cure right in India and take proper medicines (for some months), and also carry the prescriptions with you while moving abroad.
Now, it is not that you will not get doctor in the new country but it is just that, if you have medicines with you, then you do not have to rush to a doctor right away after relocating. You can just take your time, settle down first, then learn about the medical procedures there, and then book an appointment with the doctor in that country.
Also, the medial expenses vary from country to country and without any insurance, undergoing a treatment may prove to be very expensive. So, if you have your Indian medicines, you can wait till you get your health insurance cards in that country and then go to a doctor.
Carry required documents
It is important when you are moving abroad; you have all of the necessary documents like your educational certificates, your birth certificate, professional documents, etc. ready with you before you move. Check everything in advance and if you see anything missing, make sure you raise a request or apply for that so that you get it before your final date of journey.
Over to you
Moving abroad needs lots of planning and organized execution. But besides handling moving related issues, there are many other things that one has to handle before finally moving abroad from India.
This usually includes
Taking care of your old home
Moving goods to warehouse
Making arrangement for family members
Getting rid of useless items
Updating bank accounts details etc
You need to take care of all of these before moving abroad.
Apart from the list of things we have discussed above, there may be few other personal tasks that you must address before relocating. Take care of all those tasks, so that you can relocate peacefully.
What else do you think one should address before moving abroad from India?
Do share me your hacks, feedbacks and suggestions by commenting below.
And, if you found the article useful, then please do share it with others and help us spread the word.
Until then, have a safe and happy relocation.