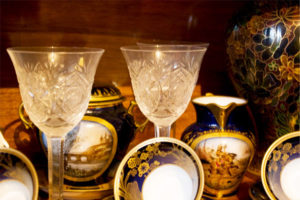 Moving to a new house is actually challenging. Irrespective of whether you are packing and moving on your own, or whether you have professional movers on board to help you through the process. There are various types of items that have to be packed properly and movers do it to a good extent. But packing of dishes and glassware items require a little more attention because such delicate items could easily get damaged when not packed properly. So how to pack dishes and glassware items like plates, dishes, dinner sets and other chinaware?
Even if the packing is to be done by the movers and packers professionals, you ought to keep an eye to be double sure that dishes and glassware have been packed to perfection and that it can be moved without issues. In this post, I want to discuss a few of the best ways to pack dishes and glassware items for moving it safely and without damaging.
Here's how to pack dishes and glassware for moving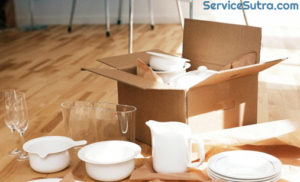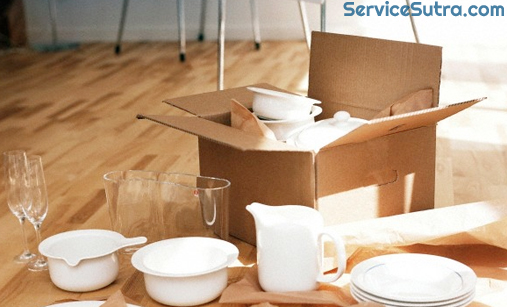 Those beautiful and expensive dinner sets and the tea sets can smash into pieces if not packed properly. And even if it is packed using good quality packing supplies and best of techniques, it has to be handled well and for that you ought to label the boxes with instruction. Whether you are packing and moving on your own, you are working with a mover who is helping you relocate, just be a little careful while packing and handling dishes and glassware items.
I have moved my home several times in the past and kind of mastered the technique of packing such delicate items. Happy to share these tips below and hope it'll help you pack dishes and glassware much efficiently for moving.
Separate packing: You must pack each and every item separately, each bowl, each plate, each glassware must be packed separately so that they do not create pressure on each other, causing them to break.
Dish barrels: The dish barrels are the specially made cardboard boxes for packing the dishes and the glassware. These boxes are little harder than the ordinary boxes, and hence the price of these boxes are bit high. But they are worth it. You can fill up the boxes with bed sheets to make a cozy bed for the glassware.
Fill up the glassware: You must use crumbled paper and put it inside the glass and the bowls. Yu can use crumpled newspaper or bubble wraps. Not only for the glasses, for the plates, dishes and, glassware, make a cushion around the object with the papers. For very thin and brittle items, you can wrap them up twice.
Packing paper: Even if the glass or the plate is small, you have to use long sheets of packing paper, so that the paper acts like a cushion after you fold the paper multiple times around the object.
Placing of the dishes: You must pack each and every dish and plate separately with long packing papers, as I mentioned earlier. Then place the dishes vertically, so that they do not create tension force against each other. Place the dishes vertically, side by side, so that they do not touch each other.
Interior packing: The boxes must have the cushions of their own, so that the glassware does not touch the hard walls of the boxes. You can use Polystyrene peanuts, bubble wraps, crumbled paper or bed sheets for creating a bed inside.
Packing tapes: You must use strong packaging tapes from all around the box, in both directions. The more tapes you use, the stronger the boxes are. Cover the box joins with tapes, use two to three rounds at least.
Labels: The labeling of the boxes is must. The labels will also tell you which is the right side of the box to be opened, otherwise if you open from the wrong side of the box, then the plates will come rushing down and get smashed on the floor within seconds. Label the boxes as "fragile", or "delicate", so that they can be handled with care.
Conclusion
Packing the glassware is one of the toughest jobs while you are planning for relocation. The objects are highly delicate and brittle; everything can shatter into pieces even with a slightest mishandling. I hope you could get some ideas about how to pack dishes and glassware for moving as discussed above. the key is to use good quality packing materials, pack it properly and most importantly,  label it with proper instruction to handle the packed boxes.
Happy Moving!