There may come time when you would have to consider storing your household goods in storage and warehousing facility. For example when you are moving out of country temporarily or considering to renovate your entire house or just to store some extra household furniture that you purchased in an auction and want to store it safely.
Whether you are simply downsizing your household goods due to limited space in your new house or you are moving completely for a few months and want to save on room rents, storage and warehousing facility can be considered.
Household goods can be stored at warehouse meant to store mostly household goods, furniture, appliances etc. In India, storage of household goods can be done with the help moving and storage companies who usually have a large size godown to safely store goods of many customers. Some time they offer private storage facility as well, but at other time you may have to go with a shared storage space depending on the city and options available to you.
If you are thinking of renting out storage space, then you might have already prepared and planned everything. But storage is a long term thing and thus it makes more sense to be very specific about the safety of goods and recurring costs of storage.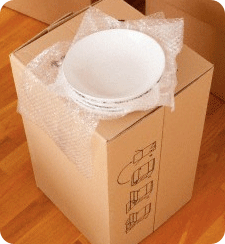 In this post, I am going to share some of the most important tips to help you with storage and warehousing of household goods, the right way. There are certain tips and tricks of getting it right and I will tell you how to store household goods in storage and warehousing facility in the right way.
So if you're ready then let's proceed.
Check your inventory
I say this when people move their house from one city to another as well. If you look around carefully, you will notice there are a few appliances, electrical goods or furniture that requires repairing. You have not used them since long time and chances are you will not use them in near future too. Consider selling out such items or give it to someone who needs.
Remember, that you are paying a price for storing goods that you have not used since long and probably it can't be used in its current state without repairing. There is no point moving or storing such items, give it a serious thought while making the list of goods you want to store.
Also understand that there are certain things that can't be stored in warehouse like chemicals, inflammable, hazardous and food items.
Explore options, availability and prices
Since you have already decided that you need a storage space for storage of household goods, it's time to take necessary steps to find options of storage, availability and storage costs. Exploring options means look around and find a few storage companies who are closer to your home. Do check if they have the availability because availability is really important and then the costs of storage space.
As I have already said, you will be storing your goods from anywhere between a few months to one year or more and so it's a long term contract. Once you have decided to hire a storage company, you have to trust them with your gods. So be smart and ensure that you are dealing with the best possible service provider who can store your goods safely. Here's how you can do that;
Do necessary background checking of the storage company.
Meet their executive in person and ask all sorts of questions regarding their process and practices.
Visit the warehouse yourself without taking appointment and so on.
Check their availability too.
Once you are satisfied, the next thing is to know about the costs of storage.
When you talk to a few companies and look at their warehousing facilities, I hope you will enough of input to evaluate and take a decision about moving forward with storage of goods.
Security and safety measures
Whichever storage and warehousing company in India you are considering, make sure you understand about the security of the facility. Do they have required security measures in place? Before you finalize a storage company, it's worth asking them about their security measures.
Ideally, one should choose a storage company that has plenty of security measures in place. There should be security guards to protect your goods from theft and fire fighting systems installed to handle any unfortunate incidents.
Ask whether they have insurance of the premises or not and what happens in case of floods, fire or any other natural disaster? Certainly no can control such natural disaster, but you should know about the risk as well as prevention mechanism.
Over to you
Storage of household goods in India can be done in a warehousing facility in Bangalore, Mumbai, Pune, Kolkata, Hyderabad and other major cities across India. But before you decide and hire a storage company, if you consider some of the basic things such as;
Evaluate your inventory correctly
Compare multiple storage companies for rates and terms
Ask questions related to safety and security of goods
Deal with a mover with valid credentials
Have you even stored your household goods in a warehouse? What would you like to differently than what we have discussed above?