I usually recommend everyone, to go and hire the best available packers and movers for home shifting simply because it is certainly the wisest and the safest way to relocate. When you have experienced professionals for packing and handling of all types of household articles, including the fragile ones, you know that it will reach you safe and sound. But, at times, there come a situation where you need to relocate all your household goods without movers and packers. That may be due to the unavailability of a reliable packers and movers due to peak season or maybe you just want to give it a try and handle everything on your own. No matter why you want to try home shifting without movers and packers, but if you have decided to do it on your own, then I'll tell you how to get it right. Today's post is for everyone planning to relocate household goods on their own, without involving movers and packers. These do-it-yourself tips for home shifting without packers and movers will help you get it right.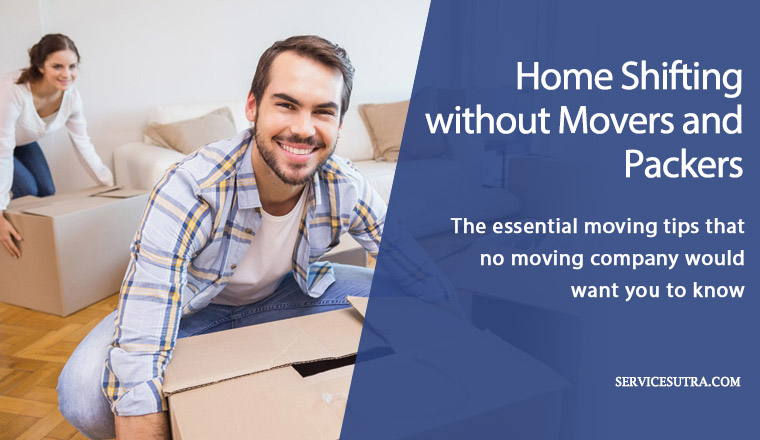 Choosing between do it yourself or hiring movers is not easy. But when you decide to pack and move on your own, then you have to take the entire responsibility on your shoulder, and if you are mentally and physically ready for it, then only you should consider relocating without movers. This is because local relocation can still be handled, but moving to a different state without the help of professional packers and movers is seriously difficult, but not impossible. Luckily, there are some strategies you can apply to make your home relocation easier. And today, I am sharing everything worth knowing about home shifting without movers and packers and how to id like a pro. I am sharing the list of 15 important tips to relocate to a new location without using packers and movers service. These do it yourself tips will help you get it right and make the home relocation as simple as it could get.
Home relocating can be challenging. Starting from emotional, mental and physical challenges, when you are doing it all alone, without any professional to help you through the process, the pressure on you will obviously magnify. You literally have to spend days planning things and then you got to implement things with perfection. It is like a do or die situation where if you succeed, full credit goes to you but if you do not, then you have to bear the losses alone.
However, nothing is impossible and with sheer determination, wittiness and confidence, you can make it right. All you need is a little guidance which I am sure you will get after reading this post on how to do home shifting without packers and movers.
So, let us begin with the discussion without delaying any further.
Tips for home shifting without movers and packers
The demand of the packers and movers all over the world is increasing day by day because people have realized the importance of an experienced packers and movers team for safe and swift relocation. However, that does not mean you cannot relocate and shift your household goods without movers and packers. Today, we are discussing about the possible challenges and their solution for home shifting without movers and packers. Listed below are the 15 important tips that'll help you to relocate your household goods on your own without hassles;
Advance planning
Proper and advance planning is very much needed for a hassle-free home relocation. But when you are planning to relocate without using packers and movers services, then the importance of proper advance planning magnifies. When you have a movers and packers to help you, you know that they will handle all the issues for they know what it takes to pack and relocate safely. But in a situation where you have already decided to move without movers and packers, you yourself have to take control and hence proper planning becomes crucial for relocating safely.
Since, you are not a professional; you need to do proper research on everything to make right decisions, and time is crucial in such situations. So, start planning well in advance.
Fix a budget
Fixing a relocation budget forms a part of your planning and I mentioned it separately because it is a matter of utmost importance. If you have monetary issues, then you must also have to do some initial savings for moving, so that you do not run out of cash later and put yourself in trouble. Also, having a decent budget is essential as by any chance, if there is an emergency, you will be able to handle it better.
Even if you have decided to not use the service of professional movers, you still have all the cost heads and hence you should have a budget in mind. You have to procure packing supplies, may have to hire labor for packing, loading, unloading, have to insure your move and hire a truck. Think of these costs heads and plan accordingly.
Fix probable dates
When you start the planning for a do it yourself move, you should set up probable dates for packing, loading, transporting, unloading etc. Consider the weather and traffic factors before coming choosing a date. Like for example, you can well avoid the rainy seasons (where it will rain probably all days in a week) and instead go for comparatively safer season like spring, summer etc. where the weather in most cases remains okay.
Setting of a probable date is important as keeping that in mind, you can finish off all your other tasks before time. Remember to keep around 2-3 months of gap in between (when you do not have an emergency) if you do not want to put yourself in too much of pressure.
Choosing dates is also important because you have to manage leave from your work and also have to book travel tickets etc for yourself and your family members. If in case there is any medical test or some other scheduled tasks, then those things should be considered as well. Think of all these factors and schedule your move as per your convenience.
Find a home in the new location
When you are shifting to a new location, you have to find a new home in that location. Now, if you have already arranged for that, then it is fine. But if you haven't, then you need to start your search, as you don't know how long it's going to take to find a place to stay in a new city. Start searching for houses on sale or on rent from the internet or ask your friends and colleagues. You may take the help of agents as well to get the perfect house. Make sure you keep your basic searching criteria in mind before coming to any conclusion.
Take note of all the belongings you want to move
Now, that you have the probable dates in mind and that you have started finding a home, you should also start with making a proper inventory of all of your belongings you want to pack and move. Do it room-wise so that you can have a proper track of all of the important items and do not forget to note them down properly and can refer to it later and will not miss out things later in a hurry. This is one of the most important tips for hassle free home shifting without movers and packers.
Sort out the items
You have already made a list of all the items you have at your home and now it is time to do a little bit of sorting. If you are looking to do some cost cutting, remember the fewer items you take the lesser will be the cost of transportation. But, you must also keep in mind that you cannot afford to leave behind the important ones as in the long run; you will have to buy new ones which can become even more costly. So, you have to take the decision with a calm mind.
I will give you few ideas on how you can make the sorting. These are my views which have helped me a lot and I am sure that it will be useful to you.
The must haves- The basic essential items like the basic clothing, basic cooking appliances, and important documents related to bank, cards, certificates etc. must be carefully packed and taken to your new home.
Things carrying a sentimental value- By this, I mean the items which you are emotionally attached to. Maybe you brought it with your first salary, or something which is gifted by someone special, or maybe something which is a family possession that has been passed to you. In short, if you are really attached to something emotionally, carry that.
Condition of the item- The condition of the item you are carrying is also important. See, if something is tattered and torn, there is no point in carrying that. Instead, it is better if you can buy a new one in its place.
Shape and size of the item- Carry items that will be easier to pack and to load while transportation. If something is too heavy or has an odd shape, then you may leave it behind.
Vintage or rare items- If any of the items is vintage or very rare, then you can carry that because you may not get any piece similar to that.
Market value of the items in the new location- The cost of living of the place where you are relocating in comparison to your present location is certainly a matter of concern. This is because if the market value of products is low there, then you can actually sell many of your old items and buy new ones in their place. This will also safe you from the trouble of carrying so many items.
Arrange for the transportation
Now, it is time for you to arrange for the transportation. Talk to the local trucking companies and possibly, negotiate with man and van i.e. they transporter should provide labour as well. Remember to choose a vehicle that is in good condition as the safety of your items must never be compromised. A closed and well protected vehicle should be the priority.
If you have your own car, then you may consider driving, especially if the distance is not far and you are comfortable with driving on highways. Otherwise you also need to arrange tickets for your family members. You can't travel in the same truck so make separate arrangement for your travel.
Transportation is the most challenging and important part when you are not taking the help of movers and it is preferable if you do the arrangements well in advance, so that you do not have to take so much of pressure at the end. Also, if by any chance, there is a problem with the truck you booked, then at least you will get time to arrange for alternate options.
The trucking companies can also assist with the insurance, and if not, you can do it on your own. But never ignore the insurance as that can be fatal, if anything goes wrong.
Buy enough of packing materials
Before you start with packing, please arrange for all off the packing materials like boxes, tapes, bubble wraps, label, marker etc from before because that will enable you to pack your items safely. Buy the materials that are in good quality so that your items especially the delicate items are well protected. The boxes must be strong and of different sizes to accommodate various types of items. Remember to buy them in extra so that you do not run out of them in emergency situations.
Start packing one room at a time
Packing is important, and you must do it carefully to protect the items. Take special care of the delicate items by adding cushions so that they are tightly placed and do not get damaged during the transportation. You can actually do the packing room-wise so that you do not miss out on things. Label each of the boxes well so that it is easier to identify and unpack. It may sound like not so important task, but remember, proper labeling can help you save lots of hassles while unpacking. Without adequate labeling, you may not be able to locate important items like a towel or a bed sheet or utensils.
Take help
If you have less time in hand, then you can always take the help from your closed friends and family members. This will make things easier and faster for you. You must tell them the way you want them to pack the items or you can actually ask for their advice in case someone is good in packing things. Sharing the work will definitely lessen the pressure and the burden from you.
Sell or throw the rejected items
By, this time, I hope you have done the sorting and have startedpacking the items which you plan to carry and so now you need to do something with the rejected items. Either you sell them online or to any local shop which takes second hand items or you may sell it to your known ones. You can also give them the items to your friends, relatives and neighbors in free or can do some social work by donating to some charity. And, if none of this happens, then you can throw them.
Do your confirmation calls
When the probable date of your journey is approaching, it is time for you to do some final confirmation calls. This is necessary and is one of the important tips to relocate to a new location without packers and movers. Since all of the responsibility is on you, you cannot take chances. Be it for transportation or whether your new home is ready or not, make calls and get everything confirmed. If anything goes wrong, then you need to change your date of journey, so you have to remain well in contact with the landowners, truck driver, agents etc.
Start early
One of the important tips to relocate to a new location without packers and movers is to start your journey early. This is important as then you will have the full day in hand. I personally do not prefer moving in the dark due to safety reasons and so it is good to travel in the daylight. Load the items carefully and start the journey early.
Network facilities have become very advanced and so take the help of it and keep the track of the roads and if there is any problem in the road you thought of travelling, cancel that and go for the other alternate roads. Make sure you discuss about the road with the truck driver before you start the journey. And, please keep the condition of the road in mind before you decide.
Take preventive measures
You should take preventive measures for emergency situations while travelling. When you are travelling on road for so long, you may face emergency situations or accident which may delay everything and who knows you may have to spend the night in your car. I mean these may not happen but prevention is always better than cure and so please take enough food, water, medications, extra clothing etc. and keep these with you to tackle unexpected and unfavorablesituations.
Resettle
Once you reach the place, unload the items, unpack them and take some rest. After that, place the items as per your wish. And, as far as resettling in your space is concerned, please give yourself some time to adjust. I am sure you will start loving your new place soon.
Over to you: how do you do home shifting without movers packers?
Home shifting is a bit complicated task, and it becomes even more difficult, when you want to relocate without engaging a movers and packers company. You have to take note of every minute task from choosing right kind of packing materials to hiring trucks and insuring the move, it's not an easy do-it-yourself project. But, that does not mean, you cannot get it right.
To relocate your household goods without movers and packers, all you need is careful planning, proper utilization of the time you have on hand and exact execution of things as planned. As we have discussed above, proper planning followed by perfect execution can help you relocate safely, even when you have no movers and packers company on board.
I have today talked about 15 important tips for home shifting without movers and packers. Have you ever relocated without using movers and packers service? What is your take and what do you think one should do to get it right?
With that, it's over to you.
I look forward to your suggestion and feedback.
Happy home relocation!