Properly packing fragile items has always been challenging even for professionals. If you just Google to check general feedback and reviews of movers and packers companies in India, most of the customers have common complains that their goods were damaged or delivery was delayed by the movers and packers companies. There are other issues as well that we may face, but the most important one is the safety of goods. Today I want to talk about how to pack fragile items like flower pots, china ware, wine set and other such precious and costly fragile items.
We moved to a new house last Saturday. We almost did most of the packing ourselves including packing of fragile items and utensils to save on the moving costs. Although it hardly made a difference cost wise because the movers and packers we hired for loading and moving had to pack those boxes yet again for safety purpose. I still ended up breaking my dad's favorite flower vessel which was a gift to him and obviously he was upset with me. But nevertheless I learned my lesson and got some amazing tips from the movers and packers that even you can use for packing of fragile items when moving.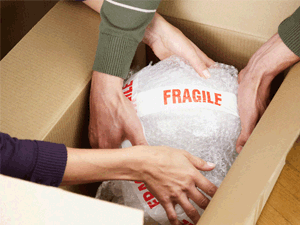 Tips for packing fragile items for DIY home shifting in India
These fragile items play an important role in beautifying your house and hence it requires your attention and lots of care. You should be extra cautious while handling or packing these items and here's how to do it right.
Packing require patience
Packing of fragile items will take lots of time and hence you should not leave it to the last minute. Last minute packing should be left for items that are hardy like wardrobes. But when it's about packing fragile items, you should do it with patience. Always pack your valuable crystal in the beginning.
Use right tools and techniques
Before you start, just make sure to have all the required tools like good quality boxes in various sizes, packing papers, bubble wrap, scissors and packing tap .You also need to have a large table to keep all your essential items after packing. Once you are done with the packing of individual items, you can stack them well with proper layers into the box and seal it.
But different types of utensils and glassware have to be packed differently and here's how to do it right:
Plates: Plates should be placed vertically into small to medium size boxes lined with packing paper on the bottom as well as on the top. Wrap each plate to a bubble wrap and secure them with tape. Place paper between two standing plates and don't over pack them. This will protect your plates from any scratch and damage during handling and transportation.
Glassware: You should wrap glassware with good quality packing paper (thin and soft) and place crumbled paper into the empty space. When you fill up the empty space with crumbled papers, there will be no chance of collision and hence your glassware will be safe. Place the heaviest one on the bottom and lighter ones on the top for extra safety.
Picture: Some of the pictures are absolutely important. Are not they? For an instance, you had an excursion along with your mates and family and you captured all those moments in a frame.  Unfortunately if you damage it, it won't come back. So what you need to do with the photo fame is to cover them with rubble paper. If you feel, you can use polystyrene filler as a packing material as well.
Wine bottle: Some of the wine can be so expensive. It can get worse while shifting, as Wine is bound be shaking. So ask your wine provider a safety box, which would prevent the wine from too much shaking while shifting.
Lamps: First, you should safely keep it in its cover or inside the box. Then very carefully fill the bottom of your box with lots of cotton and then place the lamps. Don't forget to fill cotton on the top of the box as well. This will fully ensure your lamps' safety.
General precautions for packing fragile items
Be extra cautious: The reason I'm writing this to make sure that you don't commit the same mistake that I committed. I was not using any bubble wrap or big enough boxes while packing, as a consequence the flower vessel broke into pieces. I wish I could have been bit more mindful while packing that. It's better to be extra cautious than regret later.
My advice to you is to be careful when packing fragile item like flower vessel. What you should do very first is to wrap it (flower vessel like item) with bubble wrap and then place it inside of a box. The bottom and top of the box should be full of cotton. This will prevent items from developing any cracks.
Over to you
Packing fragile items is not complicated and its easy when you know how to do it right and have good quality packing materials. If you are unsure or don't have sufficient packing materials or lack of time, you should better hire a movers and packers and let them handle the most important part of home shifting which is packing. There is no point in doing it yourself when you know you don't have the tools or don't know about the techniques to pack your stuff for safe transportation.
Before I finish I would like to add one more thing though. If you are hiring a mover, just make sure they come up with sufficient quantity of suitable packing materials, have right set of tools and pack everything well. When packing is not done right, chance of damage will simply increase.
I hope you will use these tips and techniques in packing glassware, kitchen utensils and other fragile items while moving in India. Feel free to share this post with your friends who may benefit from it.