If you are planning for local home shifting in Ranchi and wondering about the packers and movers rates and charges in Ranchi for home shifting services, then here's the post you must check. Even if I normally recommend speaking with a couple of local movers and packers companies to get the most accurate estimates and quotation for local and interstate home shifting in Ranchi, I am happy to share standard rate chart for your ready reference. Rates of packers and movers in Ranchi for 1 BHK household shifting starts from as low as Rs. 3000.00 and it can go up to Rs. 8000 for fully furnished 1 BHK house.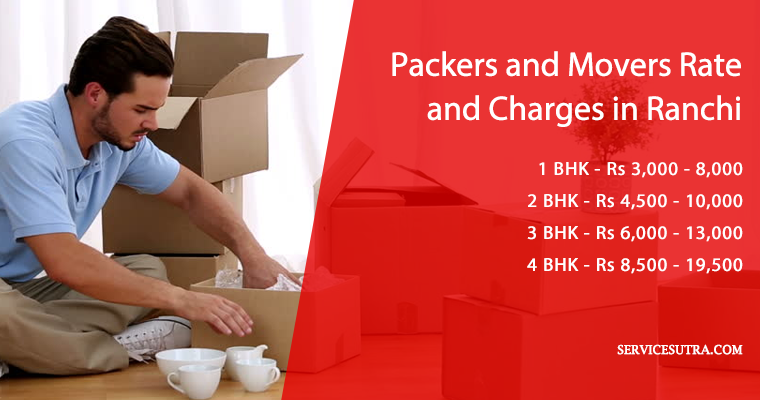 As you already know, the packers and movers services are a little complicated and one fit all pricing does not work here. Different users may have different types of household materials to pack and move, locally or outside.
Secondly the distance between source and destination where you are moving to may be different and hence one standard rate chart for home or office shifting services won't answer all your queries.
But then, the rate chart I am sharing right here in this post will definitely help you get very good idea of standard rates and charges of packers and movers in Ranchi for various types of shifting services, be it home, office or industrial good relocation.
Packers and Movers Rates Chart in Ranchi, Jharkhand
Before you check the rates and charge of packers and movers in Ranchi, let me tell you a little about various costs heads involved.
Some of the major cost heads for home shifting includes:
Packing charges
Needless to say that it involves charges for packing with packing materials. You're hiring packers and movers because you know that packers and movers companies can relocate your goods safe and sound for a nominal fee. And proper packing, using good quality packing materials is the key to safe and secured relocation.
The packers and movers will bring the packing materials; their expert technicians will pack all your goods including furniture to ensure that good does not get damaged at the time of loading, transportation and unloading.
The standard packing charges for 1 BHK local shifting in Ranchi can be Rs 1,000 – 2,000.
Labour and handling charges
The movers and packers have to charge for the manpower involved. When you want to move just a few household materials, they will send just a couple of labours and obviously the charges will be low.
But when you want to shift a bigger home, more manpower will be required to handle the goods (from packing to loading and unloading) and hence the charges will be a little higher.
The manpower cost primarily depends on the volume of household materials that you want to pack and move. Standard labour and handling charges for 1 BHK shifting in Ranchi can be Rs 1,000 – 2,000 only.
Transportation charges
This is the cost of vehicle or transportation. So if you want to move a smaller 1 BHK house, they can bring a TATA Ace kind of small commercial vehicle. But if the numbers of items are more or when you want to move a bigger house, they will bring the TATA 407 or a DCM truck and hence the charges may be a little higher.
Another important thing to note is the number of trips. Sometimes, the movers will bring TATA ACE, and they will do round trips to relocate all your goods, if in case there is no availability of TATA 407, or there is no wide road. So again, the volume of goods and distance between the source and destination play an important role in determining the total transportation cost.
In general, for local shifting transportation charges start from Rs. 1000 for small vehicle like a TATA ACE. Based on the kind of vehicle it may require, standard rate of transportation for 1 BHK shifting can be anywhere between Rs 1,000 to Rs. 3,500.
Insurance charges
Moving insurance as you know is to protect you from any sort of damage. Movers and packers will do their best to ensure that your goods reach your destination safe and sound. But sometimes, irrespective of the full care and precaution, an accident can always happen and if it happens, then the moving insurance will protect you from any kind of financial losses.
Movers and packers will offer you an all inclusive insurance and they charge @ 3% of the total declared value of the goods. Here's a detailed post on moving insurance that you may like to check. Another important thing to note about moving insurance is that it's normally done for long distance move and may not require for local shifting, but then it's up to you to take a call on this.
Applicable taxes
Apart from the above cost heads of home shifting that we have discussed, the one final cost that has to be kept in mind while estimating the home shifting charges, is the taxes. Taxes are applied as per government rules and it may vary from time to time. Today, GST is applicable, earlier it was service tax. Similarly, the movers may have to charge toll tax in case you're moving out of city and toll tax is applicable.
Packers and movers Ranchi approx rates and charges for shifting
Based on the above assumption, now is the time to share the standard rate chart which is as under:
| | | | | |
| --- | --- | --- | --- | --- |
| House type | Packing charges | Labour charges | Transport charges | Tentative Cost |
| 1 BHK | Rs 1,000 – 2,000 | Rs 1,000 – 2,500 | Rs 1,000 – 3,500 | Rs 3,000 – 8,000 |
| 2 BHK | Rs 1,500 – 3,000 | Rs 1,500 – 3,000 | Rs 1,500 – 4,000 | Rs 4,500 – 10,000 |
| 3 BHK | Rs 1,500 – 4,000 | Rs 2,000 – 3,500 | Rs 2,500 – 5,500 | Rs 6,000 – 13,000 |
| 4 BHK | Rs 2,500 – 5,000 | Rs 2,500 – 4,500 | Rs 3,500 – 10,000 | Rs 8,500 – 19,500 |
And I would like to reiterate that the rate chart shared above is to give you a ballpark idea of the costs involved in using packers and mover's services for home shifting in Ranchi, Jharkhand.
Quotes for packing moving service in Ranchi
Now, that you know about the standard rates and charges of packers and movers in Ranchi, Jharkhand the best way to get the most competent rates from movers and packers in Ranchi is to use servicesutra to compare their estimates. We have handpicked a few of the most competent and reliable movers and packers from all across Ranchi who offer all types of relocation services including local and interstate home shifting, office shifting, car transportation etc.
If you want to get the most accurate and competitive estimate to shift your home in and around Ranchi, Jharkhand or may be from Ranchi to elsewhere in India, then feel free to call us on 07044123404 or submit your requirements here.
Once you post your shifting needs, you will receive instant call back and estimates from three of the leading packers and movers service providers. You can check their rates, and even invite them to visit you home and see the goods which are supposed to be packed and moved.
Once you have the quotations, you can compare, evaluate and then hire the agency you like the most. And all this for free of cost and within minutes.
Just by using a reliable movers and packers, you can increase the chances of relocating all your household goods and articles, safely and in cost effective ways.
The movers and pacers specialize in packing and handling of all types of odd items, which is not easy to handle and it's better to involve a professional team, than struggling in moving without using packers and movers services.
And in case you want to relocate on your own, I suggest you to check this guide for local home shifting.
Over to you
Movers and packers can help you relocate all types of household goods and articles. The wardrobes, dressing table, almirah, dining table, chair, center table with glass top, or water filter, they can pack and move everything safely.
Now the moment you decide to relocate, the very first question that may come to your mind will be about the cost, right? Well, the rates and charges of packers and movers in Ranchi are not fixed, and it usually vary from case to case basis.
But I have tried to simplify the movers and packers charges and shared a standard chart for you, so that you can figure it out. But I still suggest you to speak with a movers and packers than guessing the price.
Have you relocated recently? How did you get the estimates?